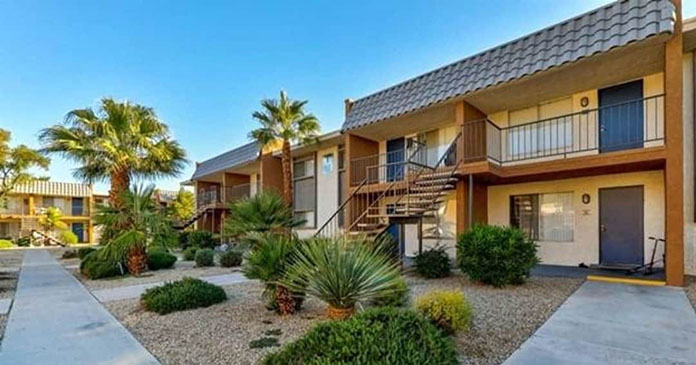 Next Wave Investors, LLC (Next Wave) a private equity firm focused on value-add multifamily investments, recently sold Spanish Oaks, a 216-unit garden-style multifamily community in Las Vegas, Nevada for $50 million after acquiring it for $28.5 million in February of last year.
Through strategic, streamlined renovations and a unique awareness of the market, the firm was able to realize significant value within 15 months of ownership, according to Jordan Fisher, Principal at Next Wave.
"We began our acquisition of this property amidst the thick of pandemic-driven uncertainty in October 2020, when investors generally saw a light at the end of the tunnel but still shied away from largely tourism-driven cities like Las Vegas and Orlando," explains Fisher. "Because we already owned assets in the market, we knew that multifamily performance remained strong, in part due to effective government subsidies. Our foresight that visitors would return to Vegas sooner rather than later, coupled with strong fundamentals and ongoing diversification of the local economy projected in the pre-pandemic market, gave us confidence to acquire this asset at far below replacement cost."
Drawing upon nearly 20 years of hands-on experience in the operation and enhancement of multifamily properties, the Next Wave team also created value through implementing a strategic value-add business plan.
"During our hold of this property, we seized the opportunity to renovate 30% of the units and made select enhancements to the exterior and amenity spaces," continues Fisher. "We were also able to increase appeal and efficiencies through streamlining operations and leveraging our existing local relationships."
The firm has deepened its presence as an owner in Las Vegas for several years now, and as it continues to boom, Next Wave's close ties to the area allow them to deliver long-term value for their investors.
According to David Sloan, Principal at Next Wave, the population of Clark County has increased by roughly 20 percent over the last 20 years, and looking ahead, the population is projected to grow by another 8.3 percent by 2032.
"As our firm dials in on key submarkets throughout the western U.S., Las Vegas has continued to demonstrate one of the strongest markets for value-add investments and regional growth," says Sloan. "Spanish Oaks was a particularly opportunistic play, and the increased strength and demand of the submarket informed us that a three-year hold was unnecessary, hence the quick turnover and sale at nearly double the purchase price in just over a year."
Las Vegas has undergone major construction projects over the last several years, from stadiums to entertainment centers, and experiential resorts with high-tech integrations and cutting-edge design. Additionally, the region has undergone an industrial boom, with large companies like Amazon scoping the area for warehouse and fulfillment centers. The large interest in logistics, coupled with the exciting hospitality developments, have sparked a steep hike in demand for Las Vegas housing, adds Sloan.
Spanish Oaks Apartments, which were built in 1976, are located less than ten minutes from the Las Vegas Strip. The property is situated along the Interstate 15 and State Route 159, also providing residents access to 10 million square feet of office in downtown Las Vegas as well as proximity to retailers, recreation, and award-winning schools.