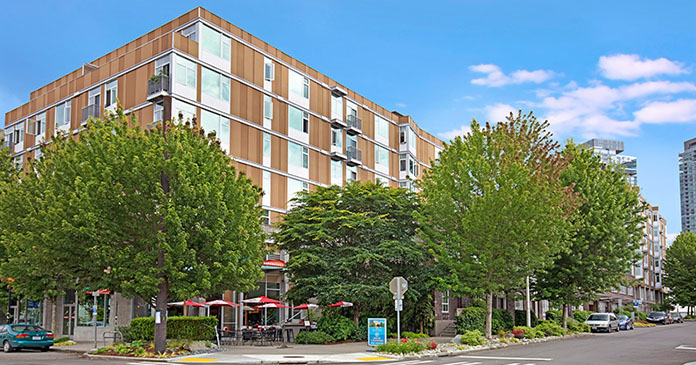 The Jacobson Company, a leading private real estate investment and management company, has sold Alley24, a 172-unit multifamily property in Seattle, Washington for $90 million. The firm initially acquired the asset for $72 million in 2020 after recognizing the opportunity to purchase a core plus apartment community in the thriving South Union Lake submarket with room to maximize operational efficiencies.
The firm seamlessly executed their successful acquisition strategy, conservative and disciplined investment philosophy, and best-in-class management practices to ultimately create value for their investors, according to Larry Jacobson, President and CEO of The Jacobson Company.
"Covid presented serious challenges to multifamily owners in downtown Seattle.  Fortunately, we were able to draw upon decades of multifamily investment experience, through good times and bad, and were able to maintain high occupancy during Covid and over time patiently add the value we always envisioned with this stellar asset, says Jacobson. "As a result of our strategy, we were able to maximize rent potential and achieve an internal rate of return of 20 percent. We pride ourselves on operating expertly maintained properties and paying great attention to tenant community and quality of living to ensure that retention rates remain high, and units continue to be in demand.  Our 5-star Google reviews prove that out."
The property is located in the South Lake Union neighborhood, an area that has grown rapidly due to the presence of many of the world's most prominent tech companies. Alley24 is strategically situated within walking distance to many of the area's top employers, including Amazon, Facebook, and Google, as well as public transportation and parks. The property is also within walking distance of dozens of the area's most popular dining, retail, and entertainment options.
"By utilizing our management expertise and elevating the resident experience, we were able to leverage the strength of the property, and influx of tech employees to the area, to sell the asset for well over the initial purchase price and deliver superior results to our investors," says Jacobson.
Located at 241 Yale Ave N, Alley24 was originally built in 2006 and renovated in 2014. The mid-rise multifamily community has a unit mix comprised of one- and two-bedroom apartments, modern lofts, and townhomes. Units include deluxe condo quality finishes such as designer kitchens with quartz countertops and stainless-steel appliances, washer/dryers and oversized windows with views of Lake Union and downtown Seattle. Amenities include two rooftop terraces with fire pit lounge, catering kitchen, media room, 24-hour gym, and striking resident lounge.
Eli Hanacek, Jon Hallgrimson, and Mark Washington of CBRE represented the The Jacobson Company in this transaction.