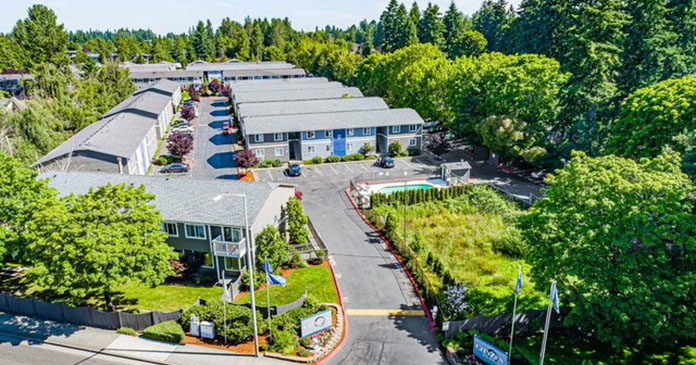 The Jacobson Company, a leading private real estate investment and management company, has sold CityZen Commons, a 177-unit multifamily property in Kent, Washington, the fourth-largest municipality in greater Seattle, for $52 million. The firm initially acquired the asset for $28.1 million in 2018.
Drawing upon decades of experience in the operation and enhancement of multifamily properties, The Jacobson Company created value through implementing a strategic value–add business plan, according to Larry Jacobson, President and CEO of The Jacobson Company.
"We strategically identified this asset as a value-add opportunity in a growing submarket that demonstrated the core fundamentals we look for when evaluating a community," explains Jacobson. "After acquiring the asset, we executed our proven renovation plan of upgrading units, painting, adding architectural high lights, enhancing the clubhouse, major relandscaping, and optimizing management. As a result of our physical and operational improvements, we were able to maximize rent potential in a thriving workforce submarket of Seattle and achieve an internal rate of return of 30 percent and generate significant cashflow for investors."
According to 2022 census data, Kent's population has increased by 12.6 percent since 2010, and a study completed in 2020revealed the city required 5,999 new housing units by 2040 to keep up with demand. The influx of new residents to the area has been largely driven by the growth in employment opportunities, especially as it pertains to global aerospace and advanced manufacturing. In addition to strong employment fundamentals, the property is in close proximity to various retail amenities, including the Kent Station shopping mall just a short drive away.
"By strategically executing significant renovations and effectively leveraging the strengths of the newly upgraded property and the growing market with the team at CBRE, we sold the asset for well over the initial purchase price and continued our decades long legacy of preserving and growing the wealth of our investors," says Jacobson.
Built in 1980, CityZen Commons is situated on 7.8 acres at 10925 SE 259th Street. The 23-building community has one-bedroom and two-bedroom floorplans with an average apartment size of 810 square feet. Amenities include a fitness center, dog park and swimming pool. Additionally, each home has a private patio or balcony and an in-home washer/dryer.
Eli Hanacek, Jon Hallgrimson, Mark Washington, and Kyle Yamamoto of CBRE represented the The Jacobson Company in this transaction.