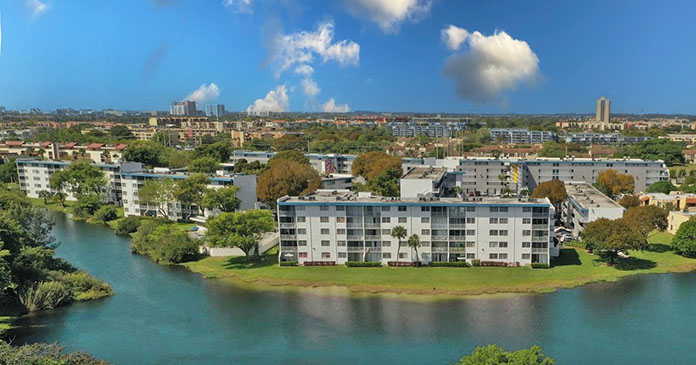 Trion Properties, a multifamily investment sponsor and private equity real estate firm based in West Hollywood, California and Miami, Florida, has acquired Art 88 Apartments, a 294-unit multifamily community in the Miami Springs/Doral submarket of Miami, Florida for $87.25 million.  
Art 88 is Trion's fifth acquisition in the Southeast within the past nine months and its first in Miami. The team has been actively evaluating several opportunities in the Miami area and are bullish on this rental market, according to Max Sharkansky, Managing Partner and Co-Founder at Trion Properties.
"Miami is one of the fastest-growing rental markets in the nation, with vacancy rates compressing to decade-low numbers, and is poised for future growth as population increases are expected to outpace the United States average by 40% over the next five years," explains Sharkansky, "Drawing upon our extensive multifamily investment experience and the relationships we have deepened since entering the Florida market last year, we were able to identify the strong potential of this asset and secure it at well below the average price for the submarket."
Sharkansky adds that Art 88, which was 97 percent leased at acquisition, is in a particularly attractive submarket that boasts desirable walkability, new retail amenities, and highly rated schools.
"This community is in a unique location where the immediate area consists primarily of condos for private ownership," says Sharkansky. "The low number of rental units and supply-constrained market has positioned the property to generate substantial profit as it attracts residents seeking a high quality of life in Miami with relative affordability compared to downtown."
Marley Dominguez, Trion's Director of Acquisitions for the Southeast region, adds that in addition to benefiting from the Miami area's ongoing growth, this asset also presents an opportunity to create additional value through upgrades to interior units, landscaping, minor exterior paint, and update the common space amenities. 
"While previous ownership implemented partial renovations on unit interiors, as well as one of the two pool decks, leasing office, and fitness center, the Trion team is well-positioned to draw upon extensive value-add program experience and local market knowledge to further improve the community with features including market-leading finishes," Dominguez continues.
Art 88 is centrally located approximately 1 mile from Miami International Airport and less than a 20-minute drive to downtown and five major shopping destinations. Nearby Doral is a major employment hub for residents and has been recognized as one of the top 15 growing cities in America with over 19.6 million square feet of office space. The property is ideally situated in close proximity to work centers, transportation corridors, and top-rated school. Residents can also enjoy easy access to ample retail, grocery, and dining destinations such as Flagler Park Plaza and Mall of the Americas.
Constructed in 1971, Art 88 consists of 294 one and two-bedroom apartment units averaging 787 square feet with spacious layouts and patios. The community is comprised of 8 two-to-five-story concrete block elevator buildings, as well as two pool decks with BBQ grills, a fitness center, laundry facilities, and dog park.  
Maurice Habif, Simon Banke, and Ted Turner from JLL brokered the transaction and Jesse Wright with JLL arranged the financing.
The purchase brings Trion's national portfolio to 4,464 apartment units totaling over $1 billion in acquisition value.
Art 88 is located at 8855 Fontainebleau Boulevard in Miami, Florida.