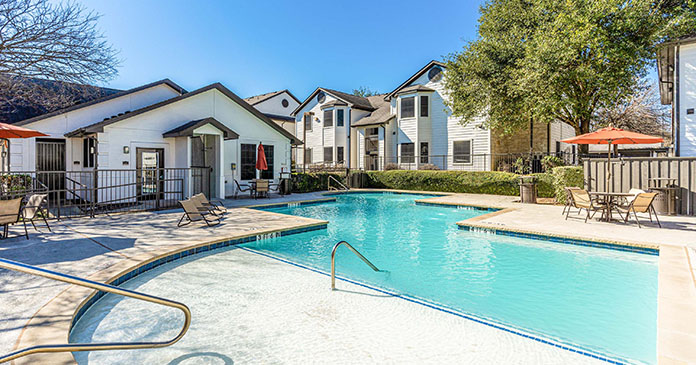 Vista Investment Group has acquired SoCo Apartments, a 122-unit multifamily community located in Austin, Texas. It is the Los Angeles-based private investment firm's first multifamily investment in the Texas Capital. Vista entered the market in December 2021 with the acquisition of Park Central, a 114,000-square-foot office building in North Austin.
Built in 2004, SoCo Apartments offers a mix of one-, two- and three-bedroom units housed in 16 two-story residential buildings. Residents have access to a pool, clubhouse, fitness center, coffee bar, and picnic and grilling area. Vista Investment Group plans to upgrade the 96 percent occupied property through a multimillion-dollar capital improvement program that will include a comprehensive interior renovation of 105 units that are in their classic condition. Exterior renovations will include a refresh of the pool and BBQ areas, new landscaping, fitness center upgrades, and the addition of a new "bark park."
"Austin is one of, if not the, most exciting real estate markets in the country," said Vista Investment Group President Jonathan Barach. "The highly attractive lifestyle with a world class music and food scene, coupled with business-friendly environment, University of Texas talent pool, and now a tech powerhouse, has resulted in an undeniable position within the top US markets to invest, live and do business. While this is no secret—Austin has consistently ranked as a top market for several years—the ascension of Austin is still in its adolescence. We will continue to seek compelling opportunities within the market, with plans to invest $50-$100 million in multifamily and office/R&D assets over the next 12 months."
Located at 6300 South Congress Ave. in south Austin, SoCo Apartments is situated a mile from Interstate 35 and within five minutes of three in-progress master-planned developments: the St. Elmo District, The Oaks at Slaughter and The Hill's at South Congress. Downtown Austin and the University of Texas are only six and eight miles away, respectively.
Will Balthrope, Jordan Featherston and Kent Myers of IPA represented the seller.