With the current real estate market not exactly favoring the buyer due to the interest rate hike and soaring housing prices, the demand for rental units in multifamily properties continues to rise. And while Gen Z, millennials, Gen X, and baby boomers, all have different priorities when considering where to rent, they all share the need to live in a safe and secure community.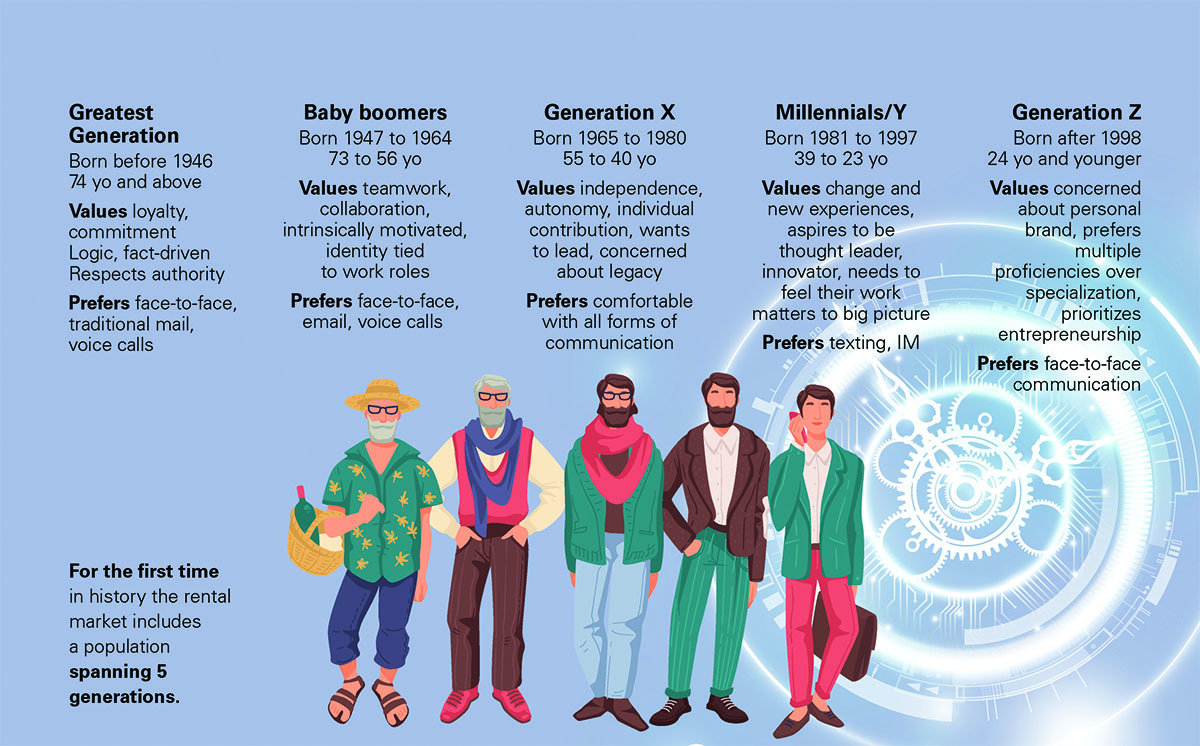 Navigating expectations
Another commonality among the generations is a desire for smart property technology in the places they want to rent. Smart technology, which was once thought of as only a nice to have amenity, is now an expectation for modern renters and a deciding factor when choosing where to sign a lease.
While most renters expect smart tech as an amenity in their homes, each age group prefers different types of smart devices and solutions. Although their priorities differ, they do share a common desire for access control for convenient and secure apartment entry.
Generation Z
Generation Z has been raised in the era of continuous internet. Whether at home or on the move, they crave constant connectivity. In a study done by Smart Rent, more than 25 percent of GenZers say that having reliable wireless Internet access is more important than secure parking. Smart access control satisfies the connectivity needs of Gen Z, meaning the need for keys or even RFID cards is a thing of the past.
Gen Z values sustainability. So, by being able to control their smart thermostat with an app on their phone, they can ensure they're only consuming energy when needed, therefore minimizing the demand for electricity produced by power plants and diminishing carbon emissions that affect global warming.
Millennials
Millennials value saving time and staying safe. They are looking for built-in smart devices that can be controlled via mobile apps, such as light switches and thermostats. Residents can activate or deactivate these devices with the push of a button—without having to be near the device itself. They want that same wireless connectivity extended to shared spaces like clubhouses and pools, and they desire the ability to control their lighting or thermostats remotely.
Generation X
Generation X renters prioritize convenience, but for slightly different reasons. Many Gen Xers work from home, so they value amenities that make both home-life and work-life easier. Wi-Fi is a priority for them, that means smart tech must evolve beyond its role as a conduit to toggle devices on and off.
The next evolution of smart tech will leverage machine learning to create a "sentient home," where smart tech will make real-time adjustments based on a renter's behavior patterns. This level of intelligent automation will benefit both renters and owners/operators in the multifamily space.
Baby boomers
Baby boomers value practicality, convenience, and comfort. Although an older generation, boomers are no strangers to smart technology; in 2021 an analyst at Park Associates was quoted saying that 36 percent of people between the ages of 65 to 74 said they owned smart speakers.
Boomers are looking for smart tech integrations such as app-controlled access systems. These systems let residents remotely grant access to trusted personnel like delivery workers or dog walkers. Smart hubs are also popular with boomers, allowing multiple devices within the home to communicate. Some hubs, like those offered by Arize, can operate without Wi-Fi using 4G cellular connections. This offers boomers the convenience and seamless connectivity they prefer.
Owners and operators
Smart tech is not just a convenience for residents. It offers significant benefits to owners and operators as well. In fact, according to a Park Associates' study installing PropTech into a multifamily community increases the chances that residents renew their leases by 56 percent.
According to a 2021 study from Cinch Home Services, 80 percent of millennials have a positive perception of smart technology in their homes, while 80 percent of Gen Z, 75 percent of Gen X, and 69 percent of boomers feel the same way. That's why more and more owners and operators are jumping aboard the PropTech train.
Transforming the renter X
After understanding these generational preferences, it's essential to consider how smart tech transforms the renting experience for residents of all ages.
Convenience is one of the most significant reasons to embrace PropTech. According to the Cinch Home Services study mentioned earlier, 94 percent of Gen Z respondents said PropTech was the most significant factor when choosing an apartment. This held true across all income levels—from Class A to Class C residents.
A close second benefit behind convenience is security. Smart technology provides residents with peace of mind by giving them easy access to their apartments. Smart locks remove the need for operators to manage hundreds of sets of keys or fobs.
With access granted remotely, lockouts are no longer an issue since they can be handled by simply changing entry codes.
Additionally, the Cinch Home Services study showed 70 percent of baby boomers and 62 percent of millennials appreciated the safety features offered by PropTech.
Attract and retain
Smart home technology with property management software is not just for new buildings. Even if you have a property that's already built, you can still retrofit smart technology into current units without paying for costly renovations.
Smart tech is a differentiator that adds value to a property. The Park Associates' study found that increased rental revenue is considered the most important smart home value proposition for multifamily owners and operators. Savings from energy efficiency and access control were a close second and third.
Many large and small community owners leverage amenities as a service (AaaS) to boost net operating income. They're charging very modest fees for the added convenience the system offers their residents, which brings in new streams of revenue.
A study by Rent.com found that on average, residents will pay an extra $38 per month for smart technology in their apartments. However, residents are willing to pay up to $53 more per month, contingent on the number of devices installed in their homes.
Renters want smart tech
Smart property technology is a win-win for both renters and owners/operators. It provides residents of all ages with security and convenience. Additionally, smart tech offers property owners lower overhead, streamlined operations, a point of differentiation against competitors, and greater NOI/ROI.
As a result, smart tech is no longer a luxury amenity; instead, it is the cost of doing business. This is evident as more developers factor this technology into construction plans and multifamily communities throughout the nation add smart apartment ecosystems to attract and retain residents.
This is the blueprint for success in multifamily communities across all generations and classes in today's housing market.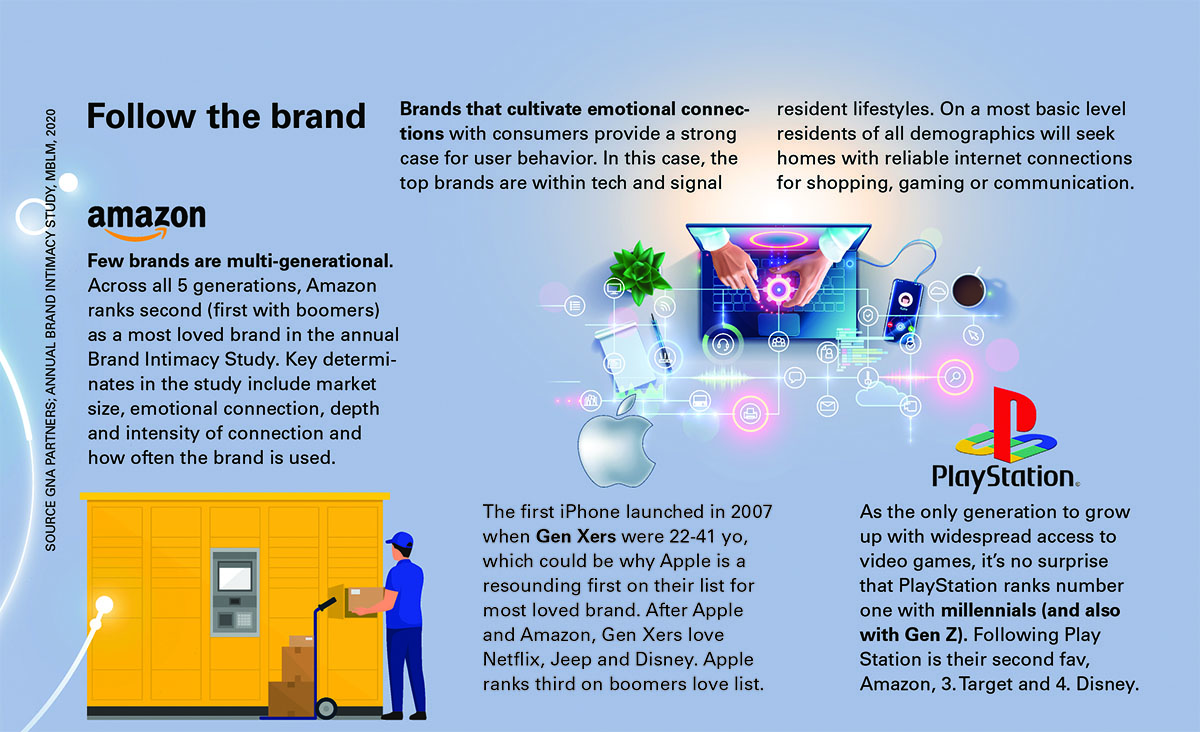 ---
Author Sylvia Crawford, Arize, senior director