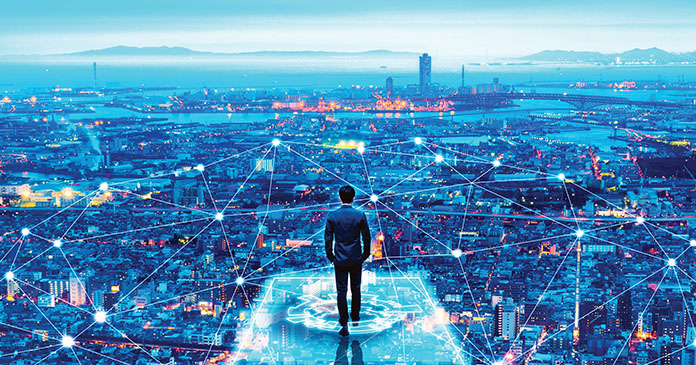 Like many, you probably have tech at home. As an early adopter, I'm acutely aware that it's more a hobby than a tried and true form of security, energy management or automation. The electricity goes off, as it frequently does in California, or a company like Nest or Ring changes hands, the app updates and suddenly the software's risk-benefit rapidly slides to red.
Place this scenario across one or more residences and the picture becomes even more bleak. Enter, commercial grade.
The vast majority of today's businesses depend heavily on value creation. It's a primary tenant of economics and the maxim for profitability. Value creation is beautifully simple: Provide value to a constituency, get rewarded with certificates of appreciation (money).
I'm happy to report that CRE tech is now a serious value creator. AI, algorithms and multi-level networks have quietly run many properties without issue and with amazing efficiency for many years.
The road wasn't easy, but we've reached a point where data aggregation, network consistency and logistics around property ecosystems can have a high impact on operations.
Crazy makes headlines, but the income producing algorithms applied to narrowly defined tasks are the ones moving the needle on profitability, risk abatement and energy efficiency in a radicalized world. This issue of Yield Pro is chalk full of in-the-field stories about what this means for apartment operations.
Here's just one anecdote. A decade ago, the National Apartment Association and National Multifamily Housing Council funded and published a benchmarking study on apartment energy. While energy management technology was new at the time, even then the study came to one rather startling conclusion. Properties with utility management programs in place operated 43 percent below the market average on property utility expense. That was ten years ago.
The best technology is ruthlessly simple and is applied to narrow problems. Humans remain the thinking beings in the equation, and the ones forever tasked with divining how to apply tech profitably. Owners and their residents are the ultimate assessors of tech value and payoff models, and whether tech's benefits make the mark. As you will read herein, their verdict is in.