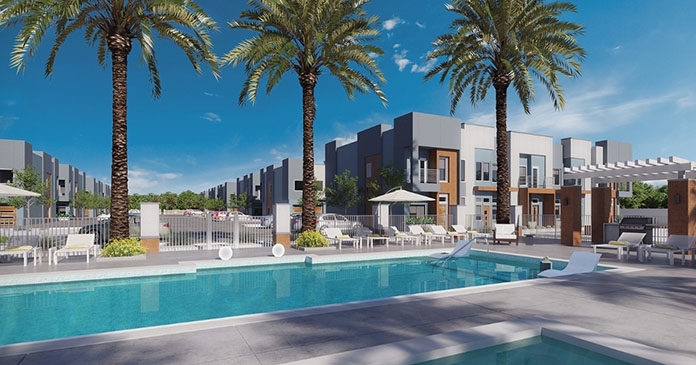 Haven Realty Capital (Haven), in partnership with funds managed by an affiliate of Apollo Global Management, Inc., has closed the first phase of a $22.8 million acquisition of a build-to-rent (BTR) townhome community now under construction in the Las Vegas, NV suburb of Summerlin. The Haven-led joint venture will close on the remaining homes in phases over the next 12 months.
Thrive at Peace Way is being developed by the seller, a joint venture of Edward Homes and Avision Development Partners, on a five-acre site at 10132 Serenity Star Way, between Flamingo and Tropicana. At build-out in the Fall of 2022, Thrive at Peace Way will feature 12 residential buildings housing 60 two-story mid-rise townhomes offering three-bedroom, two-and-a-half-bathroom floor plans ranging in size from 1,541 to 1,789 square feet. Each townhome will have an attached two-car garage and walk-out deck. Common area amenities will include a resort-style pool and cabana.
Haven has successfully invested in Las Vegas since 2012, where it has acquired single-family rentals and multifamily properties. Thrive at Peace Way is the firm's first BTR community in the city and marks the expansion of its BTR platform into the Western U.S. One of the nation's leading BTR owner/operators, Haven currently controls 36 BTR communities in various phases of construction and stabilization representing more than 3,700 homes located across nine states.
"The number of persons choosing to rent single-family homes over apartments is growing rapidly, especially as more build-to-rent communities come to market," said Haven Founder and Managing Principal Sudha Reddy. "By most estimates, only 10 percent of the multifamily inventory in the United States has three bedrooms or more."
According to a survey from John Burns Real Estate Consulting, nearly one-half of all new single-family renters in Q3 2021 moved from apartments to seek more space in their homes.
"Apartments simply don't address the increasing amount of family formation that we are seeing, especially for those who prefer to rent or choose not to buy at this time," said Reddy. "BTR provides families with the ability to live in a comfortable home for as long as they choose."