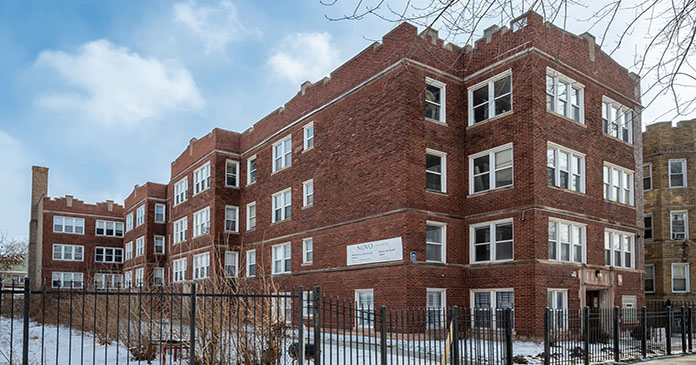 Interra Realty, a Chicago-based commercial real estate investment services firm, announced it negotiated the $1.9 million sale of 7027-33 S. Indiana Ave., a 26-unit multifamily property in Chicago's Park Manor neighborhood. The price per unit was $73,077.
Interra Managing Partner Ted Stratman was exclusively engaged to market the property on behalf of the local private seller, who had renovated most units and added a new boiler, roof and porches. Interra conducted a proactive direct marketing campaign, generating 15 tours and multiple competitive offers and closing at near list price. The confidential out-of-state buyer, who was represented by Interra Senior Managing Partner Brad Feldman, bought the property in a 1031 exchange and plans to update remaining unrenovated units as they become vacant.
"We continue to find plenty of investor interest in stabilized, cash-flowing assets throughout Chicago," said Stratman. "That includes the South Side, where the price per unit entry point tends to be more attractive. A PPU of $73,000 for an all-one-bedroom apartment building is both accessible to a wider swath of investors and also a positive indicator of the potential growth in this submarket."
Built in 1929 and last renovated in 2021, 7027-33 S. Indiana was almost fully occupied at the time of sale.
The property is located less than 10 miles from downtown Chicago, with easy access to the I-94/Dan Ryan less than 1 mile east of the property. It also is walkable to the 69th Street station of the Red Line and several bus routes.