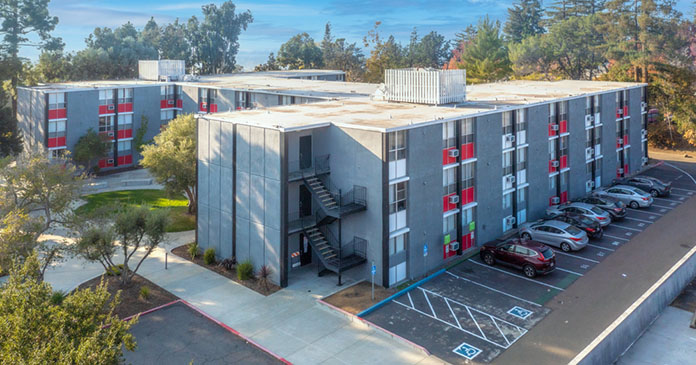 Levin Johnston of Marcus and Millichap, one of the top multifamily brokerage teams in the U.S., specializing in wealth management through commercial real estate investments, has successfully completed two East Bay Area transactions: the $20 million sale of The Storage Spot, a 645-unit storage facility in Fremont, California, and the $22.75 million sale of University Village, a 68-unit multifamily community in Hayward, California.
According to Levin Johnston's Executive Managing Director Adam Levin, who represented the sellers in the transactions and procured the buyers, these transactions represent the firm's ability to successfully execute deals within a variety of asset classes, allowing investors to diversify their portfolios and enjoy the benefits of stable, income-producing assets in premier metropolitan areas.
"There has been an influx of capital pouring into commercial real estate as investors look to hedge inflation by investing in asset classes that outperform the market during volatile climates," says Levin. "Given this increased competition, it has become harder to pencil deals, especially in high-demand markets like the East Bay Area. By leveraging our deep market knowledge and strong industry relationships, we were able to successfully beat out the competition and execute these multifamily and self-storage deals, two of the most in demand asset classes, providing investors with inflation hedging assets that will offer strong returns for years to come."
University Village in Hayward, California
On the heels of the self-storage deal, the firm also completed the sale of University Village, a 68-unit multifamily community in Hayward, California.
"The property is situated at the entrance of California State University, East Bay, presenting a convenient and opportune living situation for many prospective student and faculty tenants," says Levin. "Further investment appeal is driven by Hayward's strong employment fundamentals, low vacancy levels and close proximity to major employers, transportation corridors, shopping, dining and entertainment options."
The property also presents an opportunity for investors to maximize returns by implementing strategic value-add renovations.
"The value-add potential for University Village is immense, with the opportunity to add 20 ADUs to the complex. In addition, the large lot size also presents the opportunity to implement various community amenities, which will help create steady rent appreciation," says Levin.
University Village is situated on a 2.37 parcel of land and has a gross building area of approximately 52,110 square feet. The property offers residents one-bedroom and two-bedroom floor plans, and many amenities including upgraded kitchens, stainless steel appliances, modern cabinetry, granite counter tops, vinyl plank flooring, several community rooms, 124 parking spaces, and a large auditorium that has the potential to be converted into extra units.
The property is located at 25400 Carlos Bee Blvd, Hayward, Calif.