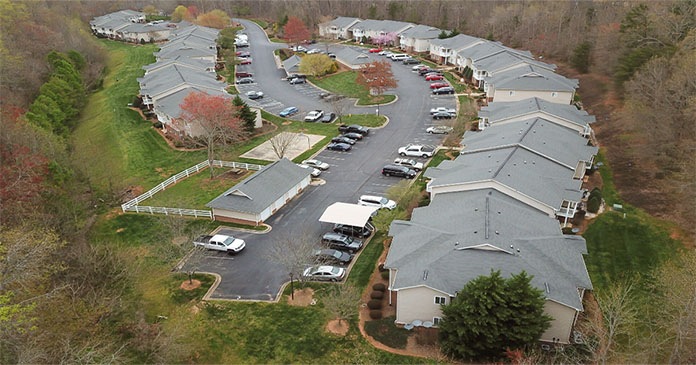 Magma Equities (Magma) in joint venture with Prudent Growth Partners (Prudent Growth) has acquired The Oaks Apartment Homes (The Oaks), a 111-unit garden-style multifamily community in the Charlotte metro submarket of Lincolnton, NC, in an off-market transaction for $17.5 million. Proving to be one of the most active multifamily investors in North Carolina, Magma has made its 20th acquisition in the state over the past four years and fifth purchase in 2022.
"We definitely see a changing dynamic in the multifamily market, which has resulted in a widening disconnect between sellers and buyers," said Magma Founder and Managing Principal Ryan Hall. "However, our time and experience in the markets in which we invest, like North Carolina, has allowed us to unearth opportunities and buy at a price that pencils for both us and the seller. We have a longer term, robust picture of multifamily here in Charlotte and statewide, and we will continue to move forward here."
Completed in 2002, The Oaks consists of one-, two- and three-bedroom apartment homes housed in 8 two-story residential buildings on an 11.66-acre site. Community amenities include a fitness center, basketball court, grilling area, playground and a dog park. The community was 97 percent leased at closing.
"The Charlotte metro has demonstrated stout fundamentals, both economically and demographically, that will support sustained growth even through these inflationary times," added Magma's Director of Asset Management Chris Herrlinger, who heads up the company's new regional office in Charlotte. "That's why we are so bullish on this market and continue to look for ways to expand our presence while adding value to these prime investment opportunities."
"We are excited to be partnering with Magma Equities on another multifamily deal in the Carolinas," said Tom Hahn, President of Prudent Growth. "This is a great property in a strong location, and it should provide immediate cash flow combined with longer term upside through some value-add opportunities."