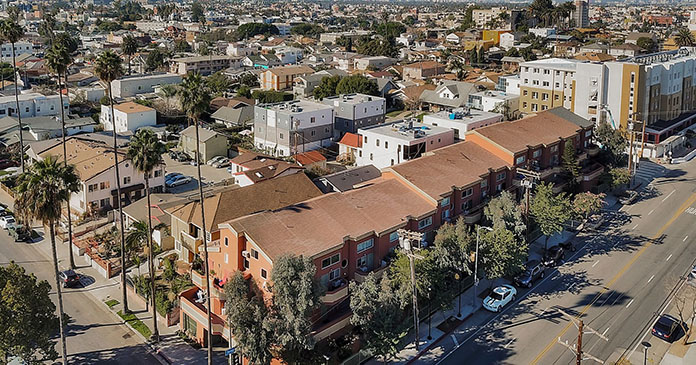 Marcus & Millichap, a leading commercial real estate brokerage firm specializing in investment sales, financing, research and advisory services, announced today that Rick Raymundo and Landy Toledo listed and sold the West Coast Properties Collection, a 91-unit multifamily portfolio spanning seven buildings in the Koreatown and Echo Park neighborhoods of Los Angeles, California. After deciding in early 2022 to list the properties for sale for the first time in decades, the owner, a private family trust, engaged Raymundo and Toledo for the assignment.
Toledo and Raymundo generated bids for the individual properties, as well as offers for the entire collection, which was awarded to Optimus Properties LLC at a price over 98% of asking for the entire portfolio. The $21.3 million sales price translates to a 3.31% blended cap rate for the portfolio, which was more than 95% occupied at the close of escrow.
"One challenge with this portfolio was the fact that though the buildings were located within approximately two square miles of each other, they varied considerably with construction dates ranging from 1913 to 1991 and building sizes from eight units to 30 units," explained Raymundo, an executive director of Marcus & Millichap's Multi Housing Division. "That limited the portfolio buyer pool, as the purchaser needed both the capital to acquire a substantial collection and the management flexibility to take on multiple small properties. Fortunately, we were able to generate interest from several groups prepared to purchase the whole collection, and the owner decided that Optimus Properties was the strongest candidate to take on the full portfolio."
"An additional hurdle was the quick spike in interest rates that occurred during escrow," added Toledo, a first vice president investments. "Because the brokers, principals, attorneys, and lender cooperated and moved quickly, the buyer was able to lock in an interest rate to make the deal pencil at the 3.31% cap rate, while securing the properties at the attractive price per pound metrics, culminating in a true win-win scenario for all parties."
The properties are:
3120 W Temple St., $7,700,000
1344 W Temple St., $1,650,000
150 S Oxford Ave., $2,700,000
544 S Oxford Ave., $2,600,000
4151 W 2nd St., $1,700,000
4256 W 2nd St., $2,650,000
3827-29 W 7th St., $2,300,000
The sales price represents a value of over $321 per square foot and $234,065 per unit.