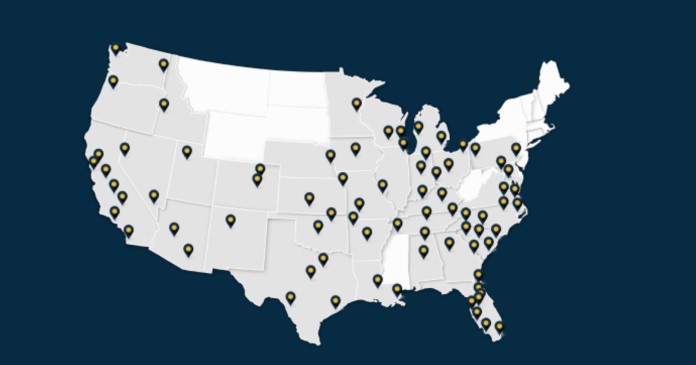 Home Partners of America (HPA), a single-family rental (SFR) business, will stop all property acquisitions in Boise, Reno, Spokane, Fresno, Memphis and 33 other geographic areas due to the market downturn in the single-family sector. HPA operated in 80 markets prior to the suspension.
In addition, HPA issued a policy addendum whereby pre-approved renters who missed their cut-off date to submit a home purchase application would automatically be removed from the program and their application fee would be refunded.
HPA's value proposition is a rent-to-own program allowing renters the opportunity to purchase their home at a set price. The company is now halting all applications and property submissions in these locations due to a decline in business the company announced in July.
HPA was acquired by Blackstone last year for $6 billion. At the time, HPA's portfolio was over 17,000 rental homes; it is now over 28,000 homes according to its website. The latest freeze impacts nearly half of the company's footprint.
"We assessed several factors such as home price appreciation, state and local regulations, and market demand to guide our investment plans to best serve consumers. We hope to resume purchasing homes in these markets in the future," wrote Home Partners of America in a press release.
A year after the June 2021 purchase of HPA, existing home sales are down 20.2 percent and new home sales are down 29.6 percent.
Moody's Analytics recently downgraded its outlook on U.S. home prices, projecting a 5 to 10 percent fall. Blackstone and other SFR operators have long signaled their intent to expand their SFR portfolios suggesting that the recent retreat is based on the current state of the economy. Moody's Analytics estimates that markets such as Boise, Reno and Spokane are significantly overvalued, setting those metros up for a 10 to 15 percent fall in home prices.
Politicians and analysts were critical of the effect of institutional buyers on a number of markets for single-family homes. SFR landlords such as HPA, Invitation Homes, and American Homes 4 Rent largely stepped into the single-family rental market when millions of Americans began to move to larger homes in less expensive areas when work from home became prevalent.