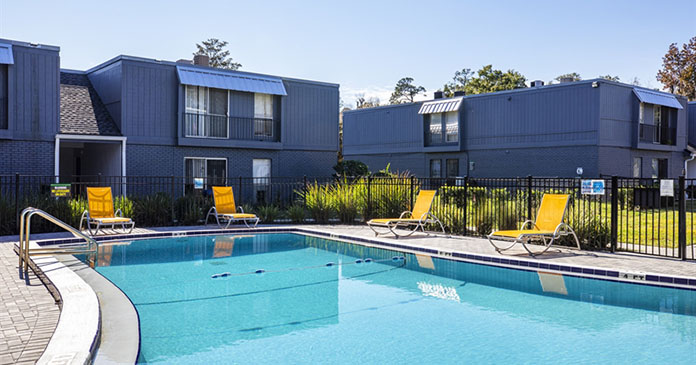 Cushman & Wakefield announced that the commercial real estate services firm has arranged the sale of the Archer Road Portfolio, a collection of five multifamily properties across several submarkets in Gainesville that total 582 units.
Nick Meoli and Mike Donaldson of Cushman & Wakefield represented the seller, a joint venture between Platform Management Group (PMG) and Excelsa, in the transaction. The multifamily portfolio was acquired by a joint venture between LYFE Properties Group and Skywood Properties. It includes the following properties, which are located within a three-mile radius of one another:
The Commons, a 99-unit community located at 2001 SW 16th St.
The Lofts, a 74- unit community located at 3020 SW Archer Rd.
The Park, a 99-unit community located at 3643 SW 20th Ave.
The Point, a 140-unit community located at 3100 SW 35th Place
The Trails, a 170-unit community located at 3230 SW Archer Rd.
"The Archer Road portfolio is a generational portfolio opportunity to acquire five properties positioned within class 'A' submarkets in Gainesville," said Meoli, Vice Chairman at Cushman & Wakefield. "The seller strategically invested over $6,000/unit on interior and exterior enhancements providing new ownership the capability to renovate 83% of the remaining units maintained in classic condition."
The Archer Road portfolio was built between 1971 and 1983 and is situated in one of the most desirable locations in Gainesville. The portfolio is within walking distance to the area's largest employment drivers, including the University of Florida, the top-ranked UF Health Shands Hospital, and the Malcom Randall VA Hospital and Butler Plaza, encompassing over two million square feet of retail and restaurant space. In addition to being in a premier location, the portfolio presents a value-add opportunity through a series of interior enhancements to select units at each of the properties.
"Given the attractive locations and upside potential, we saw significant interest from the market with 229 registered investors," added Donaldson, Vice Chairman at Cushman & Wakefield. "The buyer, who is an excellent hands-on operator, plans on fully renovating all five properties to compete in the highly sought after submarkets of Gainesville."