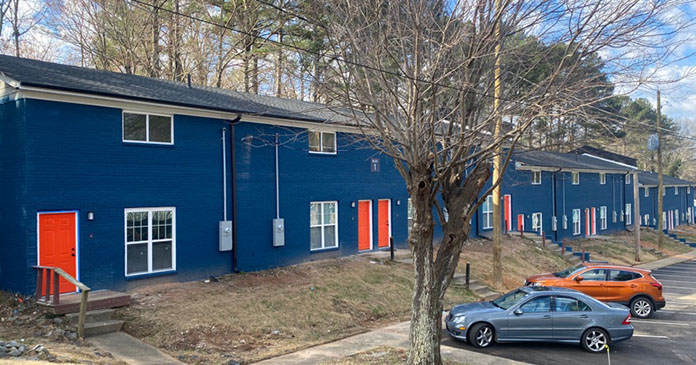 iBorrow, a nationwide private direct lender for commercial real estate, has provided an $11.6 million loan to enable the acquisition of Wellington Townhomes, a 92-unit multifamily community in the College Park neighborhood of Clayton County, Georgia, according to Brian Good, CEO of iBorrow.
"iBorrow identified an opportunity to assist the borrower in purchasing an exceptionally well-located multifamily property adjacent to the rapidly growing Atlanta market," explains Good. "We have observed the Atlanta region's strong employment recovery since the pandemic, a sign of the market's strength moving forward and the value of underwriting this transaction."
The loan provided by iBorrow will be used to acquire the property, complete full unit renovations and capex work, and lease up the asset to stabilization.
"One of our company's distinguishing features is our ability to problem solve and deliver clever, creative solutions for borrowers quickly and expertly," says Good. "Our team was able to provide fast, reliable financing to fund accretive property renovations for our client."
College Park is connected to the area by multiple thoroughfares, all of which are major regional transportation corridors that provide residents and businesses convenient access to the Atlanta metropolitan area. Further, the submarket is home to some of the largest employers in the region, which will sustain resident demand, notes Good.
"College Park is home to the Georgia International Convention Center and Hartsfield-Jackson Atlanta International Airport, the world's busiest airport," says Good. "The Hartsfield-Jackson airport is also the primary hub of Delta Air Lines; the world's largest airline hub and considered to be the first mega-hub in America."
As the crowning jewel of Georgia's economy, Hartsfield-Jackson provides more than 63,000 on-site jobs and generates more than $70 billion in economic impact for the state.
Wellington Townhomes is centrally located within a 20-minute drive of Atlanta and near multiple significant thoroughfares including two interstates, one U.S. highway, and five major state highways. Residents also benefit from convenient access to multiple dining and shopping options, as well as a MARTA station situated within a 10-minute drive from the property.