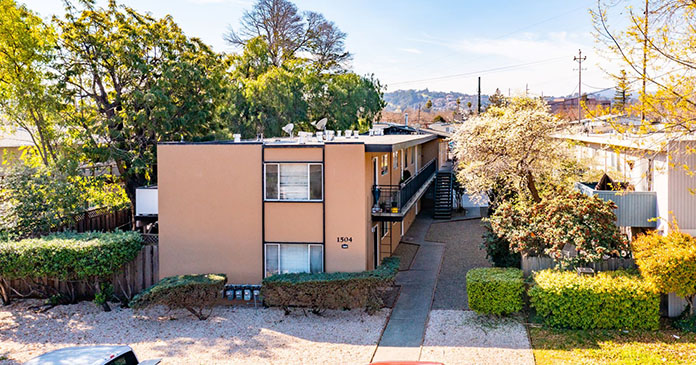 Levin Johnston of Marcus and Millichap, one of the top multifamily brokerage teams in the U.S., specializing in wealth management through commercial real estate investments, has successfully completed the following transactions: An 8-unit multifamily community in San Mateo for $2.8 million, a 10-unit multifamily community in Burlingame for $5.6 million, and a second Burlingame community with 5-units for $3.1 million. Levin Johnston represented both the buyer and the seller in the transactions.
According to Levin Johnston's Senior Managing Director, Robert Johnston, the three communities are situated in thriving San Mateo County, strategically located equidistant between San Francisco and San Jose, offering proximity to major employers, transportation corridors, shopping, dining, and entertainment options.
"San Mateo's impressive market fundamentals are largely driven by the region's strong employers, which are continuously rebounding from the effects of the pandemic and exhibiting impressive signs of job growth recovery," explains Johnston. "In fact, the low unemployment rate in San Mateo County of 2.2 percent demonstrates the abundance of job opportunities and stable growth of the labor force, making San Mateo County's local economy one that continues to attract renters and investors to the area."
According to Levin Johnston's Executive Managing Director Adam Levin, the sale and quality of this portfolio speaks to the firm's increased deal volume of recent months.
"The Levin Johnston team successfully closed 60 transactions valued at $466 million by end of Q2," says Levin. "Our transaction volume during the first half of this year consisted of transactions across a variety of asset types and submarkets, demonstrating our expertise in successfully closing deals that meet the diverse needs of investors, as well as our ability to be nimble and adaptable during unprecedented times, allowing us to consistently bring deals to the finish line."
Properties in the portfolio include:
1504 S Claremont Avenue, San Mateo
The apartment community at 1504 S Claremont features 8-units and is located in the thriving city of San Mateo, one of the most dynamic and desirable locations in the Bay Area.
"The appeal of the investment is driven by San Mateo's strong employment fundamentals and low vacancy levels," says Johnston. "As a whole, the Bay Area is currently experiencing a shortage of housing units and steady rent growth, which will make this asset a strong investment for ongoing cash flow and value appreciation."
1504 S Claremont St is within walking distance to Downtown San Mateo, featuring a myriad of diverse retail shops, dining, and entertainment options. The property is also located within close proximity to major transportation corridors including U.S. Route 101, California State Route 92 and the San Mateo Caltrain Station.
Situated on a 10,620 square foot parcel of land, the property was originally constructed in 1959 and has a gross building area of approximately 5,911 square-feet, offering tenants thoughtfully designed one-bedroom floor plans.
1101 Laguna Avenue, Burlingame
The apartment community at 1101 Laguna Avenue features 10-units and is in Burlingame, California.
"With a world-class location in the heart of the Peninsula, 1101 Laguna presents an attractive choice for investors due to its proximity to major employers and transportation corridors," notes Johnston. "The property offers easy access to a variety of the nation's top companies including Google, Meta, Box, and others, as well as elite institutions like Stanford University. When residents aren't working, they can enjoy Burlingame's Broadway Business District and Downtown Burlingame, both of which feature a variety of locally owned business, shops, and boutiques."
Situated on a 6,900 square-foot parcel of land, the property was originally constructed in 1969 and offers tenants beautifully designed studio, one-bedroom, and two-bedroom floor plans.
1124 Paloma Ave, Burlingame
Located along the Broadway Business District, 1124 Paloma Ave is a stunning, 5-unit boutique apartment community less than a mile from Downtown Burlingame, giving residents convenient access to the excitement of the downtown scene.
Its location also offers tenants and residents proximity to downtown and business districts, as well as convenient access to Route 101, Interstate 280, and the San Mateo-Hayward Bridge.
"By utilizing our extensive knowledge of market trends, considering factors such as migration patterns, vacancy rates, and employment growth, along with our long standing, trusted relationships with investors, our team is able to break through the competition and successfully execute the sale of high-quality assets like 1124 Paloma Ave that offer investors further upside rent potential through strategic value-add enhancements and that are poised to receive strong renter demand for years to come," says Levin.
The complex is situated on a 5,750 square foot parcel of land and was originally constructed in 1969 offering tenants spacious two-bedroom and three-bedroom floor plans.