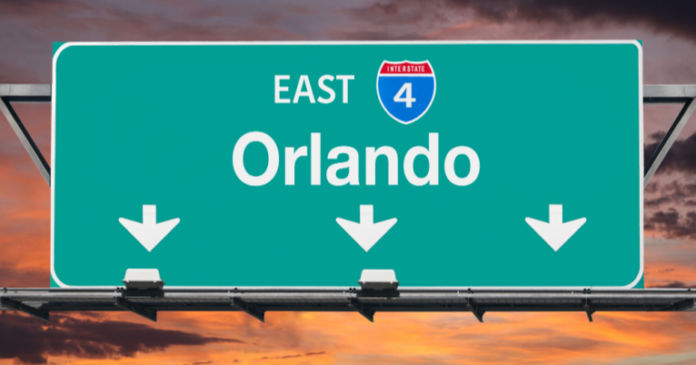 Yardi Matrix reported that the national average apartment rent growth in July was $10, bringing the average rent to $1,717 per month.
Rent growth rate slipping
The national average apartment rent was up 12.6 percent in July from its year-earlier level, down over a percentage point from the rate of increase reported last month. After the record high rent growth rate reached in February for the Yardi Matrix data set, this was the fifth month in succession with a declining rate of year-over-year rent growth. However, the rate of rent growth has now been in double digits for 12 straight months, according to Yardi Matrix.
Rents in the "lifestyle" asset class, usually Class A properties, rose 12.7 percent year-over-year, while rents in "renter by necessity" (RBN) properties increased by 12.5 percent year-over-year. The chart, below, shows the history of the year-over-year rent growth rates for these two asset classes along with the difference between these rates. The chart shows that rents for RBN properties generally rose at a faster rate than did rents for lifestyle properties in the years before the pandemic. This trend reversed in June of last year, but this month's report may presage a return to the earlier pattern.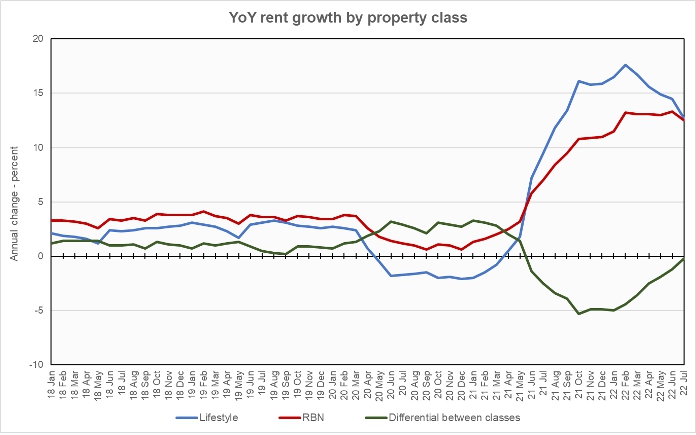 The rent figures being tracked by Yardi Matrix are asking rents for vacant units.
Yardi Matrix also reported that single-family rental (SFR) rents were up 11.2 percent year-over-year in July, reaching $2,092 per month. The national occupancy rate for single-family rentals fell 0.3 percentage points. Occupancy fell in 24 of the 34 metros tracked in the report.
Rent growth rankings
Of the top 30 metros by population, the ones with the largest annual apartment rent increases as ranked by Yardi Matrix are given in the first table, below, along with their annual percentage rent changes and the annual percentage rent change recorded in last month's report.
| | | |
| --- | --- | --- |
| Metro | YoY change % – July | YoY change % – June |
| Orlando | 20.2 | 24.0 |
| Miami Metro | 19.5 | 23.4 |
| Orange County | 17.6 | 18.9 |
| Raleigh | 17.5 | 18.9 |
| Tampa | 17.4 | 20.3 |
| Nashville | 16.5 | 18.1 |
| Dallas | 16.1 | 17.0 |
| Charlotte | 15.6 | 16.9 |
| Seattle | 14.9 | 15.9 |
| Las Vegas | 14.0 | 17.1 |
The major metros with the smallest year-over-year apartment rent growth as determined by Yardi Matrix are listed in the next table, below, along with the year-over-year rent increases for the metros.
| | | |
| --- | --- | --- |
| Metro | YoY change % – July | YoY change % – June |
| Twin Cities | 4.2 | 5.1 |
| Baltimore | 8.4 | 9.4 |
| San Francisco | 9.0 | 9.7 |
| Houston | 9.1 | 10.2 |
| Sacramento | 9.2 | 10.5 |
| Chicago | 9.6 | 9.8 |
| Washington DC | 10.0 | 10.6 |
| Kansas City | 10.1 | 9.9 |
| New York | 10.4 | 12.7 |
| Philadelphia | 10.4 | 11.4 |
Declining rates of year-over-year rent growth were seen in most of the metros tracked. Of those listed in the tables above, only Kansas City experienced a higher rate of year-over-year rent growth in July than in June.
The top metros for month-over-month rent growth in July were Raleigh, Orange County and Indianapolis. The metros with the lowest month-over-month rent growth were Inland Empire, Twin Cities, and Miami. Five of the 30 major metros tracked by Yardi Matrix saw negative month-over-month rent growth in July.
Assessing housing demand
The report notes that the national occupancy rate remained at 96 percent in July. This is despite sharp rises in occupancy in some of the metros that were hit by population losses early in the pandemic. These metros include San Jose, New York, Chicago and San Francisco, all of which saw occupancy rise by more than one percentage point. The relative unaffordability of for-sale housing was cited as a factor supporting high occupancy rates in rental housing.
The Yardi Matrix report discussed the findings of a recent study by the National Multifamily Housing Council (NMHC) and the National Apartment Association (NAA) on the need for housing in the United States. The study projects that there will be 13.6 million new US households by 2035 and that 3.7 million new apartments will be needed to house them. This is on top of the current apartment shortfall which the study estimates to be 600,000 units.
The NMHC/NAA study proposes policy changes to make the entitlement process for housing less time-consuming and expensive. It also proposes incentives for the production of affordable housing.
SFR occupancy down
Yardi Matrix reported on the top 34 metros for single family rentals. Again this month, all 34 of the metros covered saw positive year-over-year rent growth. The leading metros for this metric were Orlando, Nashville, Miami and Toledo. SFR rents were up 43 percent from year-earlier levels in Orlando and up 20 percent or more in Nashville and Miami.
This month, 24 of the metros saw declines in occupancy, matching the count from last month. The leading metros for year-over-year SFR occupancy growth were Atlanta, Philadelphia and Houston. Raleigh, Baltimore and Tampa saw the greatest SFR occupancy declines.
The complete Yardi Matrix report provides information on some of the smaller multifamily housing markets. It also has more information about the larger multifamily markets including numbers on job growth and completions of new units. It includes charts showing the history of rent changes in 18 of the top 30 markets over the last 4 years. It can be found here.