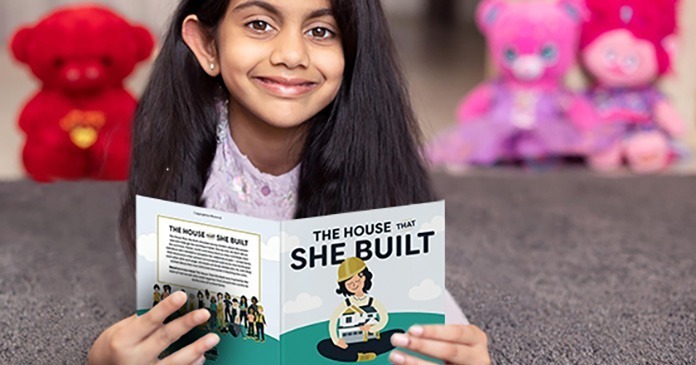 Inspiring the next generation to continue the work of supplying the nation with housing is central to the long term health of the home building industry. One step that the National Association of Home Builders (NAHB) has taken to provide this inspiration is publishing The House that She Built, a children's book that reveals the world of home building to young readers, and especially to girls who might not have considered homebuilding as a career choice.
The genesis of the book began with a project undertaken by the Utah Home Builders Association's Professional Women in Building Council of NAHB. The project brought women from around the country together to plan, design and build a two-story home. The home was built in Oakwood Homes' Wander master-planned community in Saratoga Springs, Utah.
One participant in the project was Mollie Elkman, who is president and owner of Group Two, a leading new home marketing partner for builders. She and another participant, Georgia Castellano, recognized the importance of preserving the story of the house and telling it to young readers. They wrote and illustrated the book, which was published by the Builder Books arm of NAHB.
The book takes readers through the many steps required to build a home and introduces them to the roles of the people involved. It opens the eyes of young readers to the many possible careers available to them in the home building industry. These include that of the architect who designs the house, the general contractor who oversees its construction and many of the skilled trades that make the home a reality.
NAHB First Vice Chairman Alicia Huey, a custom home builder and developer from Birmingham, Ala. said, "We are so proud of the impact that The House that She Built has had on educating young people on careers in construction and highlighting the importance of women's representation in the industry. It is great to see the success and recognition the book has received over the past year, and we look forward to seeing what is yet to come with this movement."
The House that She Built won a Benjamin Franklin Award from the Independent Book Publishers Association. It is a 36-page hardcover picture book and is available at Amazon or at NAHB Builder Books.