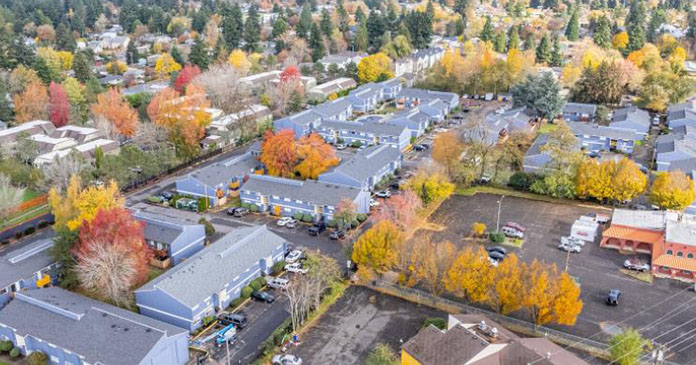 Next Wave Investors, LLC (Next Wave), a private equity firm focused on value-add multifamily investments, has announced its acquisition of The Nash, a 180-unit multifamily community in the Portland metro submarket of Gresham, Oregon, located in Multnomah County.
The acquisition is part of the firm's ongoing expansion into Portland submarkets, which includes recent deals in Beaverton, Tualatin and Vancouver. These transactions demonstrate the company's ability to identify markets with solid growth potential, according to Jordan Fisher, Principal at Next Wave.
"The Portland metro area has some of the strongest market fundamentals in the country for value-add investments, with a diversified job market of 97 percent occupancy recorded in Q1 of this year and resilient job growth in 2021 of 6.2 percent in the Portland-Vancouver-Hillsboro area. Over the years, our firm has worked strategically to escalate our footprint in submarkets that are poised for further growth and steady rent appreciation," says Fisher.
In addition, Fisher notes that the Portland area continues to see heavy in-migration, causing projected rental-rate growth as high as 4 percent to 10 percent in the next three years. Redfin reports that Portland has been ranked the #1 metro area with the fastest-rising rents year over year.
Further, in contrast to the market's projected rental-rate increase of 8.8percent, many multifamily rents in Gresham are substantially lagging behind market rates, which have increased dramatically due to Portland's record-breaking year of growth, driving demand that greatly outweighs tenant-worthy supply, according to Fisher. 
"This transaction provides our firm with an opportunity to implement a streamlined and thoughtful renovation process that speaks to the larger themes of economic revitalization throughout Gresham," says Fisher. "The community is located an active opportunity zone in a gentrifying neighborhood that is receiving significant investment from the City of Gresham through a redevelopment project in Downtown Rockwood, positioning the asset to provide investors with long-term, appreciating returns."
According to David Sloan, Principal at Next Wave, Portland and its submarkets are undergoing gentrification in part due to the area's ability to attract upwardly mobile millennials.
"Portland's well-educated millennial workforce—comprising 54.4 percent of the population—values multifamily communities that support a work-from-home lifestyle in tandem with convenient access to the surrounding downtown scene," says Sloan.
Built in 1975, The Nash provides direct access to TriMet's public transit system, which provides seamless connectivity to downtown Portland and subsequent metro areas. The property offers a unit mix of 68 one-bedroom,104 two-bedroom, and 8 three-bedroom units. Common amenities include a pool, children's pool, spa, on-site laundry facilities, a playground, clubhouse and fitness center.
Next Wave will implement a series of in-unit capital improvements at the property including new appliances; upgraded cabinets, door frames, and drawers; countertop resurfacing; new vinyl flooring; contemporary plumbing and lighting fixtures; and new air conditioning wall units and window coverings. In addition, the firm plans to upgrade the property exterior with refreshed landscaping; refurbished roofing; parking lot resurfacing; renovation of the fitness center, pool and spa, and leasing office; and improved on-site security.
The Nash is located at 224 SE 188th Avenue, Gresham, Oregon, 97233.