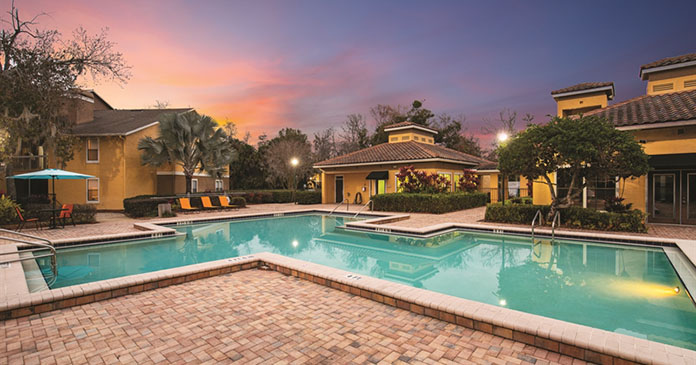 Cushman & Wakefield announced that the commercial real estate services firm has arranged the sale of Lake Forest Apartment Homes, a 384-unit multifamily community  located at 600 Jimmy Ann Dr. in Daytona Beach, Florida.
Cushman & Wakefield's Mike Donaldson and Nick Meoli represented the seller, LJC Lake Forest & Jade Park Ventures, LLC, which is operated by Lloyd Jones, LLC. The multifamily community was acquired by McDowell Properties.
"Lake Forest is a well-located Class 'B' community in the heart of Daytona Beach with an abundant amenity package and desirable unit mix," said Donaldson, Vice Chairman at Cushman & Wakefield. "The property is encumbered by an agency loan that was one of the few workforce mission-driven loans which called for income and rent restrictions on most of the community. Even with these restrictions in place, there was considerable upside to bring the rents to current limits and implement additional upgrades."
Built in the mid-1980's, Lake Forest Apartment Homes is a garden-style community that was 98 percent leased at the time of sale. The multifamily property is unique in that it offers a central location that places it near the Atlantic beaches, the Daytona Beach International Airport, the Daytona Speedway, and major retail and employment centers.
Lake Forest Apartment Homes also offers the opportunity to implement a value-add program by renovating the community's mostly unrenovated units and add or repurpose a substantial amount of indoor and outdoor space to create a best-in class amenity package. Current amenities offered include two swimming pools, two fitness centers, a grilling and picnic area, on-site laundry facilities, and racquetball and tennis courts.
"Even though there was a large value-add component, the rent and income restrictions as well as the necessity to assume two loans limited the buyer pool," added Meoli, Vice Chairman at Cushman & Wakefield. "We were able to secure McDowell Properties, a prominent owner of both market-rate and affordable multifamily communities throughout the country, who had prior experience with this rare type of debt assumption. McDowell was able to successfully navigate through the complexities of both the loan assumption and the volatility of the current market conditions to add a desirable new property to their Sunbelt portfolio."