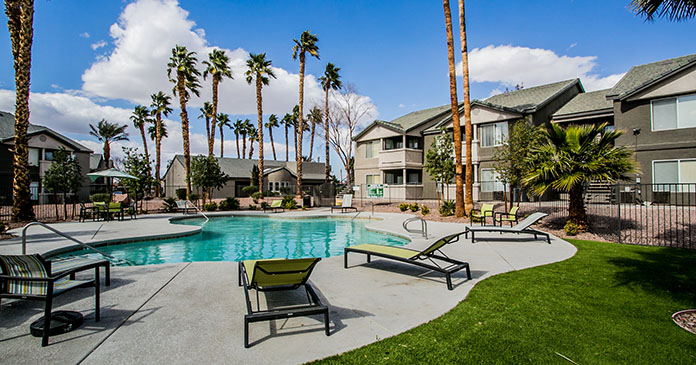 Multifamily investment firm DB Capital Management (DB Capital) has made its entry into the Las Vegas market with the $64 million acquisition of the Boulevard, a 296-unit apartment community located just 20 minutes from the Las Vegas Strip.
The Boulevard, which will be rebranded as Summit on Nellis, offers one-, two- and three-bedroom floorplans with an average unit size of 878 square feet and comes complete with a plethora of community amenities, including a fitness center, a swimming pool, a dog park, a modernized resident clubhouse and leasing office, and 48 detached garages.
The acquisition of The Boulevard represents a compelling value-add opportunity for DB Capital, which plans to execute an extensive capital improvement plan that will upgrade all the apartment homes to premium level. In addition, there will be an upgrade of the common areas and building exteriors to further increase the property's curb appeal. When complete, Summit on Nellis will be on par with the competitive set in the area but at a more attractive price point.
"The Las Vegas rental market continues to benefit from very favorable supply and demand dynamics as well as ongoing in-migration of people seeking relative affordability when compared to West Coast markets," according to DB Capital CEO Brennen Degner. "We are committed to building out a substantial portfolio in the Las Vegas MSA, with a goal of $200 million over the next 24 months."
Located at 3050 S Nellis Blvd., the Summit on Nellis is located 15 minutes from downtown Las Vegas and Harry Reid International Airport and 20 minutes east of the Las Vegas Strip, Nevada's largest employment center. Other large employers located in close vicinity to the property include the $2 billion Allegiant Stadium, the Sunrise Hospital and Medical Center, the Desert Springs Hospital Medical Center, Union Village Integrated Healthcare Campus, and the booming industrial/e-commerce sector in northern Las Vegas. From July 2021 through July 2022 Las Vegas experienced job growth of 6.3 percent, the seventh highest employment growth in the nation.
"With the addition of new resorts, the Raiders stadium, and the rapid rise of Las Vegas as a sports mecca, Las Vegas' job market is not only strong but is also quickly expanding, driving the city's continued growth which led to a robust demand for multifamily apartments," DB Capital Regional Vice President Chase Yim said. "As a result of population growth and a rise in employment in a variety of industries, including healthcare/medicine, leisure/hospitality, and warehouse/logistics, Las Vegas is expected to remain a strong market for years to come."
Dekel Capital arranged $45.8 Million in bridge acquisition financing through UBS. According to Dekel Managing Principal Shlomi Ronen, "seeing the volatility in the debt markets we focused our efforts on sourcing the loan from a strong balance sheet lender that had lending capacity to not only fund this loan but as well fund future loans for DB."
This transaction was purchased in a joint venture partnership with Cottonwood Group, who is based out of Los Angeles. Spencer Ballif, Adam Schmitt and Jannie Mongkolsakulkit of CBRE's Las Vegas office represented the seller in the transaction.