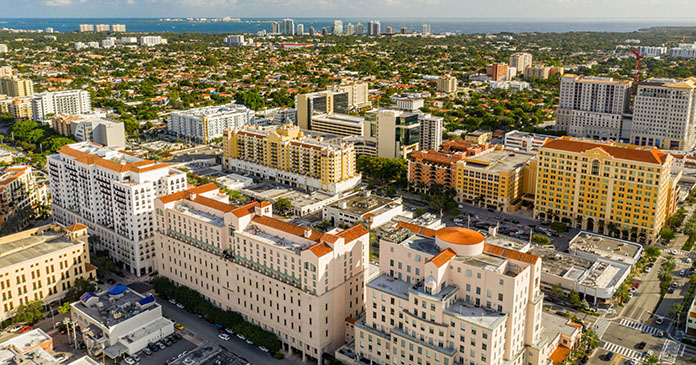 Cushman & Wakefield announced that the commercial real estate services firm has arranged the sale of Blume Coral Gables, a 100-unit apartment community located in Miami. The final sale price was $42,500,000.
Calum Weaver, Robert Given, Troy Ballard, and Zac Sackley of Cushman & Wakefield represented the seller, 37 Gables Property LLC, an affiliate of Greystone, in the transaction. Swiss investment group, Lurra Capital, acquired the property.
"This is another strategic acquisition in Miami within the last year which bolsters our strong commitment to growing our presence and portfolio in the US and more specifically in South Florida which is one of the fastest growing markets globally," said Tyron Birkmeir, Founder and CEO of Lurra Capital. "The Miami multifamily market maintains solid fundamentals with population growth, a strong job market and record low unemployment—home prices remain at record levels which impacts the rental market extremely positively while land becomes more limited keeping new construction in check. We are excited to continue investing and expanding within this growing market and are actively looking at new opportunities."
Located at 1501 SW 37th Ave. in Miami, Blume Coral Gables is a boutique, Class-A, 100-apartment high-rise community that was developed in 2019. The property has large floorplans—almost 900 square feet—with a mix of lofts, one-, and two-bedroom units, along with 6,191 square feet of ground floor retail.
"Newly constructed multifamily deals in this size range are hard to come by. We have a strong track record in selling newly built buildings in the 50–100-unit range. We are able to identify qualified private capital to the market that can successfully close on these rare opportunities," said Calum Weaver, Executive Managing Director at Cushman & Wakefield.
"It's gratifying to see the successful exit of Blume Coral Gables, a project which we've poured our heart and soul into over the years," said Thomas P. Ryan, head of property development at Greystone. "We thank the Cushman & Wakefield team for their partnership across the spectrum of multifamily, as we know they are the proven premier sales advisory team in the Miami market."