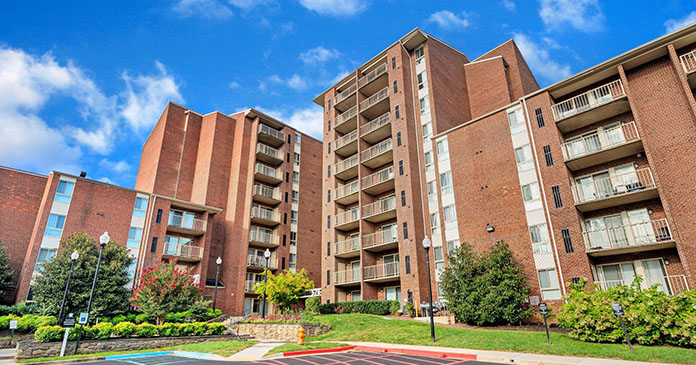 Excelsa Properties has closed on the $78 million purchase of a 325-unit multifamily property located at 5764 Stevens Forest Road in Downtown Columbia, Maryland. The value-add property, Columbia Pointe, was jointly acquired by Excelsa US Real Estate II, LP and an Excelsa co-investment vehicle.
This is the third acquisition for the Excelsa US Real Estate II, LP fund.  The firm had previously acquired 10 multifamily properties with its first fund, Excelsa US Real Estate I, LP (EUSRE I), two of which are jointly acquired with EUSRE II.  All today, Excelsa Properties has acquired 11 properties since 2018.
Excelsa plans to invest $3.2 million in the renovation of 165 units including kitchen and bathroom upgrades.
"With current occupancy of 95 percent, this investment supports a very high going-in yield," said Jon Woods, Chief Operating Officer at Excelsa Properties. "Given the need for housing in the growing and thriving community of Columbia, we also see an opportunity to add value to the property through unit renovations, further strengthening yield."
Columbia Pointe comprises one residential tower and 14 garden-style buildings on an 18-acre plot, surrounded by walking and biking trails. Built in 1972, the property was substantially renovated with new roofs and windows in 2016. The community includes a mix of one-, two-, and three-bedroom apartments with private patios or balconies, granite countertops, renovated interiors and spacious walk-in closets.
Located in the Lakeside district of Columbia, the property sits within Maryland's number one school district, boasting six top-rated schools within a five-mile radius. The city is conveniently situated between the Washington, D.C. and Baltimore metro areas, together home to 37 Fortune 1000 companies. It is also within walking distance of Columbia's downtown core, which is in the midst of a $5 billion redevelopment to transform the city into a new urban hub, as well as many area amenities including 20 restaurants, Whole Foods, a shopping mall and the Merriweather Post Pavilion – one of the top concert venues in the nation.
Excelsa Properties represented itself in the acquisition of Columbia Pointe.  The seller, Morgan Properties, was represented by Newmark.