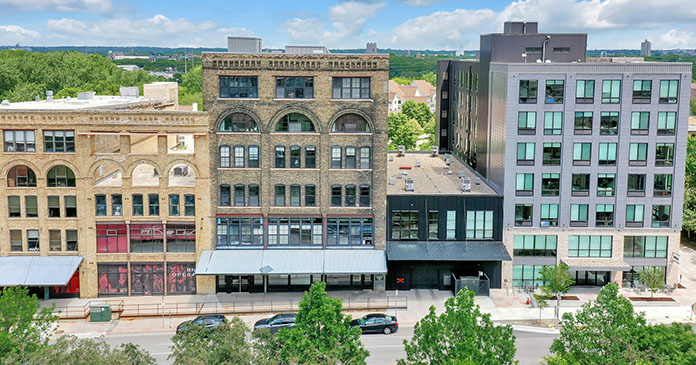 JLL Capital Markets announced that it has closed the sale and arranged the acquisition financing of Gaar Scott Historic Lofts, located in the North Loop neighborhood of Minneapolis, Minnesota.
JLL represented the seller, Gaar Scott Limited Partnership, and FPA Multifamily acquired the asset. JLL also worked on behalf of the new owner to secure the three-year, fixed-rate loan through North American Banking Co.
Built in 1885 and converted to multihousing in 2001 with historic tax credits, the six-story Gaar Scott Historic Lofts features one-bedroom units with an average home size of 900 square feet. The property features off-street and garage parking, a back patio, skyline/river views, high ceilings and open floor plans, as well as several value-add opportunities. The community also offers 4000 square feet of commercial space.
Situated at 614 N. 1st St., the property was one of the early redevelopments within the North Loop and has contributed to how strong the neighborhood is today. The property is perfectly located within a few minutes of the Mississippi River and its many walking trails. In addition to Minneapolis' most popular retailers and entertainment venues, the North Loop has been the recipient of significant public and private investment, which include RBC Gateway, North Loop Green and Waterworks at Mill Ruins Park. Additionally, the North Star Commuter rail, skyway system, and Target Field Light Rail Station (Metro Blue Line and Green Line) are all a short walk from the community.
The JLL Capital Markets Investment Sales and Advisory team that represented the seller was led by Managing Directors Dan Linnell, Mox Gunderson and Josh Talberg and Senior Director Adam Haydon. Senior Managing Director Matthew Lawton, Managing Director Scott Loving and Director Britta Lund led the JLL Capital Markets Debt Advisory team that represented the buyer.
"We were proud to represent Gaar Scott Limited Partnership in the sale of one of the early adaptive re-use multi-housing projects that helped shape the North Loop into the thriving Downtown neighborhood it is today," said Linnell. "The project was redeveloped with historic tax credits and features nine affordable units that will remain for another 19 years. This was a great execution that closed—despite the rising interest rate environment—due to the quality of the real estate, the seller, the buyer and the lender."
JLL Capital Markets is a full-service global provider of capital solutions for real estate investors and occupiers. The firm's in-depth local market and global investor knowledge delivers the best-in-class solutions for clients—whether investment and sales advisory, debt advisory, equity advisory or a recapitalization. The firm has more than 3,000 Capital Markets specialists worldwide with offices in nearly 50 countries.