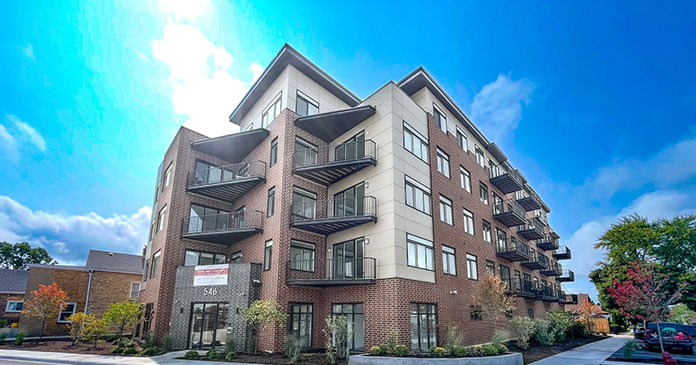 Interra Realty, a Chicago-based commercial real estate investment services firm, announced it brokered the sale of a 37-unit multifamily property in Highwood, Ill. The newly built property, located at 546 Green Bay Road, traded for $11 million, equating to $297,300 per unit.
Interra Managing Partner Craig Martin represented the seller, Sy Oko, quickly procuring a buyer during the initial lease-up period despite rising interest rates. Martin also represented the buyer, HP Ventures Group-Development Services LLC, a development and property management company that develops, acquires and manages mid-rise apartment buildings and townhouse projects.
"As more people seek modern and comfortable living options outside the city core, we've continued to see a growing demand for high-quality boutique rentals in the suburbs," said Martin. "And because we know the demand for these specific buildings has been strong, in spite of elevated interest rates, we were able to work with the buyer to add to its portfolio."
546 Green Bay Road comprises one studio, 14 one-bedroom and 22 two-bedroom units. The recently constructed building is part of a trend of boutique residential developments to deliver in Highwood over the past two years.
According to Steve Cook, managing partner of HP Ventures, investment in the Chicago market remains robust due to good fundamentals, strong tenant demand and the many attractive middle-market projects that multifamily developers continue to deliver. "The 546 Green Bay project, located along the Metra tracks in Highwood, is a great example of our niche strategy to serve tenants who prefer to rent high-quality units in excellent locations," Cook said.
In addition to the Metra station, nearby amenities include a variety of restaurants and entertainment options in downtown Highwood.