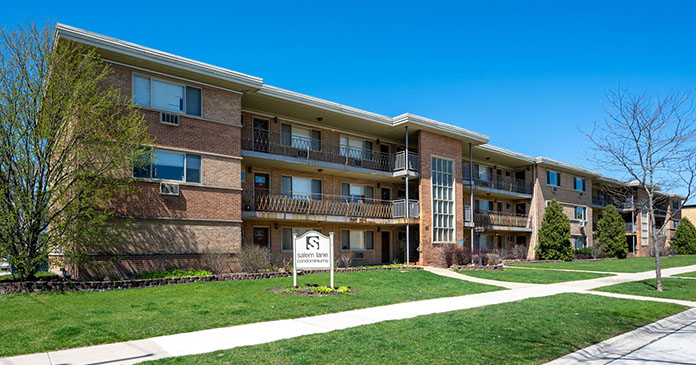 Interra Realty, a Chicago-based commercial real estate investment services firm, announced it brokered the deconversion sale of a 34-unit multifamily property in Arlington Heights, Ill. The property, 202-222 N. Salem Ave., traded for $4.1 million, equating to $121,618 per unit.
Interra Managing Partner Patrick Kennelly and Director Paul Waterloo represented the seller, the Salem Lane Condominium Association. The winning bidder, an unnamed buyer, was also represented by Waterloo and Martin. To date, Interra has completed over a dozen deconversion transactions in the Chicago area, exceeding $100 million in total sales volume.
"While this trend has cooled compared to years past, it is still possible to put together a deconversion deal in suburbs where the voting threshold remains at 75 percent," said Waterloo. "Sales are especially active in desirable communities where there is limited sizeable inventory."
Built in 1970, 202-222 N. Salem Ave. comprises 30 one-bedroom units and four two-bedroom units. The condo owners were interested in selling the property to avoid a potential special assessment due to deferred maintenance. The new owner plans to make repairs to the balconies and upgrade units as they turn over.
"Walkable communities within suburban locations continue to attract people who wish to move away from the city but, at the same time, don't want to feel entirely remote," said Kennelly. "Because Interra is so well-versed in these types of transactions, we are able to help investors create high-quality rental options in sought-after suburbs."
The property is located off U.S. Highway 14 and is served by the Arlington Heights Metra station. Nearby amenities include a variety of restaurants, shops, grocery stores and golf courses.