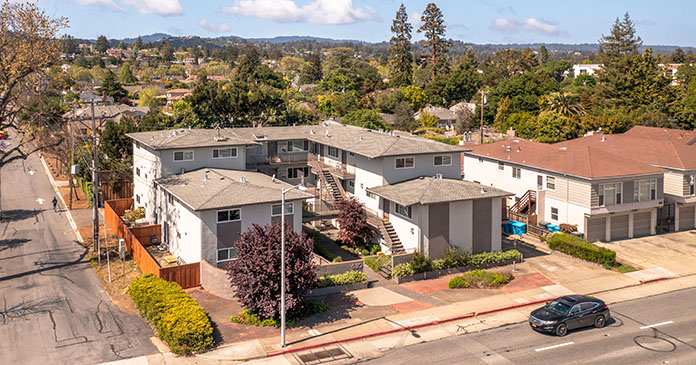 Levin Johnston of Marcus and Millichap, one of the top multifamily brokerage teams in the U.S., specializing in wealth management through commercial real estate investments, has successfully directed the sale of two San Mateo multifamily communities, two KinderCare Learning Centers and a Dollar General. The deal was procured and completed by Levin Johnston's Executive Managing Director Adam Levin, Senior Managing Director Robert Johnston, and Junior Associate Cole Simpson.
The transactions were part of a complex 1031 exchange through which Levin Johnston identified an opportunity for the owners of the multifamily communities 180 Irene Ct., in Belmont and 630 El Camino Real in San Mateo to sell their properties for a total of $12.85 million and exchange them for a KinderCare Learning Center in Waunakee, Wisconsin for $4.6 million, a KinderCare Learning Center in Omaha, Nebraska for $5 million, and a Dollar General store in Cincinnati, Ohio, for $1.9 million.
According to Adam Levin, the exchange demonstrates the firm's ability to maneuver and direct sophisticated exchange deals across asset types, even amidst market volatility and rate hikes.
"The two KinderCare Learning Centers and the Dollar General all have a decade-plus left on their leases, providing an element of stability amid concerns of an impending recession," says Levin. "Given our expertise in the Bay Area, coupled with our national networking presence and strategic market analysis, we were able to execute this exchange between the Bay Area and prime submarkets of the Midwest, placing our firm once more with a competitive edge that fulfills the investment needs of our client."
The 1031 exchange began with the sale of the San Mateo County multifamily communities, in which the team represented the seller and procured the buyer, according to Robert Johnston.
"After securing a strong price for the Bay Area multifamily assets, we successfully helped our client trade into three assets in growing Midwestern submarkets," says Johnston. "This exchange allows our clients to preserve their equity, diversify their portfolio, and strategically deploy their funds into new ventures that will generate significant and steady returns for the coming years."
According to Levin, as continued child development research is conducted, reports shows that children who attend childcare centers before kindergarten age are more likely to graduate high school, demonstrate better social skills and self-confidence, and possess a strong love for learning. As this knowledge of early childcare becomes more mainstream, we are seeing an increased demand for these types of facilities, especially in family-oriented, suburban markets, laying the groundwork for long-term appreciation.
"With our sustainable approach to value creation, we conducted diligent research regarding assets in the Midwest that are projecting strong growth numbers. As people increasingly balance going back to the office and new hybrid work schedules, parent demographics have developed a need for new-age childcare options," says Johnston. "In addition, due to the current economic climate, we are seeing an increase in consumers conducting a large majority of their shopping in affordable variety stores such as Dollar General. Our client will now benefit from a diversified portfolio of childcare and retail establishments that provide recession-proof essential services."