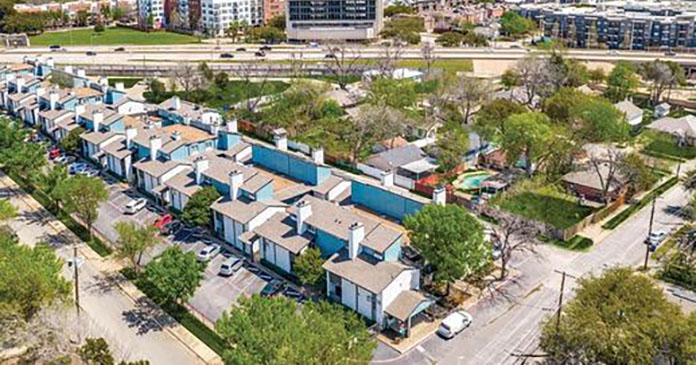 Veleta Capital Partners (VCP), a Los Angeles-based institutional quality small balance bridge platform, has provided $18 million in senior secured, floating-rate bridge financing for the acquisition and renovation of the 137-unit Maverick Oak Lawn Apartments in Dallas.
Bellwether Enterprise Real Estate Capital LLC (BWE), a national commercial and multifamily mortgage banking company based in Cleveland, brokered the transaction.
The financing, which was completed in a short three weeks, includes a future funding reserve to allow experienced sponsors to execute interior and exterior renovation plans with extension options. The apartment complex, located at 2600 Arroyo Ave. in Dallas, offers easy access to Dallas North Tollway and Interstate 35E.
"We're pleased with the outcome and execution on this transaction. We were able to step in and provide certainty when another lender failed to close. A committed sponsor and experienced broker team allowed for seamless execution in just three weeks," said J. Scott Croul, Head of Production at VCP, noting that the non-recourse, 24-month loan was at 68 percent LTC.
Recently, VCP facilitated an $8.7 million senior secured, fixed-rate loan for the acquisition and light renovation of a 123-unit multifamily asset in Houston.