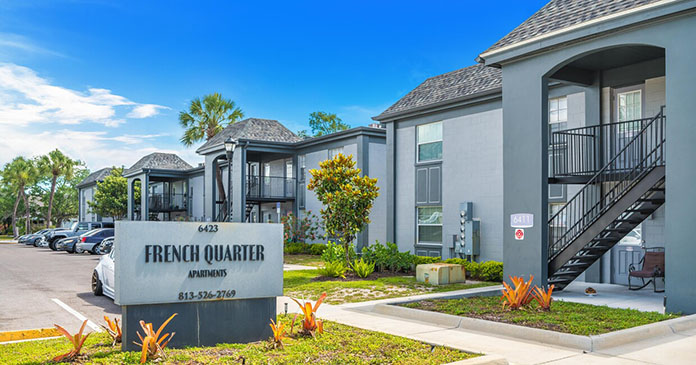 Franklin Street has arranged the sale of French Quarter Apartments, a 57-unit, 50,585-square-foot multifamily community in Tampa, for $10.75 million, equating to $188,596 per unit.
Franklin Street's Tampa Multifamily Investment Sales Team of Avery Jordan, Darron Kattan, Zach Ames, Mark Savarese and Cary Brown brokered the transaction on behalf of both the seller, French Quarter Investors LLC, and the buyer, Phoenix-based Orbit Investments LLC. The transaction marks the buyer's entrance to the Florida market.
French Quarter Apartments, located at 6423 N Armenia Ave., was constructed in 1968 and fully renovated in 2019, receiving over $3 million in capital improvements as part of a comprehensive interior and exterior renovation project. On-site amenities include a swimming pool, leasing office, grilling and picnic areas and a laundry facility. Orbit Investments plans to expand upon existing improvements with further value-add upgrades.
"Tampa remains a very competitive market for multifamily as population growth and job growth continue to support a strong investment thesis for investors," said Avery Jordan, Senior Director.
"In addition, the dramatic cost increase of single-family home ownership due to recent interest rate hikes has delayed household formation and caused many would-be homeowners to remain renters, creating strong demand in an already supply-constrained rental housing sector. Despite a challenging capital markets landscape and uncertain economy, our team was successful in helping Orbit Investments navigate the current transaction environment, allowing them to establish their footprint in one of the most desirable and resilient markets in the country."