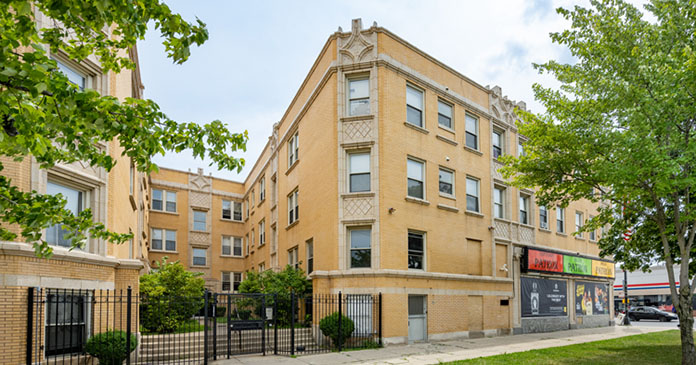 Interra Realty, a Chicago-based commercial real estate investment services firm, announced it brokered the sale of a 35-unit multifamily property in Chicago's Austin neighborhood for $2.66 million. The property, 5550 W. North Ave., traded for approximately $76,000 per unit.
Interra Managing Partners Lucas Fryman and Ted Stratman, along with Associate Sam Gutierrez, represented the seller, New York-based real estate investment group Raskin Risers. Fryman, Stratman and Gutierrez also represented the buyer, a local real estate investor and manager.
"We represented Raskin Risers when the firm first acquired 5550 W. North Ave. in 2018, so this is now the second time Interra has brokered a deal for this building," said Fryman. "The multiple sales of this property in just a relatively short span are representative of property appreciation and continued development in the neighborhood."
Built in the 1920s, 5550 W. North Ave. features a mix of one- and two-bedroom apartments, as well as ground-floor retail space. As the property has undergone renovations within the past 10 years, the buyer plans to make modest upgrades as needed.
"Our aggressive marketing campaign led to multiple competitive offers, with the winning bid going from contract to close in less than 60 days," said Stratman. "That activity and the strong price per unit we were able to secure demonstrate investor demand for mixed-use assets with sizable apartments and long-term retail tenants."
The property is located at the intersection of Central and North avenues on Chicago's West Side, four blocks from Metra's Hanson Park station and 1.5 miles from the CTA's Central Green Line station. Nearby amenities include a variety of restaurants, shopping centers and parks.