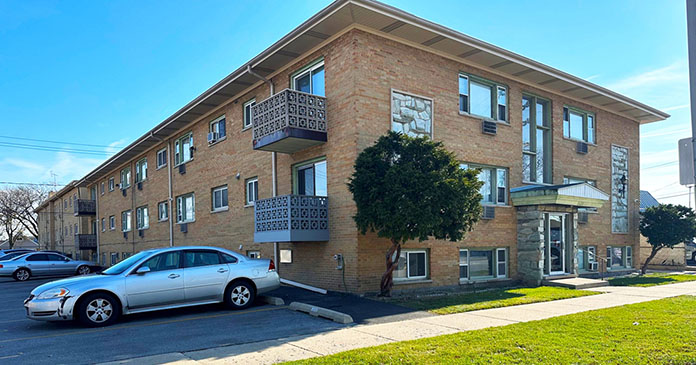 Interra Realty, a Chicago-based commercial real estate investment services firm, announced it brokered the sale of a 29-unit multifamily property in Melrose Park, Ill. for $2 million. The property 1123 N. 33rd Ave., was a 1031 exchange and traded for the equivalent of $69,000 per unit.
Interra Managing Partner Patrick Kennelly and Director Paul Waterloo represented the buyer, a local private investor, in the transaction. Kennelly and Waterloo leveraged Interra's local network to identify a building owner prepared to sell in an off-market deal.
"Because of Interra's extensive connections, Paul and I were able to procure a family estate looking to sell a like-kind property," said Kennelly. "By tapping our wide-ranging network, we were able to work quickly to complete this 1031 exchange transaction, staying within the buyer's tight time frame and helping them scale up their investment portfolio."
Built in 1970, 1123 N. 33rd Ave. comprises three studio, 22 one-bedroom and four two-bedroom units. The buyer plans to make improvements to apartments as needed and address acute deferred maintenance.
"Today's market conditions mean that there are few ground-up apartment developments addressing the widespread need for workforce housing," said Waterloo. "Properties such as 1123 N. 33rd Ave. that are older but still in good shape can bring tremendous value to investors looking to tap into this demand."
The property is located near the intersection of Route 64 and U.S. Highway 45. It is served by the Melrose Park Metra Station and is less than 20 minutes from Chicago O'Hare International Airport. Nearby attractions include a variety of restaurants, shopping centers and parks.