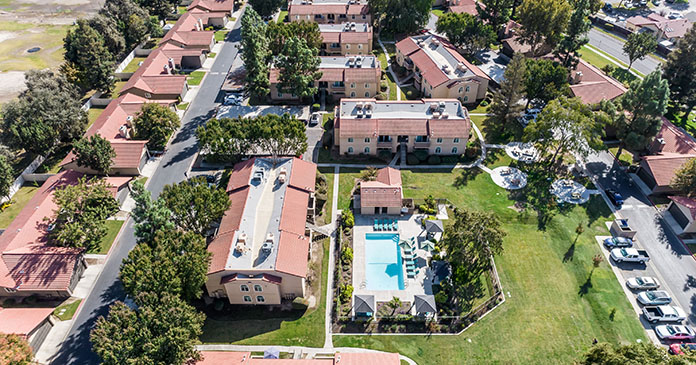 The Mogharebi Group (TMG) has brokered the sale of Oak View Apartments, a 237-unit garden-style multifamily community in Visalia, Calif., for $50 million. The buyer of the fully occupied property is a Southern California-based private investor.
"Despite interest rates climbing rapidly making financing difficult and causing investors to hesitate, if not totally pull back, we were able to generate tremendous interest from a wide range of buyers resulting in one of the largest multifamily transactions ever in Visalia," said Mogharebi Group Executive Vice President Otto Ozen, who represented the seller, a Los Angeles-based private investor. "Making such a big splash in a relatively small pond market-wise really speaks to the quality of the multifamily asset and our ability to navigate a challenging capital markets environment while leveraging our extensive investor network."
Built in 1990 and partially renovated in 2022, Oak View Apartments offers a mix of one-, two- and three-bedroom units ranging from 608 to 1,170 square feet in two-story apartment buildings and single-level duplexes on a 16.46-acre site at 4700 W. Caldwell Ave. The community features an extensive array of amenities including two swimming pools, a resident clubhouse with full kitchen, business and fitness centers, tot lots and sports courts, and laundry facilities.
The buyer plans to seize the major value-add opportunity at Oak View by upgrading the remaining unrenovated 173 units to premium levels. Only one of the community's 37 duplexes, a rarity in the Visalia market, has been fully renovated.
"Rental growth has been good overall, but it has been softening during the last few months," Ozen added. "Despite that trend, Visalia continues to show strength with a quality of life that is one of the best in the Central Valley.  In addition to the current value-add upside at Oak View Apartments, the new owner should continue to enjoy rent increases on annual renewals in the 9 percent range."
Oak View residents enjoy easy access to Highway 99 and 198, which connect to retail and employment centers, as well as recreational areas, throughout the Central Valley region. Less than two miles away from the community is the Mooney Boulevard commercial corridor, home to Sequoia Mall and Packwood Creek East/West, the two primary retail centers in Visalia. The community is within walking distance of several schools, including adjacent elementary and middle schools.
Since its founding in 2015, TMG, one of the leading multifamily brokers in the state of California according to real estate research and advisory firm Green Street, has been involved in the sale of more than 6,500 units in California's Central Valley with sales nearing $1 billion.