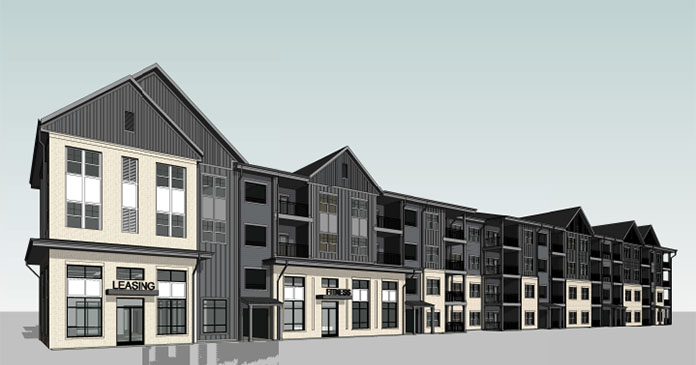 JLL Capital Markets announced that it has arranged the $18.82 million loan from The Amazon Housing Equity Fund for the construction of Harpeth Valley Apartments, a garden-style, 251-unit, mid-rise affordable housing development located in Nashville, Tennessee. The property will be rent- and income-restricted at 60 percent AMI through 2072.
JLL underwrote the Amazon long-term, fixed-rate subordinate loan for the borrower, Elmington Capital. The higher leverage, low-cost loan allowed the project to get built in a challenging environment where interest rates and construction costs have been rising. In exchange for the favorable financing, the borrower agreed to rent and income restrictions at the property for 99 years.
"This project represents a major milestone in our efforts to help bring more affordable housing to the Nashville area," said Catherine Buell, director of the Amazon Housing Equity Fund. "We're grateful for our partnership with JLL and Elmington Capital and look forward to seeing Harpeth Valley Apartments come to life."
Upon completion in the fourth quarter of 2024, Harpeth Valley Apartments will include six apartment buildings, consisting of four four-story split buildings and one three-story building. The property will consist of one-, two- and three-bedroom units with walk-in closets, balconies and patios, stainless steel appliances, washer and dryers and spacious floor plans. The development will also feature a well-equipped clubhouse, exercise room, pool, on-site management, bike storage and common area Wi-Fi.
Situated at 8101 McCrory Ln., Harpeth Valley Apartments will sit approximately 20 minutes from Downtown Nashville, 13 minutes from Hillwood and six minutes from Bellevue. The property is located along McCrory Lane and is just one mile south of Interstate 40, allowing residents to have convenient connectivity to State Highway 100 to the south and U.S. Route 70S to east. The community will also be within four miles from the MTA Bellevue Park & Ride (WeGo) and five miles from the nearest bus stops at Highway 70 South and Coley Davis Road EB.
"Today's announcement is a critical step in making Harpeth Valley a reality in our city," said Hunter Nelson, partner at Elmington Capital Group. "We've assembled a strong team of like-minded institutions who are combining their expertise and resources to create much-needed affordable housing in Nashville. I'm extremely thankful for JLL and Amazon for helping us in this endeavor."
The JLL Capital Markets Debt Advisory team working with Amazon was led by Senior Managing Director C.W. Early.
"JLL is proud to be working with Amazon to help effectuate change in these high-cost markets, and their capital allowed a project to get developed in tough times, creating 251 new units that will remain affordable for 99 years," said Early. "Without Amazon's funding, this type of project is more difficult, and these restriction levels don't make sense."
The Amazon Housing Equity Fund is a more than $2 billion commitment to preserve and create more than 20,000 affordable housing units in Washington state's Puget Sound region; in and around Arlington, Virginia; and Nashville, Tennessee—three hometown communities where the company has a large and growing presence. The Amazon Housing Equity Fund increases housing options for moderate-to-low-income families by providing affordable housing providers with quick access to low-rate loans to create or preserve buildings where affordability would have otherwise been lost to commercial-rate development. The fund will also provide cash grants to businesses, nonprofits and minority-led organizations to help them build a more inclusive solution to the affordable housing crisis, which disproportionately affects communities of color.
JLL Capital Markets is a full-service global provider of capital solutions for real estate investors and occupiers. The firm's in-depth local market and global investor knowledge delivers the best-in-class solutions for clients—whether investment sales and advisory, debt advisory, equity advisory or a recapitalization. The firm has more than 3,000 Capital Markets specialists worldwide with offices in nearly 50 countries.