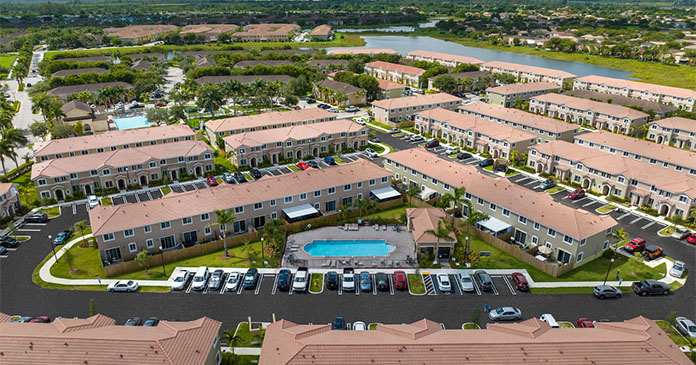 Mast Capital, one of South Florida's most active real estate development and investment firms, in partnership with Angelo Gordon, has sold the residential rental community of Seascape Pointe in Homestead, Florida. Seascape Pointe is a 306-unit, garden-style community with 54 buildings situated in the southern part of Homestead, a submarket of Miami-Dade County. The property, located at 1140 SE 24th Road, was purchased by IMC Equity Group.
Seascape Pointe sits on 31.68 acres and is comprised of two-story, direct-access townhomes. Residences range in size from three-bedroom units at 1,387 square feet to four-bedroom units at 1,501 square feet. The property's amenities include a clubhouse, swimming pool with expansive sun deck, outdoor fitness area, playground, dog park, and 24-hour gated entrance.
Mast Capital and Angelo Gordon acquired Seascape Pointe in December of 2020. Over the past two-plus years, the joint venture has added significant value to the property through capital improvements, the development of 14 new townhomes and enhancement of management practices.
"Since acquiring Seascape Pointe in late 2020, we invested in significant improvements to the community, including upgrading amenities, adding 14 new townhomes and driving operational improvements," said Camilo Miguel, Jr., CEO and Founder of Mast Capital.
Demand for upgraded and newer rental communities in Homestead and southern Miami-Dade County has outpaced supply in the submarket, creating above average rent growth in the metropolitan area over recent years.
Approximately two miles from the Florida Turnpike and US Route 1, Seascape Pointe's centric location provides regional accessibility to most major employment hubs in the Florida Keys, surrounding Miami area, and Fort Lauderdale. The residential community is also surrounded by abundant retail, dining, and entertainment options, including Downtown Homestead, as well as premier shopping centers such as Florida Keys Outlet Mall, Southland Mall, The Falls, and Pembroke Pines City Center. It is also walking distance to Miami Gate High School and Gateway Environmental K-8 Learning Center.
Mast Capital has emerged as one of South Florida's most active real estate development and investment firms today, with acquisitions since December 2020 representing over $3.5 billion in total project capitalization. These investments include new-build development of 2,300 residential units, ranging from garden rental apartments to ultra-luxury condominiums, in Miami's Brickell District, Miami Beach, Fort Lauderdale, Palm Beach County, Fort Myers, and the Tampa metro area.