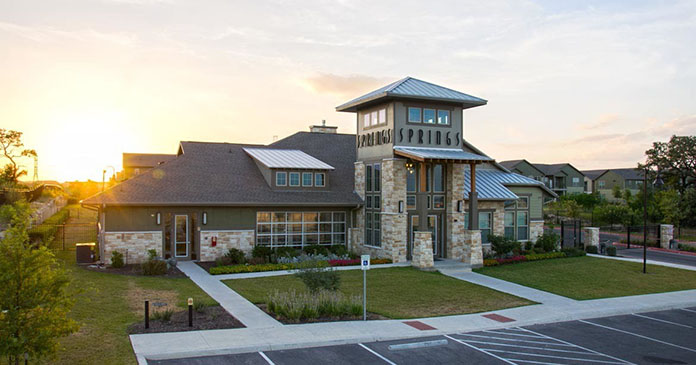 MLG Capital—a national leader in diversified private real estate investments—announced its acquisition of Springs at Alamo Ranch, located at 11211 Westwood Loop in San Antonio. The Class A, 227,000 sq. ft. multifamily property features 232 luxury studio, one-, two- and three-bedroom apartments with attractive amenities. The property will be rebranded to Reata Alamo Ranch.
"We are excited about this acquisition, which is located in a desirable area with high population growth and close proximity to some of the city's largest employers," said David Rodriguez, Assistant Vice President of MLG Capital. "With a low cost of living, strong job growth and a high quality of life, the San Antonio market continues to rank among the fastest growing cities in the country. We expect that trend to continue in the next five years and are pleased to expand our footprint in the area."
According to Costar, San Antonio ranked as the number 2 city for white-collar job growth since the start of the pandemic, and the five-year population growth is projected at more than 13 percent. Similarly, the Bureau of Labor Statistics projects San Antonio to add an additional 170,000 new residents over the next five years as the Alamo City continues to experience strong economic growth in industries like healthcare, bioscience, aerospace, IT, cybersecurity and more. The Springs at Alamo Ranch property is located within three miles of major area employers, including Microsoft, Aetna, QVC, Wells Fargo, JPMorgan Chase and CHRISTUS Santa Rosa Hospital.
MLG Capital has been acquiring assets since 1987. Since 2012, the firm has operated under a fund strategy, providing investors the opportunity to participate in portfolios of assets rather than individual deals. MLG's property acquisitions focus on geographic, asset class and asset type diversification. The firm opened its most recent fund—MLG Private Fund VI —in May 2022 with an equity raise goal of $400 million. The Springs at Alamo Ranch will be the 10th acquisition within Fund VI.
Springs at Alamo Ranch is MLG Capital's fourth investment in the San Antonio MSA, bringing MLG's active or sold multifamily units in Texas to more than 13,710.
Key features of Springs at Alamo Ranch include:
Townhome-style design
Private balconies
Resort-style swimming pool
Fitness center
Attached garages and on-site car care center
Gated entrance
Pet playground and spa