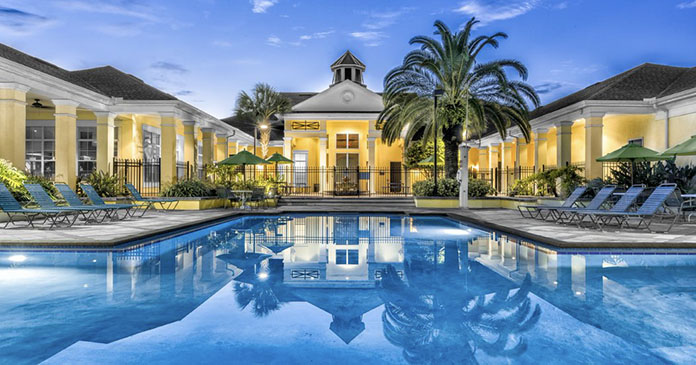 Trion Properties, a private equity real estate firm based in West Hollywood, California and Miami, Florida specializing in multifamily investments, announces that despite global economic challenges, 2022 was a year of outstanding growth for the company, expanding its total portfolio to 5,805 units within strategic geographies across the West Coast and Southeast. The firm added 11 new properties through nine transactions with a total acquisition value of over $489 million and successfully completed 8 disposition and 4 recapitalization transactions with a total value of $308,525,000.
The sold assets had an average hold period of 38 months, generating a project-level IRR of 30.90 percent and an equity multiple of 2.04x, according to Max Sharkansky, Managing Partner at Trion Properties.
"Following a record year of growth in 2021, 2022 was a year when runaway inflation and Fed interest rate increases created challenges for every investor. Even with strong headwinds, we were able to significantly grow our portfolio and successfully exit 8 properties with an excellent rate of return across all the transactions," comments Sharkansky.
In 2022, Trion completed its largest acquisition to date, a 402-unit multifamily community located at 6201 W 26th Avenue in Edgewater, Colorado, a rapidly transforming urban submarket of Denver. Purchased for $108.75 million, the complex originally called Terra Village was rebranded as Edge 26 at Sloan's Lake. This property increased Trion's presence in Colorado to 1,500 units across five portfolio properties.
"Trion's investment philosophy is to target select geographic markets where we can successfully operate throughout the real estate cycle—not just when times are good. We look for sustainable growth supported by a diverse set of strong economic drivers and favorable supply-demand dynamics. The current trends in Denver, the Pacific Northwest, and Southeastern U.S. make them ideal areas for Trion's growth," explains Sharkansky.
During 2022, Trion added a three-property portfolio totaling 302 units for $94.8 million in the Portland, Oregon submarket of Beaverton. The assets at 18300 NW Walker Rd., 15195 SW Walker Rd., and 11981 SW Center St. are each situated in prime locations with direct access to public transportation, shopping, and entertainment. The three-acquisitions of Jasper Place, Jasper Square, and Willow Grove brought the current number of properties Trion owns and manages in the region to 13.
Georgia has also been a market of focus for Trion. In 2022, the firm purchased three multifamily assets in Savanah, Georgia, a southeastern city that has experienced 20 percent year-over-year rent increases and strong population growth. The properties at 11900 and 10014 White Bluff Rd. in the Southside submarket of Savannah total 297 units and were acquired for $57.65 million, while 100 Oglethorpe Dr., a 160-unit multifamily community located in the Pooler submarket of Savannah, was acquired for $38.45 million. Additionally, Trion purchased 648 Whisper Ln., a 267-unit Atlanta-area multifamily property in the submarket of Austell, Georgia.
Other Southern U.S. acquisitions for Trion in 2022 include two Florida-based properties: 8855 Fontainebleau Blvd., a 297-unit apartment community located at in the Miami Springs/Doral submarket of Miami, Florida, which was purchased for $87.25 million, and 693 Wymore Rd., a 250-unit luxury complex located in Altamonte Springs, Florida, a submarket north of Orlando, acquired for $49.5 million.
"The majority of our transactions in 2022 were off-market deals acquired below market value," comments Sharkansky. "The ultimate success of any Trion investment is dictated in large part by the purchase price. With a reputable track record and strong industry relationships, we were able to uncover numerous opportunities to negotiate attractive assets with highly advantageous purchase prices."
The execution of Trion's exit strategy in 2022 also proved effective, according to Sharkansky.
"This past year provided excellent opportunities to capitalize on strong value growth in certain properties and geographic segments, and profitably sell assets in our portfolio. Growth in our Northwest U.S. portfolio enabled the divestment or recapitalization of seven properties in Oregon and another two in the highly valued East Bay area of San Francisco," adds Sharkansky.
In the East Bay, Trion sold 77-85 Estabrook St., a multifamily community with 235 units located in San Leandro, California, and 1182 E St., an 89-unit apartment community in Hayward, California, for a combined $86.5 million to a single buyer. Sharkansky notes that the firm was able to achieve an internal rate of return in excess of 25 percent for these properties.
Further, the submarkets around Portland, Oregon provided ample opportunity for Trion to monetize prior investments. 1833 SE 6th St., a 64-unit community located in Gresham, Oregon, was sold for $19.4 million; 196005 SW Boones Ferry Rd., a 95-unit complex located in Tualatin, Oregon, sold for $19.35 million; and 7535 SW Hall Blvd. with 76 units located in Beaverton, Oregon, sold for $21.5 million.
In addition, last year Trion successfully recapitalized four other properties in the Portland area in a transaction valued at $99.2 million—18745 SW Farmington Rd., Aloha, OR, 6300 SW 188th Ct., Aloha, OR, 10890 SW Canterbury Ln., Tigard, OR, and 10695 SW Murdock St., Tigard, OR. The four properties, Aster Parc Apartments and Aster Parc Townhomes in Aloha—an unincorporated section of Washington County near Beaverton—and Hudson North and Hudson South in Tigard, Oregon, comprise a portfolio of 373 total units. Originally purchased in 2018 and 2019, these properties experienced an increase in value through strategic upgrades, enhanced operational efficiencies, and a rebranding, making 2022 a great time to recapitalize, according to Sharansky.
Acquired properties in 2022
Altamonte at Spring Valley – 693 Wymore Rd., Altamonte Springs, FL
The Carla – 1201 Fulton Ave., Sacramento, CA
Art 88 – 8855 Fontainebleau Blvd., Miami, FL
Edge 26 – 6201 W 26th Ave., Edgewater, CO
Bluffs portfolio
Osprey on the Bluffs – 11900 White Bluff Rd., Savannah GA
Heron on the Bluffs – 10014 White Bluff Rd., Savannah, GA
Beaverton portfolio
Jasper Place – 18300 NW Walker Rd., Beaverton, OR
Jasper Square – 15195 SW Walker Rd., Beaverton, OR
Willow Grove – 11981 SW Center St., Beaverton, OR
Azure at Riverside – 648 Whisper Ln., Austell, GA
Pooler Station – 100 Oglethorpe Dr., Pooler, GA
Exited properties in 2022
Fox Meadows – 196005 SW Boones Ferry Rd., Tualatin, OR
Hallwood Apartments – 7535 SW Hall Blvd., Beaverton, OR
The Huntly Apartments – 12310 SW Center St., Beaverton, OR
Parker Apartments – 1833 SE 6th St., Gresham, OR
Edison Apartments – 1833 SE 6th St., Gresham, OR
Olivia Apartments – 1556 Hi Point St., Los Angeles, CA
Metro 77 & 85 – 77-85 Estabrook St., San Leandro, CA
Andina Apartments – 1182 E Street, Hayward, CA
Recapitalized properties in 2022
Aster Parc Apartments – 6300 SW 188th Ct., Aloha, OR
Aster Parc Townhomes – 18745 SW Farmington Rd., Aloha, OR
Hudson North – 10890 SW Canterbury Ln., Tigard, OR
Hudson South – 10695 SW Murdock St., Tigard, OR