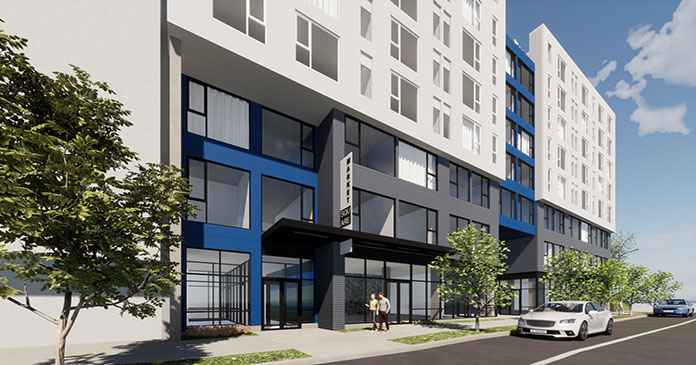 USG Realty Capital (USG), a leading investment sponsor specializing in opportunity zones, announced the details of its ground-up opportunity zone project, Market Square Apartments, as part of its Investors Choice OZ Fund, an investor-directed, multi-asset opportunity zone fund offering. The 176-unit fully entitled multifamily project, located in Tacoma, Washington, will also include ground-floor retail space. The property will be developed in partnership with Plus Capital Partners and is scheduled for completion in June 2024.
"When looking for our next qualified opportunity zone project to include in our portfolio, the Tacoma submarket stood out as an exceptional area that meets our strict standards," said Greg Genovese, founder of USG Realty Capital.  "Tacoma has strong fundamentals, with an impressive occupancy rate, rent growth rate and apartment sales volume, all of which have exceeded recent averages. We are very pleased to partner with Plus Capital Partners, a leading development firm, and to add Market Square Apartments to our portfolio."
Located in the exceptional submarket of Tacoma, near Seattle, Market Square Apartments will be an eight-story multifamily building located directly adjacent to the Greater Tacoma Convention Center and the University of Washington's Tacoma Campus. The luxury apartment building will include several highly desirable amenities, such as a fitness center, storage for 184 bikes, a pet grooming area, a conference room, two rooftop amenity decks, two resident lounges with kitchen and dining and five laundry facilities.
Tacoma is a booming hub for tech startups and small businesses, due in part to its robust broadband infrastructure and convenient freeway and rail line access, which offers an easy commute to Seattle and its large regional employers. Major roadways Interstate 705 and State Route 509 are within 2,000 feet of the Market Square Apartments property. Several downtown Tacoma employers, including St. Joseph Medical Center and Columbia Bank, are just a short drive away. Additionally, the University of Washington's Tacoma campus, ranked as one of the top pubic universities in the West by U.S. News & World Report, is expected to grow to 10,000 students in the upcoming years, potentially increasing demand for nearby housing. As it is located in one of the area's six designated opportunity zones, the project also allows for potential tax benefits.
Investors Choice OZ Fund by USG Realty Capital launched in June 2021. Since that time, the qualified opportunity zone fund has added four more projects to its portfolio and continues to seek qualified ground-up multifamily, senior living, storage, and manufactured housing projects. The $50 million offering focuses on projects with investment equity targets ranging from $5 million to $10 million per project.