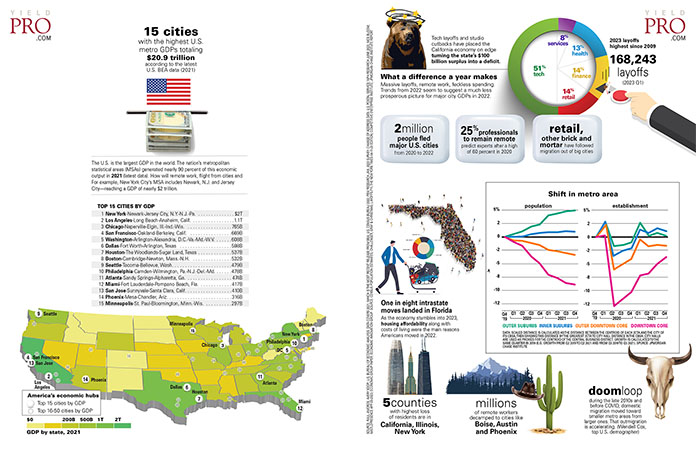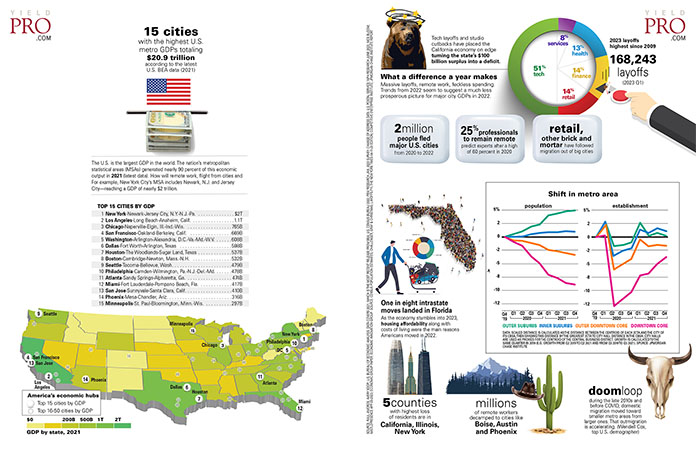 15 cities with the highest U.S. metro GDPs totaling $20.9 trillion according to the latest U.S. BEA data (2021)
The U.S. is the largest GDP in the world. The nation's metropolitan statistical areas (MSAs) generated nearly 90 percent of this economic output in 2021 (latest data). How will remote work, flight from cities and For example, New York City's MSA includes Newark, N.J. and Jersey City—reaching a GDP of nearly $2 trillion.
TOP 15 CITIES BY GDP
New York-Newark-Jersey City, N.Y.-N.J.-Pa., $2T
Los Angeles-Long Beach-Anaheim, Calif., $1.1T
Chicago-Naperville-Elgin, Ill.-Ind.-Wis., $765B
San Francisco-Oakland-Berkeley, Calif., $669B
Washington-Arlington-Alexandria, D.C.-Va.-Md.-W.V., $608B
Dallas-Fort Worth-Arlington, Texas, $598B
Houston-The Woodlands-Sugar Land, Texas, $537B
Boston-Cambridge-Newton, Mass.-N.H., $532B
Seattle-Tacoma-Bellevue, Wash., $479B
Philadelphia-Camden-Wilmington, Pa.-N.J.-Del.-Md., $478B
Atlanta-Sandy Springs-Alpharetta, Ga., $474B
Miami-Fort Lauderdale-Pompano Beach, Fla., $417B
San Jose-Sunnyvale-Santa Clara, Calif., $410B
Phoenix-Mesa-Chandler, Ariz., $316B
Minneapolis-St. Paul-Bloomington, Minn.-Wis., $297B
What a difference a year makes
Massive layoffs, remote work, feckless spending. Trends from 2022 seem to suggest a much less prosperous picture for major city GDPs in 2022.
Tech layoffs and studio cutbacks have placed the California economy on edge  turning the state's $100 billion surplus into a deficit.
2023 layoffs highest since 2009
168,243 layoffs (2023 Q1)
2 million people fled major U.S. cities from 2020 to 2022
25% professionals to remain remote predict experts after a high of 60 percent in 2020
Retail, other brick and mortar have followed migration out of big cities
One in eight intrastate moves landed in Florida
As the economy stumbles into 2023, housing affordability along with costs of living were the main reasons Americans moved in 2022.
5 counties with highest loss of residents are in California, Illinois, New York
millions of remote workers decamped to cities like Boise, Austin and Phoenix
Doomloop
during the late 2010s and before COVID, domestic migration moved toward smaller metro areas from larger ones. That outmigration is accelerating. (Wendell Cox, top U.S. demographer)