"Through the pursuit of beauty we shape the world as a home and in doing so we both amplify our joys and find consolation for our sorrows," said Sir Roger Scruton in his 2009 documentary, Beauty Matters.
From western civilization's beginnings in ancient Greece and throughout history, beauty took its rightful place alongside truth and goodness. It was known to be something not of this earth. Every generation has innately worked to carry out the legacy of beautiful architecture resulting in buildings that excite and awe… as evidenced by their ability to stand the test of time. In this spirit, today's apartment homes require far more than alluring curb appeal. Nevertheless it's a good start.
We've always known that built environments impact the health and well-being of residents. Through the accrual of data and discoveries in physiology, built environment science has expanded greatly over recent decades. We now understand some of the impacts of attributes such as lighting, temperature, sounds, smells and colors. Today, the beautiful built environment runs far deeper than aesthetics. These environments are tied to occupant health and well-being, an important foundation to function and success.
The recent winners of the National Association of Home Builders' Multifamily Pillars of the Industry Awards 2022 are some of the finest examples of beauty in modern rental living environments. But that's only the surface. Beyond architectural allure, communities were judged on five broad sets of criteria.
Competing categories for the Multifamily Pillars of the Industry Awards included development concepts, financing strategies, design and management and marketing in the apartment and condo marketplace. The annual competition is judged by a jury of industry peers with a proven record of success in the multifamily business. Creating today's built environment is complex and each of this year's winners have brought their best. Yield Pro is delighted to bring you the winners and their work. Well done, winners. Well done.
---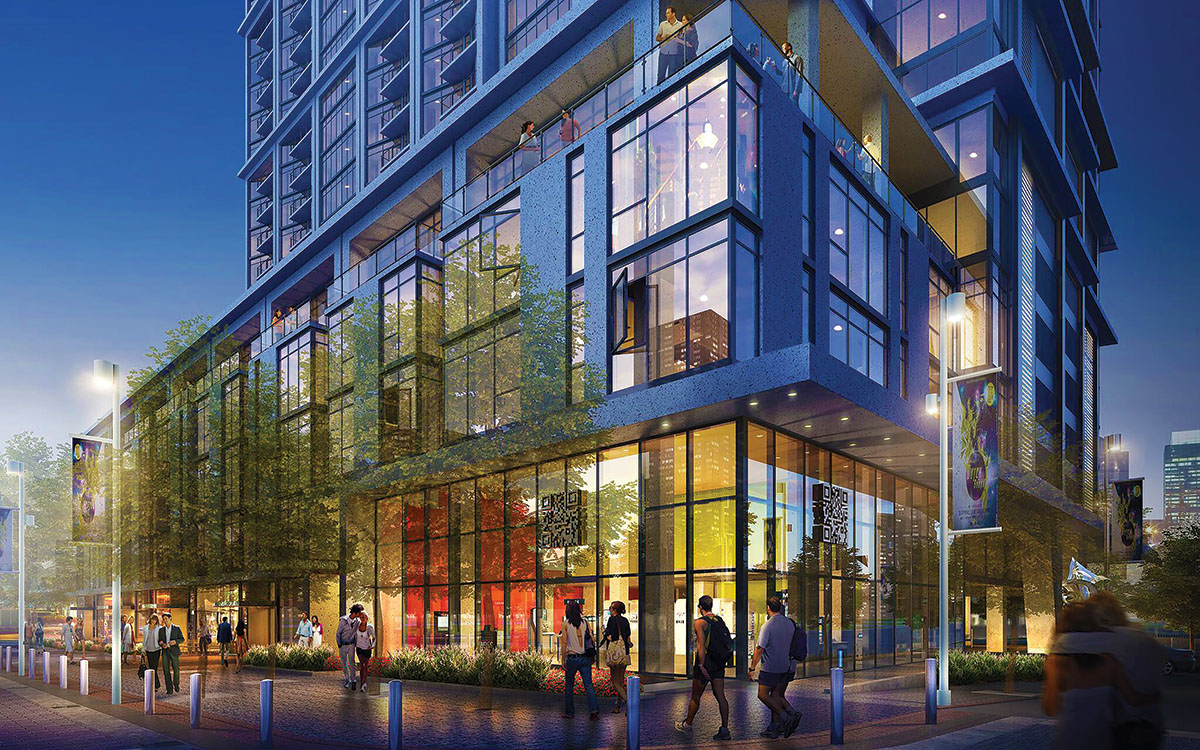 Best high-rise apartment community
10 stories plus
Atelier Dallas, Texas
atelierdallas.com
41-STORY, 417 UNITS, STUDIO, 1, 2, 3 BDRM
Developer: ZOM Living
Architect: Stantec
GC: Balfour Beaty
Interior designer: Stantec
PR/advertising: Schwartz Media Strategies
What makes Atelier a winner: All plans include floor-to-ceiling windows for great views while providing natural light to residents. Many entertainment areas in the common area and art galleries as part of duel use space making the design especially efficient. There's a grab-and-go market on site for residents' convenience. Membership quality fitness center offers great views. Infinity pool includes a well-designed outside space. All white kitchens with island are a very high end touch.
---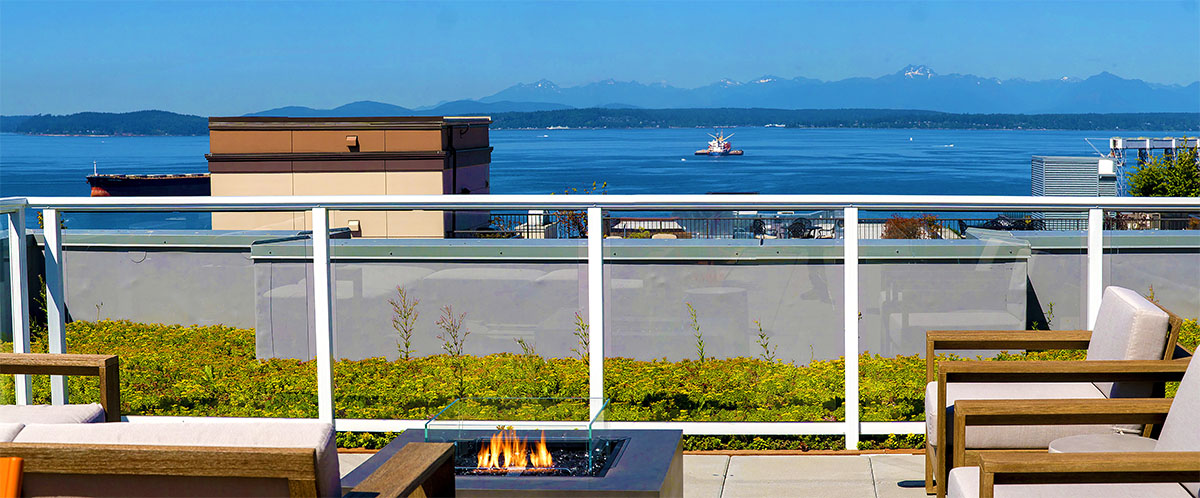 Best mid-rise apartment community
6 to 9 stories
Ellie Passivhaus, Seattle, Washington
lifeatellie.com
7-STORY, 66 UNITS, STUDIO, 1 BDRM
Developer: Sound West Group
Architect: Balance Architects
GC: Cascade Built
Interior designer: A3 Associates
Marketing: Sound West Group
PR/Advertising: Sound West Group
What makes Ellie Passivhaus a winner: Bay windows and sunshades allow natural light into apartments using it for both well-being and energy savings. Energy consumption reduction targets of 64 percent through the use of solar panels and triple pane argon glass benefits residents and the environment. Rooftop use of green brings life to amenities and apartments. Property exteriors invoke interest and are softened with organic wood elements. Apartments are pleasantly designed with kitchen treatments that provide variety. The property is 35 percent above the Priority Green requirement for Seattle's permit process, nearly meeting the threshold for being entirely net-zero energy reducing the cost of electricity for the building up to 50 percent.
---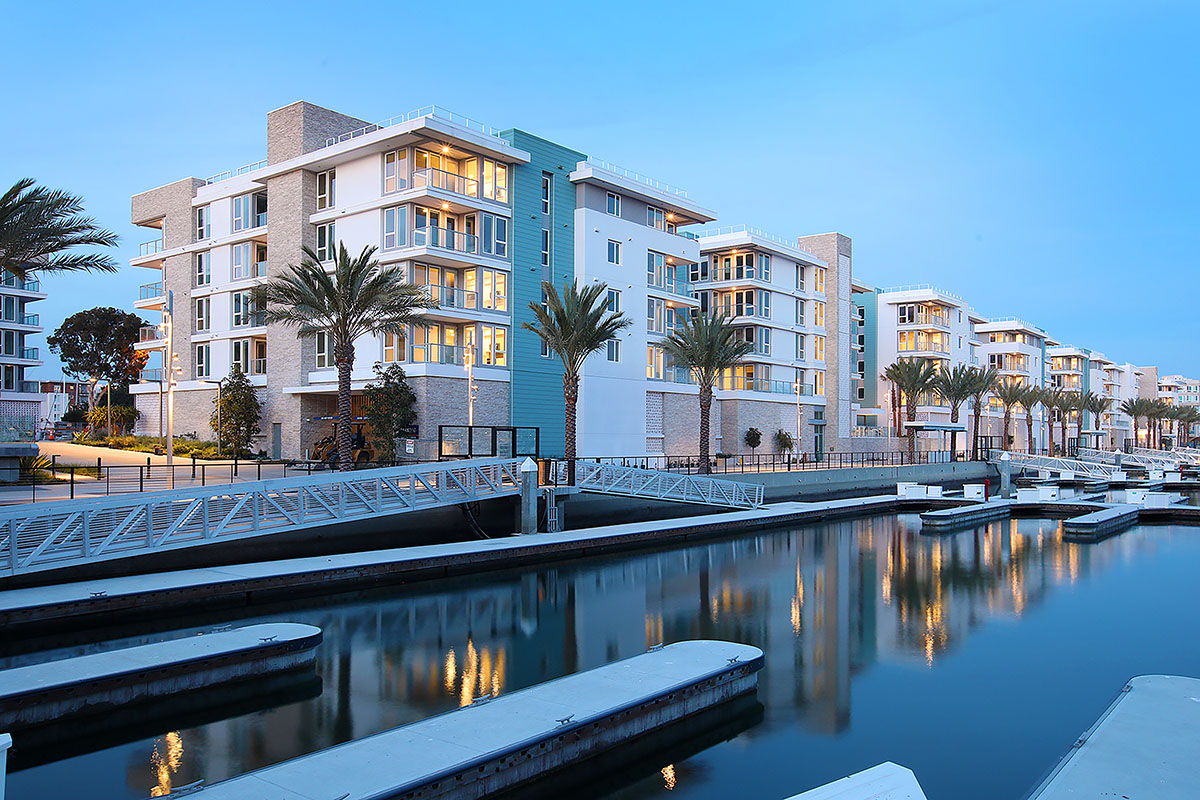 Best low-rise non-garden community
5 stories or less
Neptune Marina, Marina del Rey, Calif.
liveneptunemarina.com
5-STORY, 526 UNITS, 1, 2, 3 BDRM
Developer: Greystar
Architect: TCA Architects
GC: Johnstone Moyer
Interior designer: Mannigan Design
What makes Neptune a winner: Influenced by Breeze Blocks, the elevations include custom-designed concrete blocks, a signature feature of the mid-century modern style. The design is carbonkind to the environment. Amenities include paddle board and kayak storage, rentable storage, clubrooms with kitchen, gaming and TVs, courtyard with pool and firepit, and a bike storage area. Beautiful property in a stunning location.
---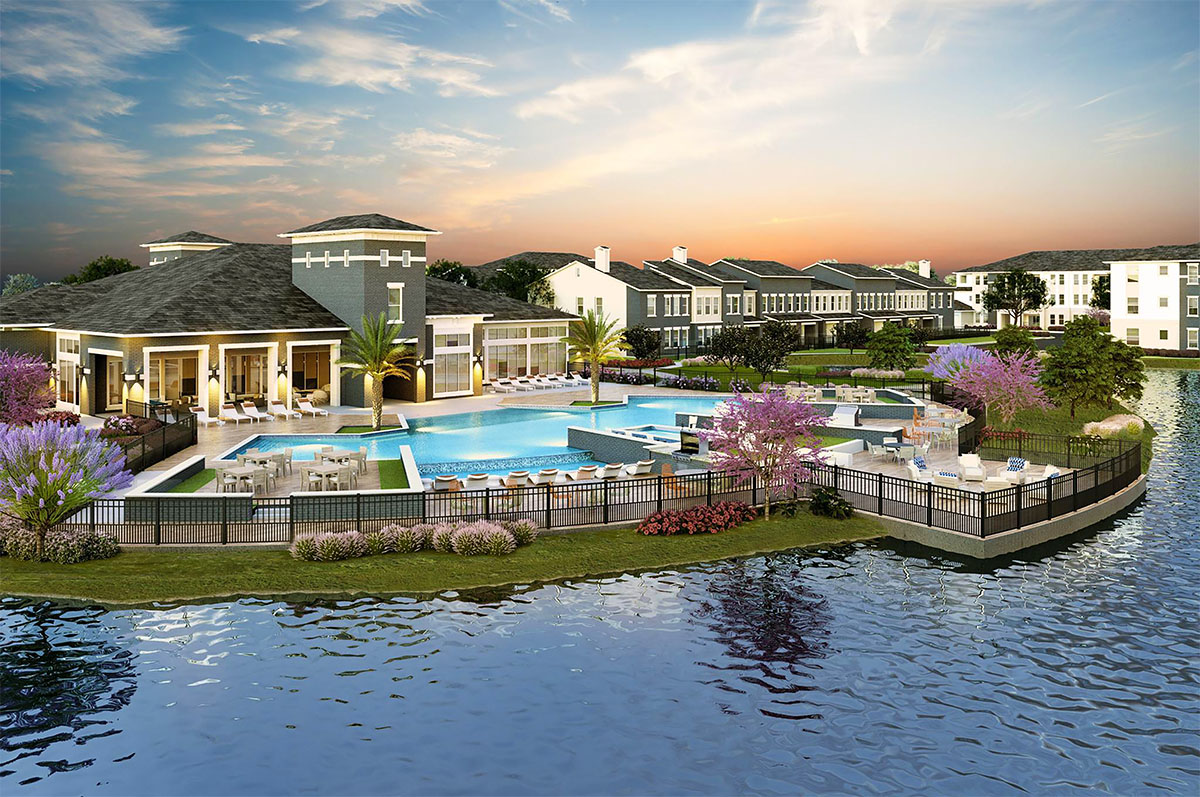 Best garden apartment community
4 stories or less
­The Canopy at Springwoods Village, Spring, Texas
thecanopyatspingwoodsvillage.com
3-STORY, 366 UNITS, STUDIO,
1, 2, 3 BDRM, TOWNHOMES
Developer: Martin Fein Interests
Architect: Steinberg Dickey Collaborative, LLP
GC: Westchase Construction
Interior designer: Moore Design Group
What makes The Canopy at Springwoods Village a winner: With a focus on young professionals The Canopy is designed in 2 and 3 story building clusters. The upscale, abundantly appointed multi-use clubhouse includes an open lounge area in a building separate from the rest of the community. The fitness center is expansive and includes billiards, ping pong, workout center, yoga studio and adjoining kids' room, golf simulator room, university-style library and huge outdoor covered patio with ceiling fans. The deck over the lake offers a relaxing seating area, as does the adjacent fire pit area. Interiors include gourmet chef designed kitchen with bar seating island. These and other amenities, like in unit washer and dryer and attached garages, are just a few of the single-family home-like features.
---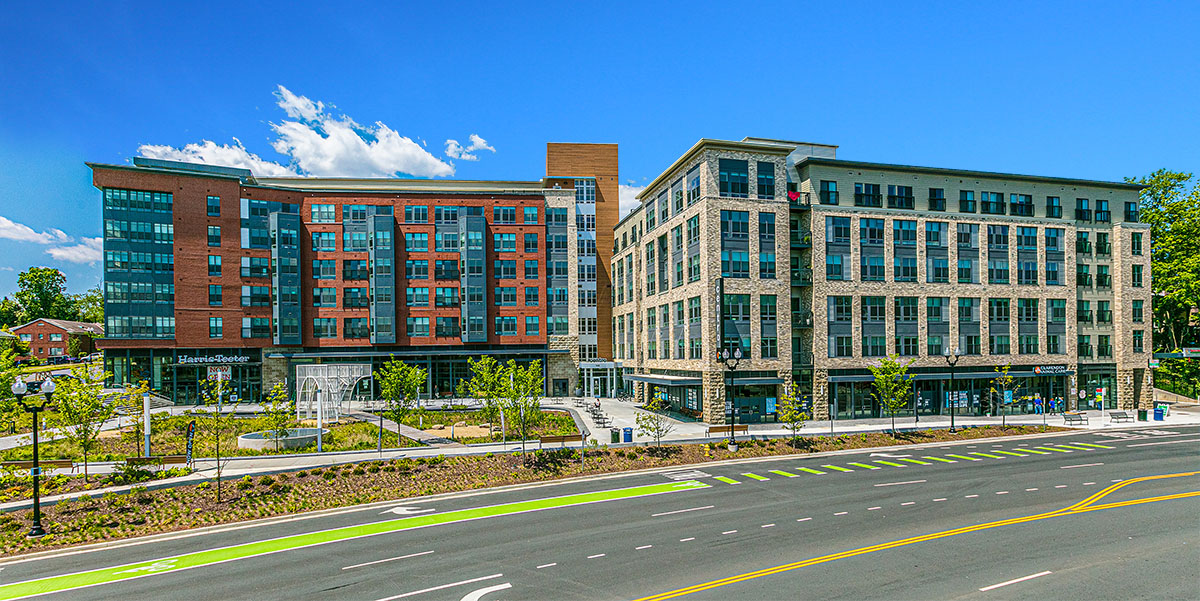 Best mixed-use community and Community of the year
Centro Arlington, Virginia
centroarlington.com
332 UNITS, 1, 2 BDRM
Developer: Orr Partners, Village Center Partners
Architect: KGD Architecture
GC: LF Jennings
Interior designer: RD Jones
What makes Centro Arlington a winner: An obsolete shopping center was transformed into 366 apartments, 80,000 sq. ft. of retail and two levels of underground parking. Centro added a needed grocery store to the neighborhood and included a soil contamination action plan for the site. The property's clubhouse with stunning modern lighting and an entertainment kitchen is a great place for community gatherings. Co-working space equipped with full AV for virtual meetings gives work-from-home residents access to state-of-the-art facilities directly onsite. A beautiful courtyard pool and rooftop terrace provide inviting spaces for entertainment or relaxation. Apartment designs are open-concept with a modular kitchen island that can double as a dining table. The property's fit into the land parcel is an excellent example of efficient land use as well as implementing LEED elements.
---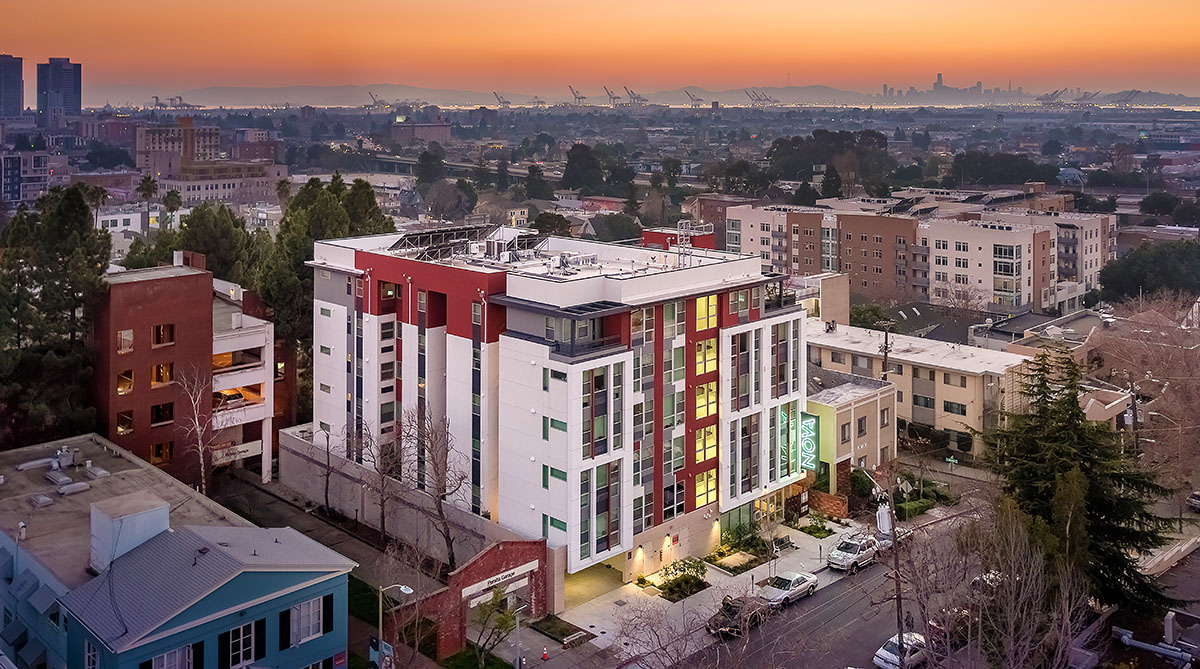 Best affordable development
Under 100 units
Nova, Oakland, California
affirmedhousing.com/completed/nova
57 UNITS, STUDIO, 1, 2 BDRM
Developer: Affirmed Housing
Architect: DAHLIN
GC: Cahill Contractors
Interior designer: Affirmed Housing
What makes Nova a winner: This property ties seamlessly into its surrounding neighborhood. This intelligently designed project is a detailed and strategically crafted model for other infill sites. Serving once-homeless residents at 20 percent AMI. Nova addresses the challenge of housing this demographic in a state that has 30 percent of the nation's homeless. Large windows allow for sights and sounds of the street to be brought inside to help the residents with the transition from outside sleeping to the comforts of inside living. The property includes onsite supportive services.
---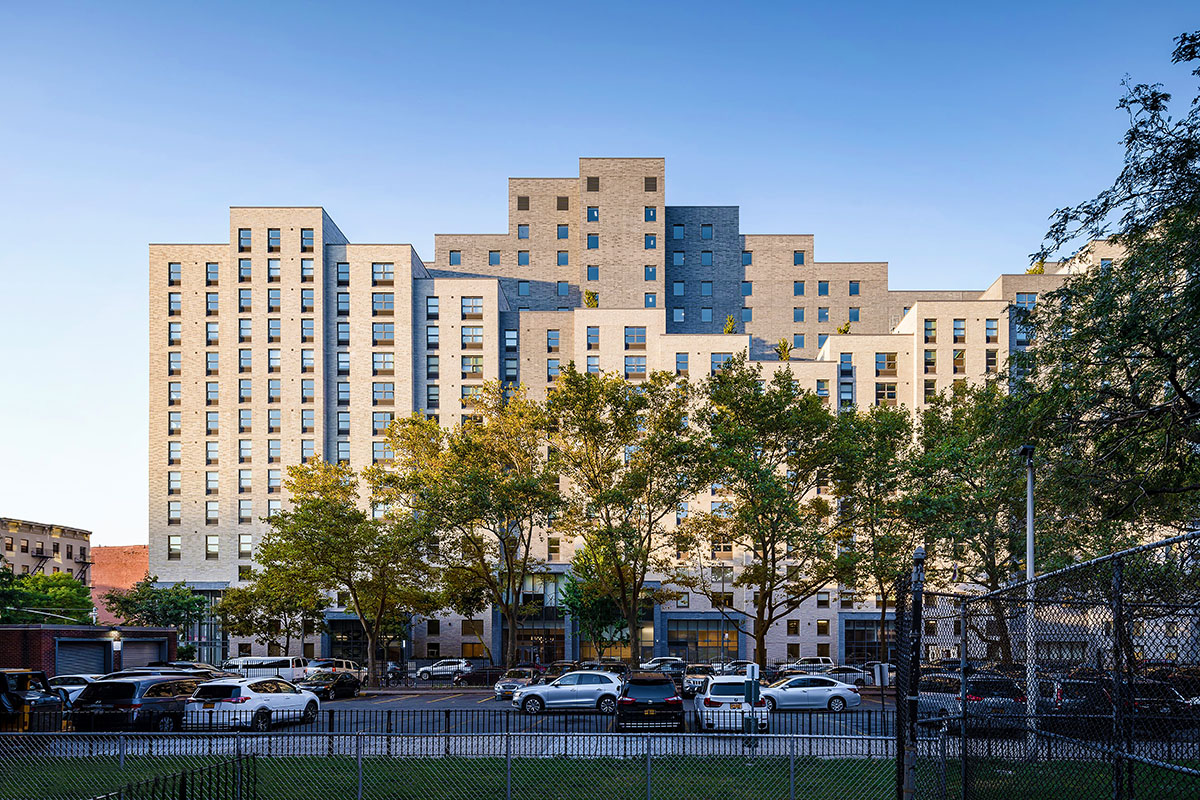 Best affordable development
Over 100 units
The Carolina, New York, New York
thecarolinanyc.com
400 UNITS, STUDIOS, 1, 2, 3 BDRM
Developer: L+M Development Partners
Architect: Curtis + Ginsberg Architects
GC: Congress Builders
Interior designer: Curtis+Ginsberg Architects
What makes The Carolina a winner: The challenge of this site was to fit the neighborhood. Color and dimension breaks the building into sections, while using light and shadow further enhance its dimension. The Carolina design saves 28 percent in energy consumption with the use of EnergyStar equipment. Rezoning and other tools were used to max out unit count on the large size community that takes up a full city block. Green in street-level planters and the courtyard tie nature back into the community. The building facade changes color with shades and time of day sunlight angles. The property was leased using the NYC Housing lottery system.
---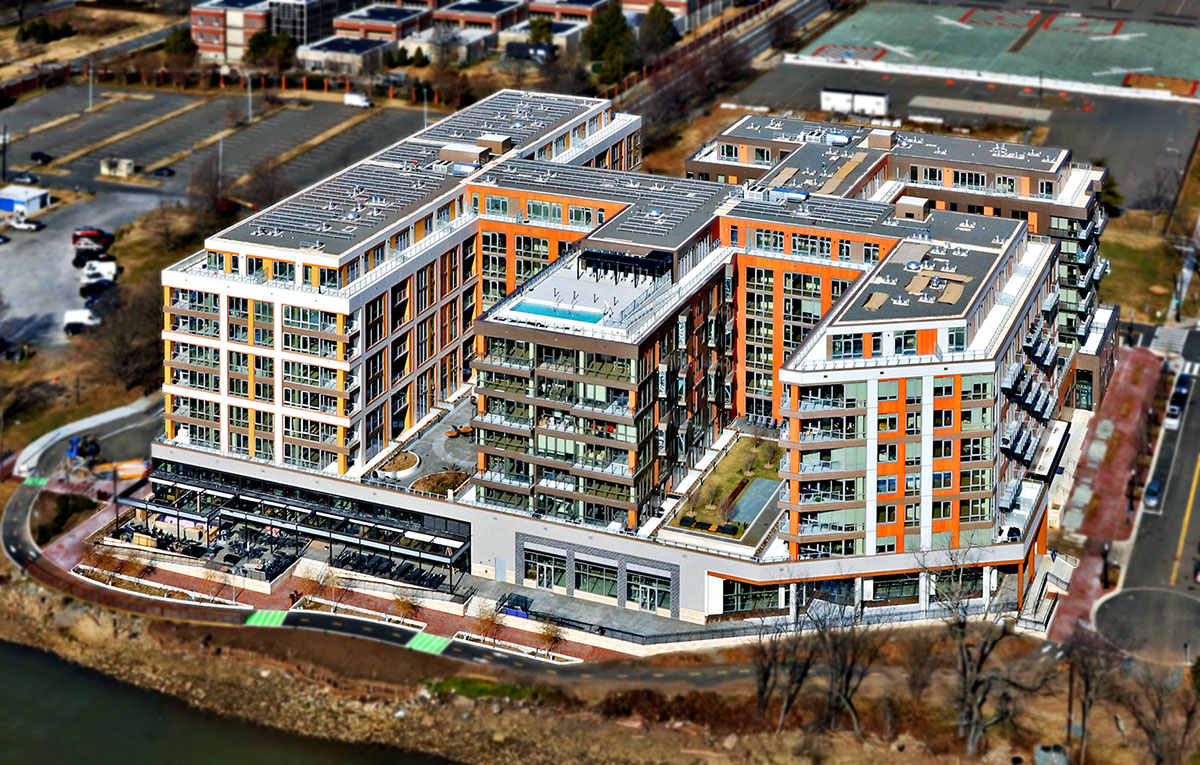 Best repositioning/redevelopment/adaptive reuse—multifamily
RiverPoint, Washington, D.C.
riverpointdc.com
Developer: Orr Partners, Akridge and Western Development
Architect: Antunovich Associates
GC: CBG Building Company
Interior designer: Antunovich Associates
What makes RiverPoint a winner: RiverPoint converted the U.S. Coast Guard office building into 480 apartments. D.C. zoning and flooding issues had to be overcome. Office to residential is challenging because of depth and the need for natural light in floorplans. In addition to a striking building, a new Riverwalk trail was added. Amenities include an outdoor kitchen, BBQ grills, firepit and sun lawn with a restaurant terrace and a rooftop pool. RiverPoint also includes a market, fitness room and gaming lounge.
---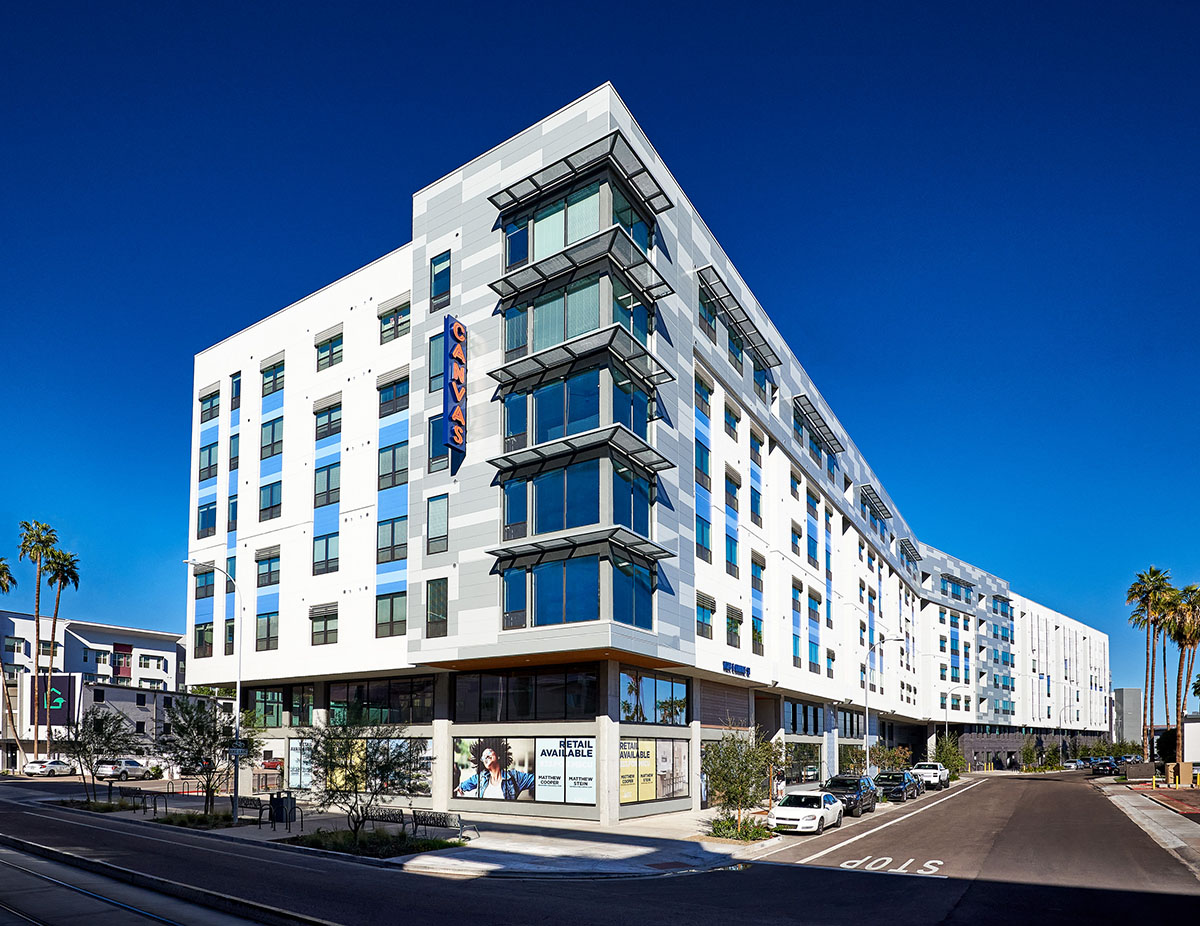 Best student housing rental apartments
Canvas at Arizona State Univ., Tempe, Ariz.
canvastempe.com
263 UNITS, STUDIO, 1, 2, 3, 4 BDRM
Developer: Toll Brothers Campus Living
Architect: Hensley Lamkin Rachel
GC: Hardison/Downey Construction
Interior designer: Mary Cook Associates
What makes Canvas a winner: Both interior and exterior designs perfectly hit the student vibe using color, space and movement. Courtyards are suited to both passive and active lifestyles. The property is a 263-unit 826-bed community atop ground-floor retail. Materials used gives students unique experiences in units and in common spaces. The 7th floor includes a pool, cabana, fire pit, podcast studio, spa and treatment room, clubhouse bar and hammock lounge. The Courtyard is a passive area conducive for studying. Multiple Uber lounges are set up for residents to wait for rides in a safe place.
---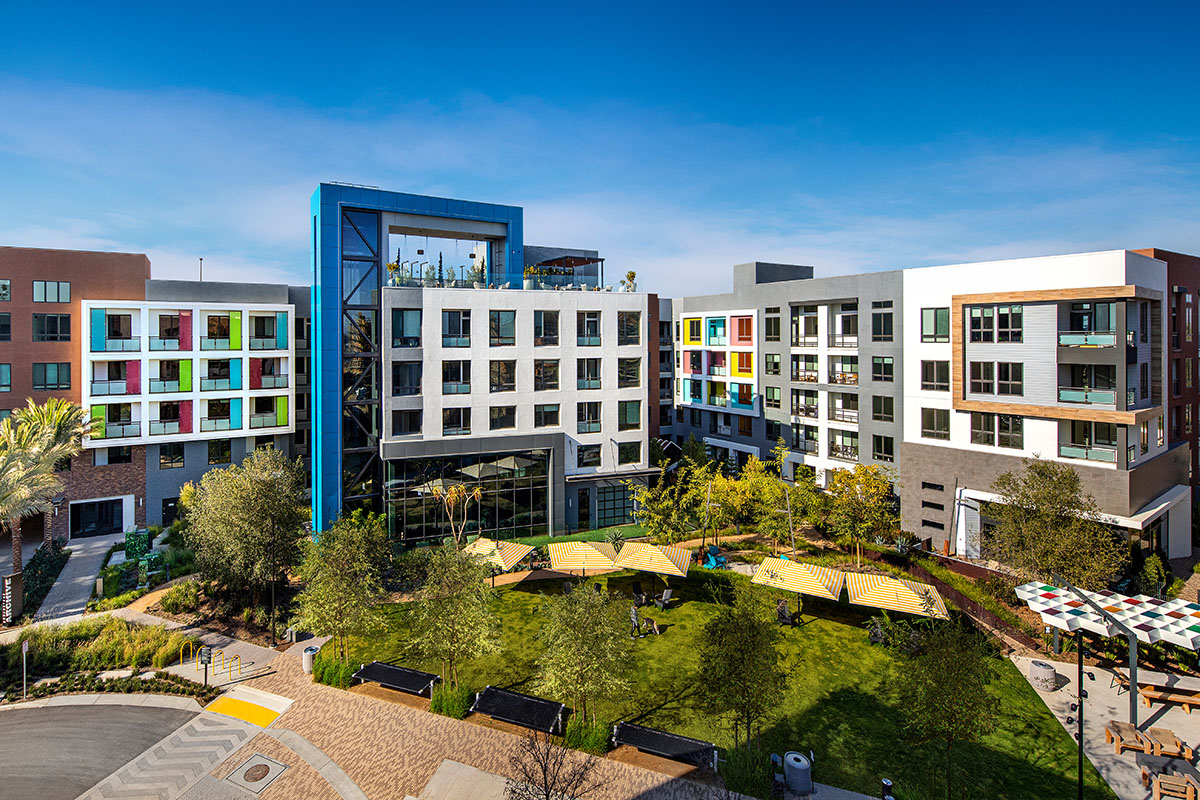 Best community amenities
Park & Paseo, Santa Ana, California
parkandpaseo.com
1,221 UNITS, STUDIO, 1, 2, 3 BDRM, MARKET-RATE
Developer: Mill Creek Residential
Architect: Mill Creek Residential
GC: Mill Creek Residential
Interior designer: Hartman Design Group
What makes Park & Paseo a winner: Three distinct themes (and marketing) drawn from known California attractions are found throughout this property. Discovery is half the fun. Detail and design is thoughtful, impactful and creative. Many memory points throughout the interiors leaving no space untouched.
---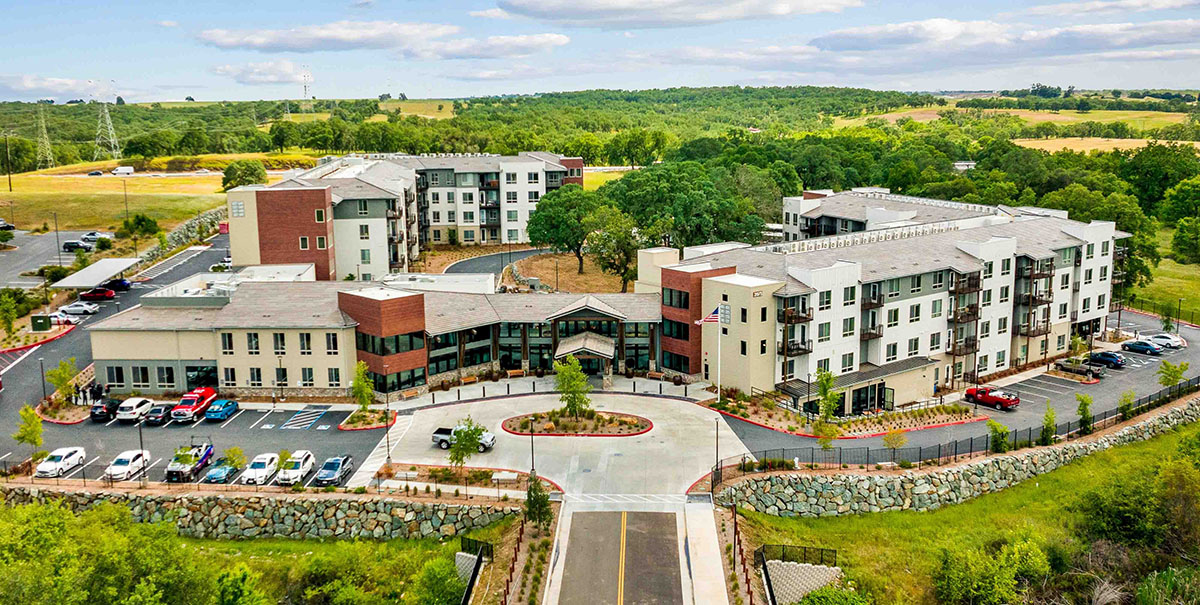 Best 55+ multifamily development
Revel Folsom, Folsom, California
revelfolsom.com
166 UNITS, STUDIO, 1, 2 BDRM
Developer: The Wolff Company
Architect: Studio15, Katerra
GC: CSI
Interior designer: Private Label International
What makes Revel Folsom a winner: Revel in amenities galore from restaurants, to social club and bar, sundries store, hair salon and theatre just to name a few. Built on a hillside, the design effectively uses the tiered levels. The property is tied to Gold Rush themes using materials from that era. Wellness services and amenities fit the thriving senior lifestyle verses housed option.
---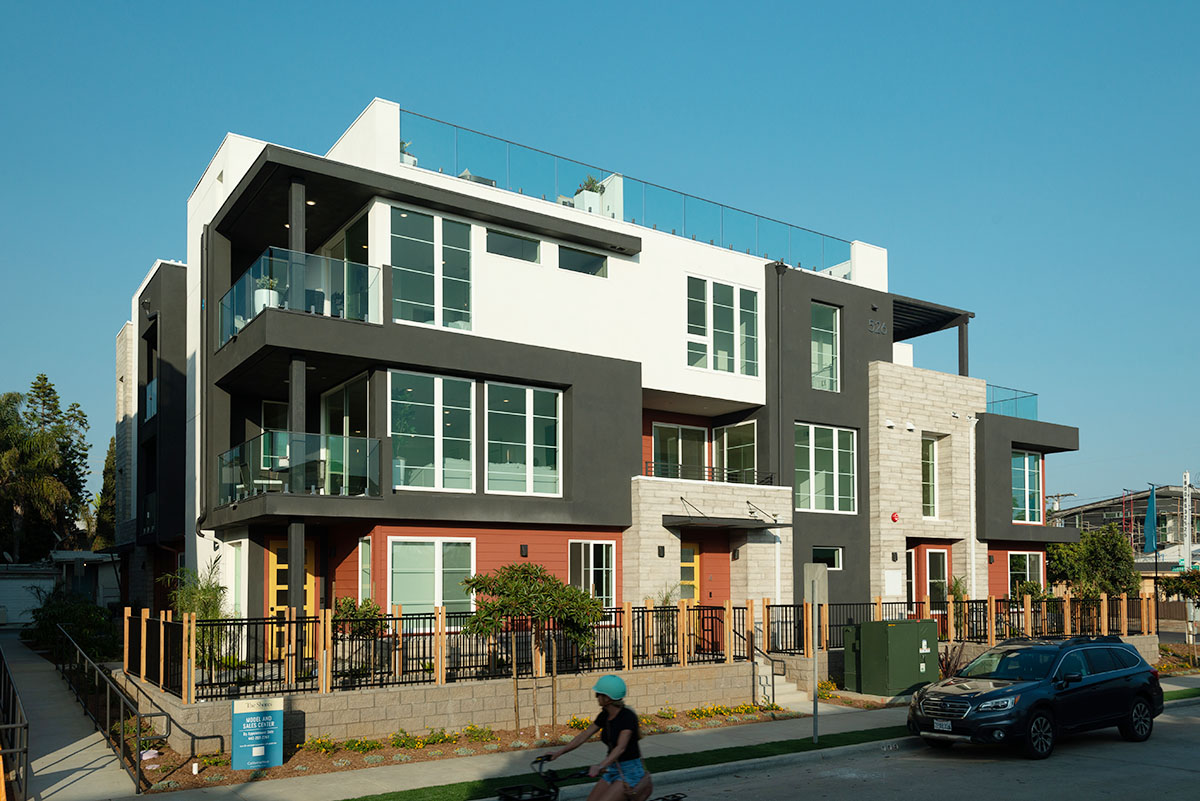 Best condominium community
The Shores in Oceanside, Oceanside, Calif.
calwestliving.com/residences/the-shores
21 UNITS, 2, 3 BDRM
Developer: McKinley Partners
Architect: DAHLIN
GC: California West Communities
Interior designer: With In Design
---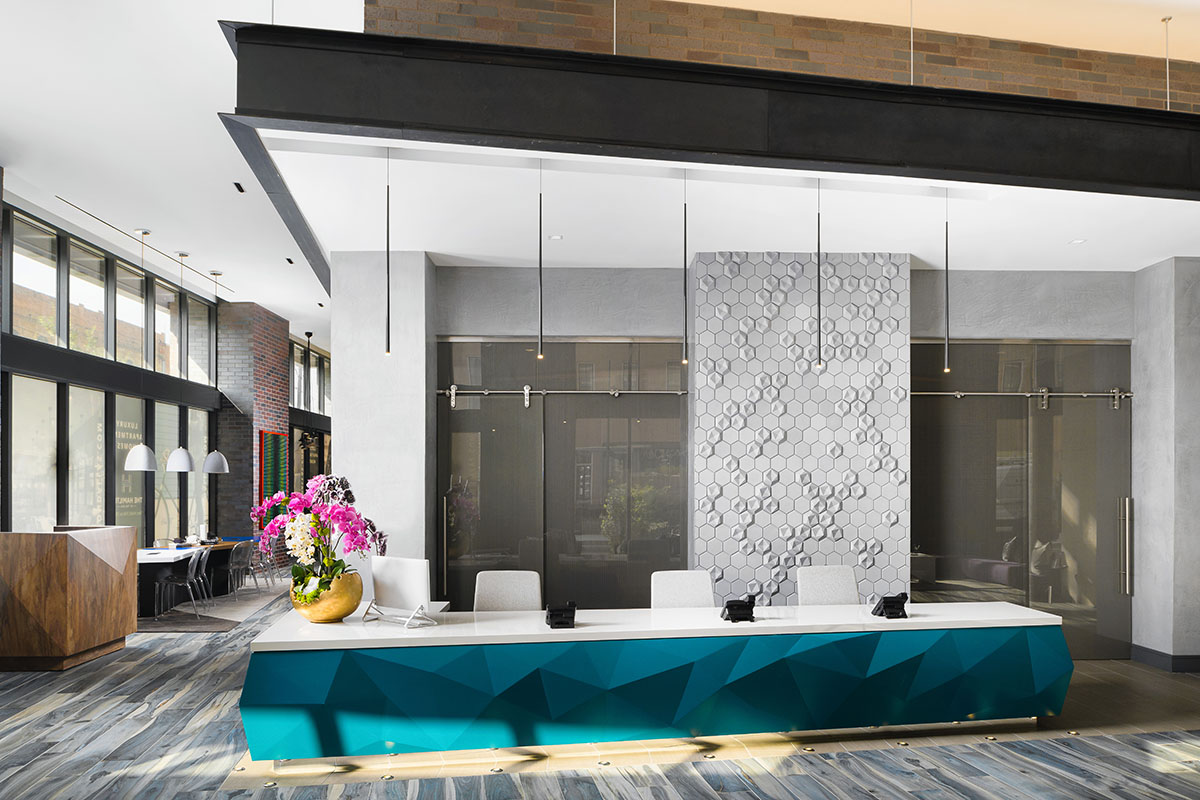 Best interior merchandising of a common area
The Hamilton, Dallas, Texas
thehamiltondallas.com
310 UNITS, STUDIO, 1, 2, 3 BDRM
Developer: StreetLights Residential
Architect: LRK Architects
GC: StreetLights Residential
Interior designer: Ink + Oro
---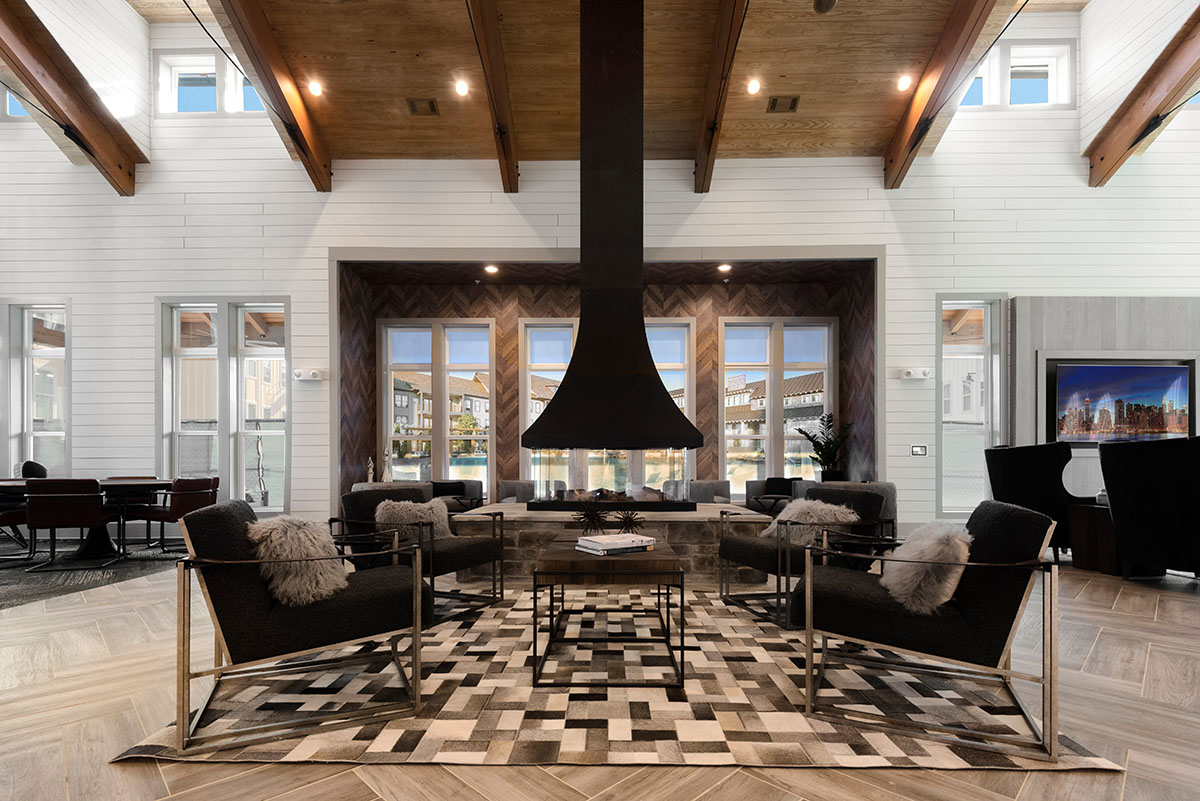 Best interior merchandising a leasing or sales center
Retreat at Iron Horse, Franklin, Tennessee
embreydc.com
270 UNITS, 1, 2, 3 BDRM
Developer: Embrey Partners
Architect: 906 Studio Architects
GC: Embrey Builders
Interior designer: Design Environments
---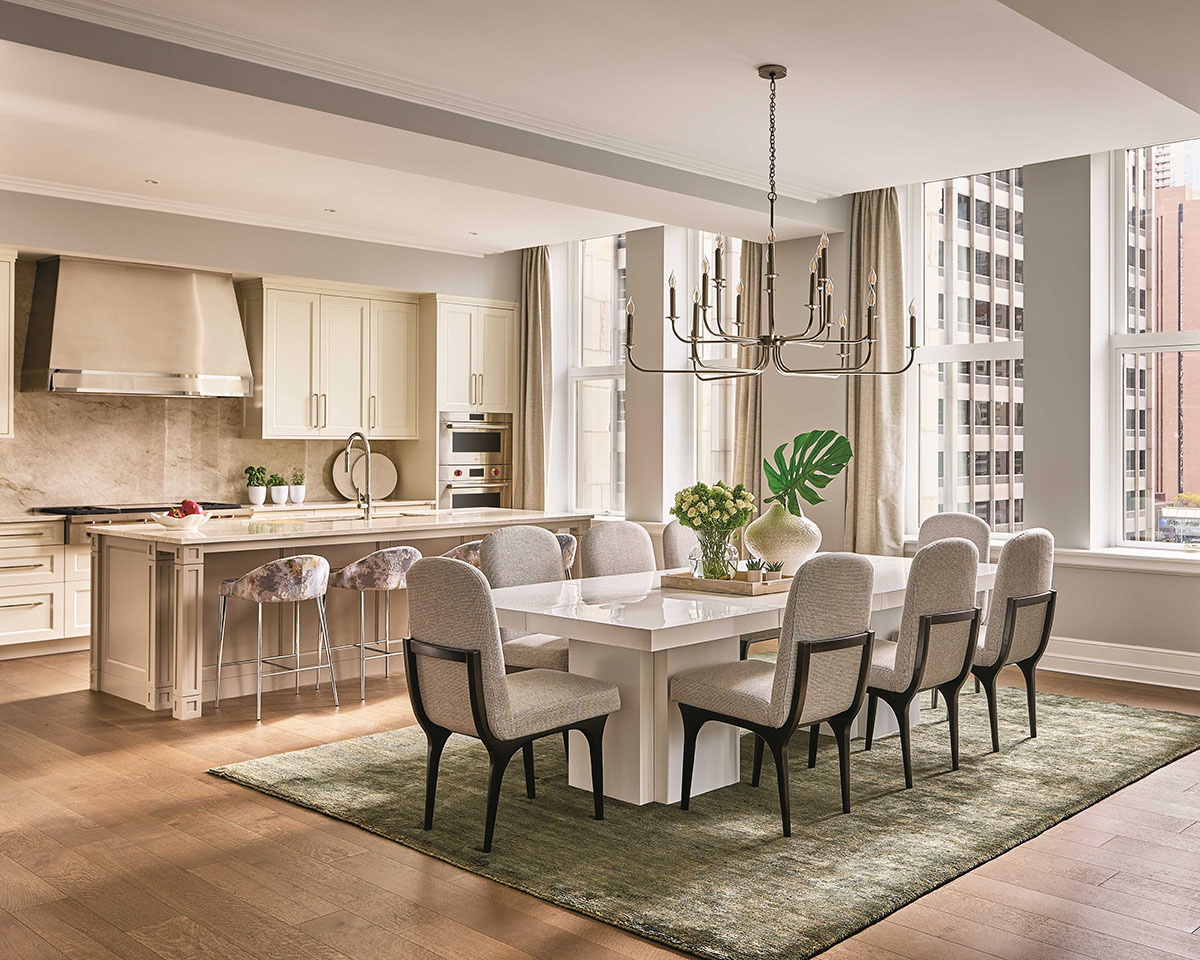 Best interior merchandising of a model unit
Tribune Tower Residences, Chicago, Illinois
tribunetower.com
34 UNITS, 1, 2, 3 BDRM
Developer: Golub & Company
Architect: Solomon Cordwell Buenz (SCB)
GC: Walsh Group
Interior designer: Mary Cook Associates
---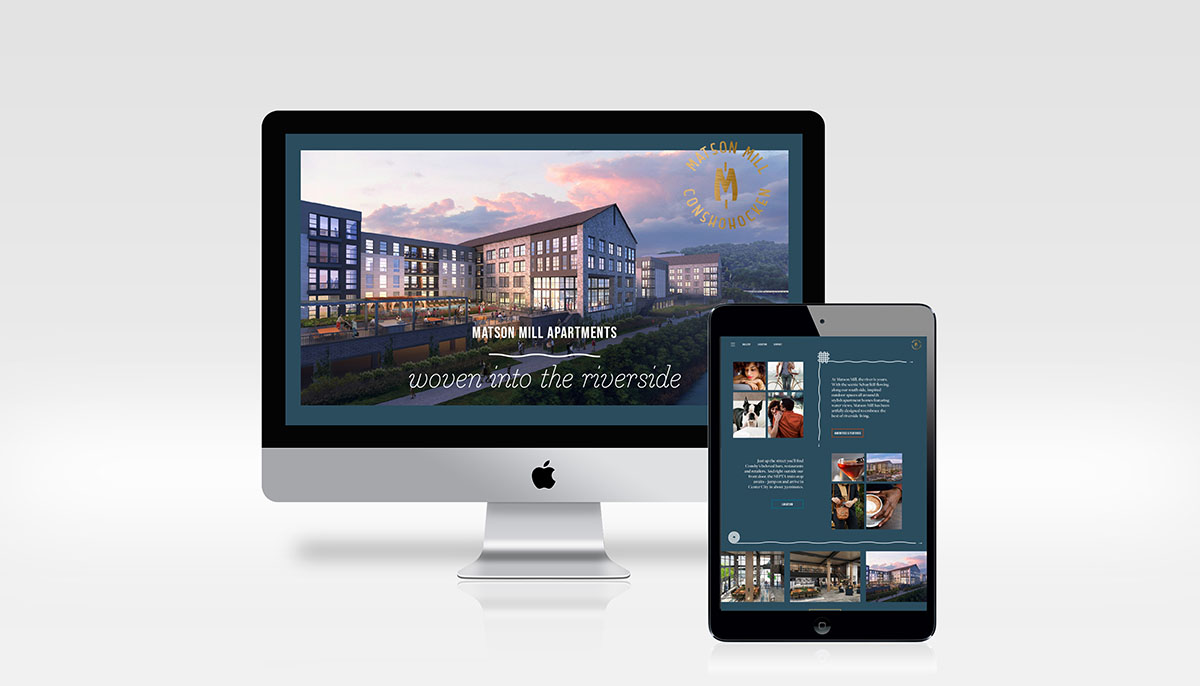 Best overall marketing campaign for a multifamily community
Matson Mill, Conshohocken, Pennsylvania
---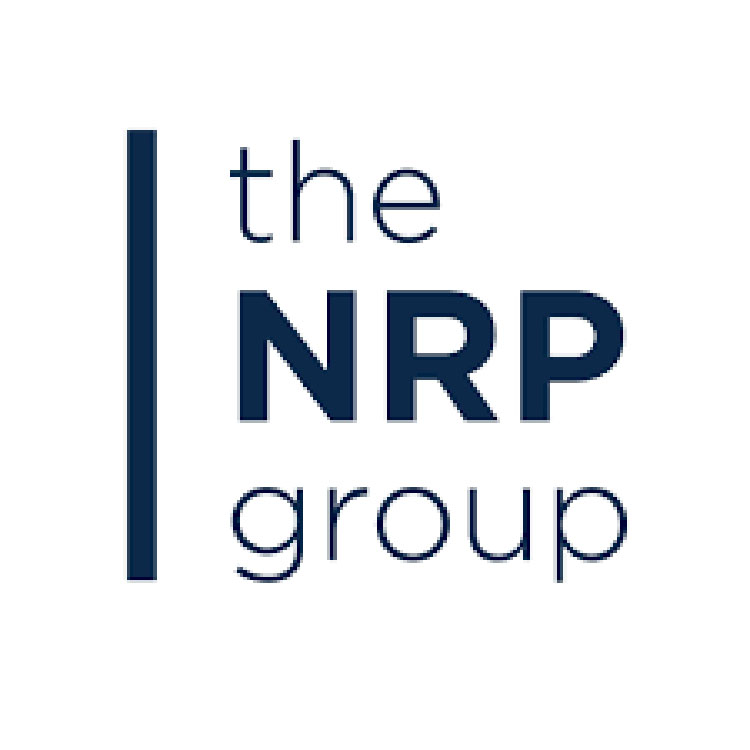 Multifamily development firm of the year
The NRP Group, Cleveland, Ohio
---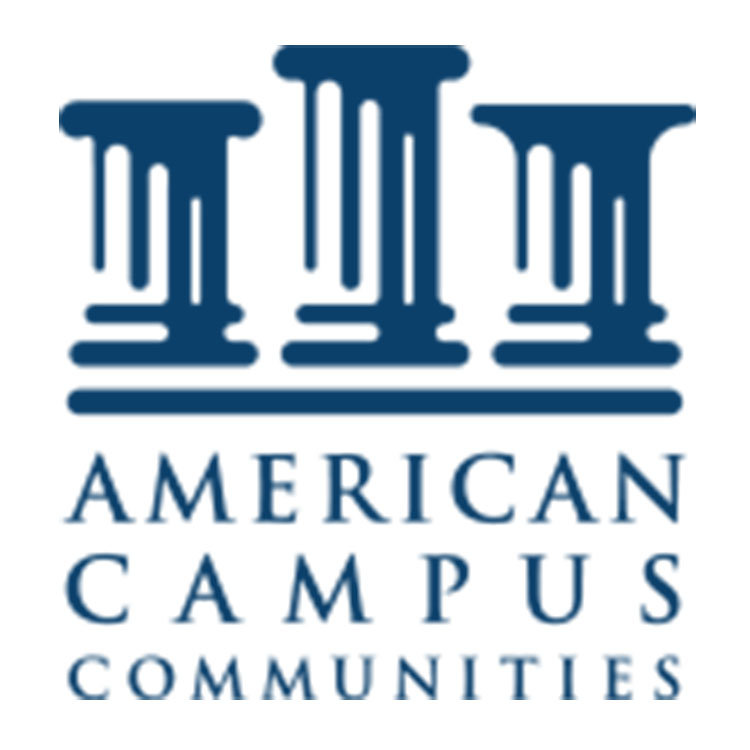 Property management firm of the year
American Campus Communities, Austin, Texas
---
Author Michael Rudy