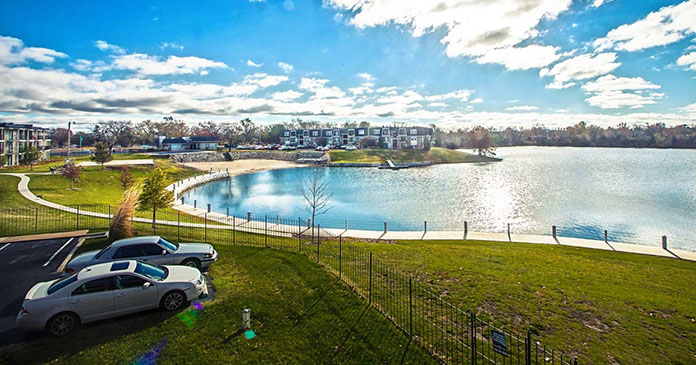 Post Road Management, a full-service real estate investment and management company, has acquired a portfolio of 11 multifamily communities, all located in Wichita, Kansas and the greater metro area.
With this purchase, Post Road has nearly tripled its multifamily footprint in the Wichita market, which the firm has identified as holding significant investment opportunity, according to Borko Milosev, Principal and Partner at Post Road Management.
"More than three years ago, our team had the foresight to enter the Wichita market, which is experiencing organic growth and saw an exceptional recovery from the pandemic. We acquired four properties totaling 572 units before the purchase of this portfolio," explains Milosev. "Wichita is a supply-constrained market, with absorption surpassing unit deliveries in 2022, and this trend is projected to continue to be the case through this year."
Milosev adds that Wichita earned the #1 ranking for 'Job Growth Over 10 Years" (2009-2019) from Brookings Institution in 2020. Known as the 'Air Capital of the World,' Wichita has vast growth opportunities for employment in aviation manufacturing, agriculture, healthcare, and energy.
"Wichita is home to the second-largest privately held company in the U.S., Koch Industries, and is the birthplace of companies like Beechcraft, Cessna, and Learjet," continues Milosev. "With the market's economy and employment booming, expanding our multifamily portfolio within this region was a clear decision."
This acquisition also marks an opportunity for Post Road to leverage economies of scale within Wichita, increasing its employees in the market from 13 to 42, marking a growth milestone for the firm as a whole.
"As part of our proven investment strategy, we are taking over property-level management of these communities and have hired a regional manager, community managers, maintenance technicians, and project managers in conjunction with this portfolio acquisition," says Milosev. "We are delighted to be able to expand our team of talented professions so rapidly, reaching over 100 team members nationwide with these latest additions. We look forward to similarly deepening our capabilities and scaling in other high-growth markets throughout the country."
Greg Rarick, Vice President of Acquisitions and Dispositions at Post Road, adds that the firm plans to invest an average of approximately $12,000 per unit in upgrades across the portfolio: "Our investment basis per unit provides a significant upside. Only 21 percent of the total units have been fully renovated, allowing us to unlock value-add potential. Residential tenants in Wichita pay only 17 percent of their income on rent, indicating an opportunity to entice those who may be interested in paying a premium for upgraded space in the market."
The diverse portfolio ranges from Class C+ workforce housing to Class A new development, with a variety of size and layout options available to prospective residents.
"From functionally designed studios to three-bedroom townhomes, this unique collection of units provides renters with a multitude of options to choose from when finding their next place to call home," notes Rarick.
The portfolio was purchased with assumable non-recourse Fannie Mae and HUD financing in-place. The favorable options of supplemental financing and interest-only payments created more incentive for purchasing the portfolio at this time, according to Rarick.
Post Road's newly acquired properties are all located near significant demand drivers; each property holds unique locational attributes. In total, the Wichita portfolio comprises the 1,002 units across the following properties:
Kingston Cove, a 252-unit community located at 519 West 27th Street in Wichita, Kansas.
Cimarron Apartments, a 132-unit community located at 734 North Ridge Road in Wichita, Kansas.
Stratford East, a 104-unit community located at 7823 East Douglas Avenue in Wichita, Kansas.
Park Meadows, a 96-unit community located at 10010 East Boston Street, Wichita, Kansas.
The Willows, an 80-unit community located at 2510 East Pawnee Street in Wichita, Kansas.
Willows South, a 16-unit community located adjacent to The Willows at 2355 East Pawnee, Wichita, Kansas.
Stratford West, a 78-unit community located at 1440 North Clarence Street in Wichita, Kansas
Danish Village, a 78-unit community located at 1117 South Paige Street in Wichita, Kansas.
Pine Creek, a 68-unit community located at 2919 South George Washington Boulevard in Wichita, Kansas.
Edgemoor Townhomes, a 56-unit community located at 5524 Plaza Lane in Wichita, Kansas.
Cottonwood Crossing, a 42-unit community located at 705 Cottonwood Drive in the Wichita metro area suburb of Newton, Kansas.
Alex Blagojevich, Brett Meinzer, Colton Howell, and Richard Redding of MMG Real Estate Advisors marketed the property on behalf of the seller and sourced Post Road Management as the buyer in this transaction.