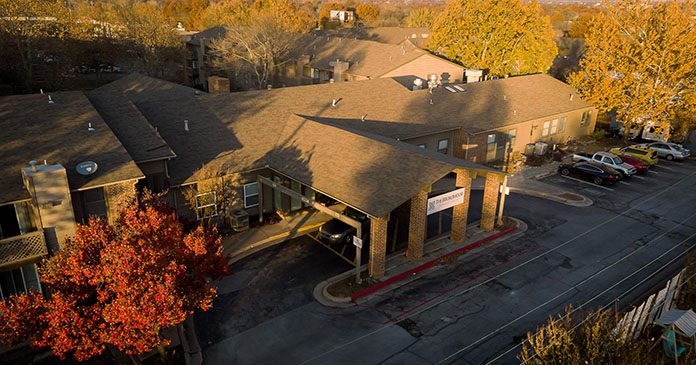 The Multifamily Group (TMG), a commercial real estate brokerage firm based in Dallas, has announced this week the sale of The Broadmoor Retirement Community, a 124-unit, 55+ independent living community in Tulsa, Oklahoma.
Casey Litsey and C.J. Swanson represented the seller, and Paul Yazbeck procured the buyer. C.J. Swanson, Advisor at TMG, said, "The Multifamily Group, are thankful to everyone who participated in the acquisition of The Broadmoor, including local retirement communities and non-profit organizations who provided assistance to the senior residents during this new transition period. This transaction showcases TMG's ability to navigate complex deals and deliver results for our clients."
Built in 1986, the property features a variety of unit sizes, with floorplans ranging from studios to two bedrooms and an average unit size of 510 square feet. Proximity to essential services is another benefit, with the top two hospitals in Tulsa—St. Francis Hospital and Ascension St. John Medical Center—within a 5-mile radius, as well as easy access to nearby shopping, dining, and entertainment options.
Managing Director Casey Litsey said, "The Tulsa market is experiencing a remarkable boom. The Broadmoor Retirement Community is a prime example of the unique investment opportunities available in the area."
With an 11.5 percent year-over-year rent growth and strong occupancy rates of 96 percent, the submarket continues to show promise for investors and developers.
Paul Yazbeck, Managing Partner at TMG, said, "In addition to The Broadmoor Retirement Community transaction, we brought eight new listings to the market in the last two weeks, including multiple properties in Dallas-Fort Worth, Houston, and San Antonio. Our team's extensive experience and in-depth industry knowledge have been instrumental in our recent success and will continue to be a valuable asset to our clients."