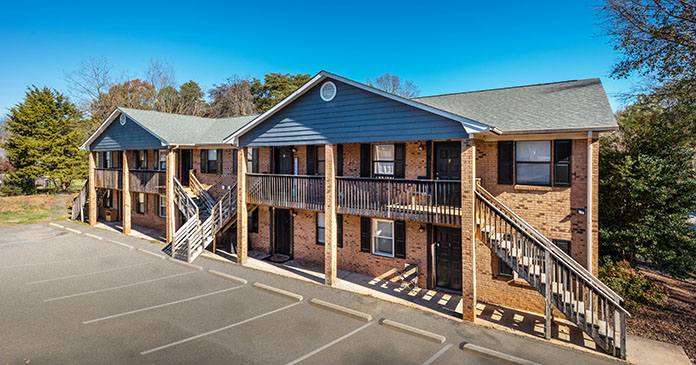 The joint venture team of Cushman & Wakefield and Greystone announced that they arranged the sale of and provided acquisition financing for Salisbury Court, a 40-unit apartment community located at 1501 Old Salisbury Ct. in Winston-Salem, North Carolina.
Cushman & Wakefield's Hunter Bowling, Laney Orr, Rhodes Marley, and Gavin Conlon represented the seller in the $2,855,000 sales transaction while Greystone's Daniel Kaweblum originated an interest-only bridge loan with a fixed rate and three-year term. The multifamily property was sold by a partnership between Grubb Properties and Carolina Community Investments and acquired by Emerald City Associates.
"Emerald City Associates has made a great addition to their quickly expanding portfolio. Salisbury Court is a well-positioned asset, with interior value add upside, and located in one of the fastest growing MSA's in the Sunbelt. We are grateful to have been a part of this transaction," said Hunter Bowling, Senior Director at Cushman & Wakefield.
Salisbury Court was built in 1982 and features five two-story buildings with units averaging a modest 713 square feet. It is situated in perfectly in South Winston-Salem, benefiting from strong submarket fundamentals and close proximity to entertainment hubs and job centers. The apartment community also offers the opportunity to invest in a proven value-add initiative started by previous ownership that would offer substantial growth opportunities.
"It was a pleasure working with Cushman & Wakefield on this acquisition loan on behalf of our client, Loyd Fornes, and Emerald City Associates – demonstrating that even in today's environment, there are opportunities for competitive financing on strong value-add assets in growing markets. The efficiency of execution was a testament to the thesis that aligning all sides of the transaction—in this great partnership between Cushman & Wakefield and Greystone—brings unprecedented benefit to our clients. We're excited to have taken this concept to reality with this transaction and look forward to many more," added Greystone's Daniel Kaweblum.
Cushman & Wakefield's Sunbelt Multifamily Advisory Group is a 109-person investment sales team covering 11 states with No. 1 multifamily market share in that region based on sales volume and transactions reported to CoStar. Per Cushman & Wakefield, in 2022, the group closed $11.1 billion in sales volume through 360 deals and over 60,300 units.