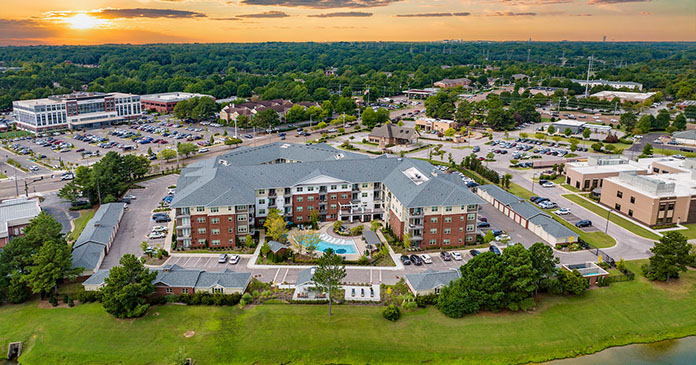 Knighthead Funding, LLC (Knighthead) has provided a $24.1 million loan to a joint venture between affiliates of Passco Companies, LLC and Avenida Partners to refinance a newly constructed, Class A 55+ luxury multifamily development in Germantown, Tenn., a suburb of Memphis.
The 24-month financing was secured for Avenida Watermarq, a lakefront 161-unit upscale, elevator served apartment complex at 7900 Wolf River Blvd. Proceeds from the loan, which closed less than 15 days from application, were used to refinance the existing construction loan.
"This is another example of Knighthead's ability to close transactions quickly and execute with certainty for our borrowers," said Knighthead Principal, Jonathan Daniel. "With the scarcity of lending by traditional sources in today's environment, Knighthead continues to provide attractive financing on high-quality real estate with strong sponsorship."
"Avenida Watermarq benefits from several demand drivers including an affluent senior population and a limited supply of newer active retirement communities," added Knighthead Vice President, Peter Illuzzi, who originated the loan. Residents benefit from the community's proximity to a variety of numerous retail and entertainment options including the Germantown Collection, the premier grocery anchored retail destination in the area, which is two miles from the property.
The one- and two-bedroom apartment homes are housed in a single four-story building. Each unit features a full stainless steel appliance package and premium finishes. Community amenities include fitness center, library, courtyard, swimming pool, grill area, game room, pet park, theater, art studio and detached garages. The gated community was built in 2020 and brought to market at the peak of COVID-19. Although lease-up was slowed early on due to the pandemic's impact on senior housing, leasing velocity has increased significantly with the property rapidly approaching full occupancy.