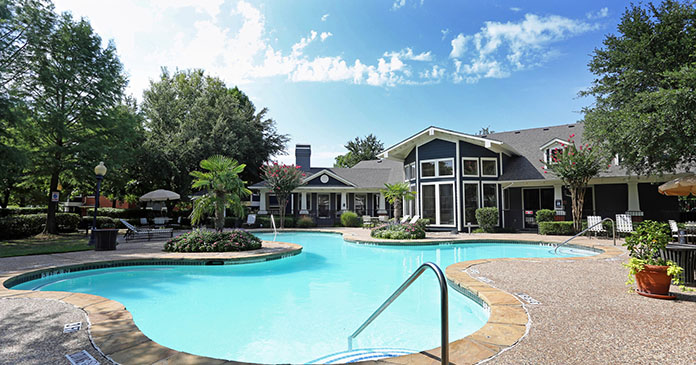 Magma Equities and a global real estate fund managed by Macquarie Asset Management has acquired Bardin Greene, a 285-unit garden style multifamily property in the Dallas-Fort Worth Metro city of Arlington, Texas from Moody National Companies in an off-market transaction.
"Although the shifting landscape in today's environment has sidelined numerous groups, we continue to identify recession-resilient assets that will prevail during the current and future economic headwinds," said Magma's Director of Investments Scott Ogilvie. "We plan to remain nimble and hyper focused on granular submarket research, asset-viability analysis, and downside risk assessment as the foundation of our market selection and asset qualification process. Our pipeline is as robust as it has ever been."
Bardin Greene, features a mix of one-, two- and three-bedroom units housed in 18, two-story residential buildings on a nearly 16-acre site at 300 Bardin Greene Drive. Bardin Greene benefits from numerous demand drivers including a mature infill location with a limited supply pipeline in the immediate area as well as its proximity to a roster of major local and international corporations. It is nearby to some of the most popular entertainment, shopping, and dining venues in the city including the regional open air Arlington Highlands lifestyle center and the 1.5 million-square-foot The Parks Mall.
While excellently maintained and operated by the seller, the majority of the apartment homes have not been significantly upgraded since the property was built in 2001. The Magma Equities-led joint venture will immediately commence a multimillion dollar capital renovation program that will include upgrades to unit interiors and improvements to the exterior and common areas. Magma Equities also has engaged Austin, Texas-based RPM to professionally manage the property, which will be repositioned to compete with higher priced communities in submarket.
While partnering with operating partners since 2009, this is Macquarie Asset Management's first apartment joint venture.
Bardin Greene increases Magma Equities' multifamily holdings in DFW to nearly 4,000 units
The acquisition was leveraged with attractive five-year financing from PCCP, which was arranged by Brian Eisendrath with IPA Capital Markets.