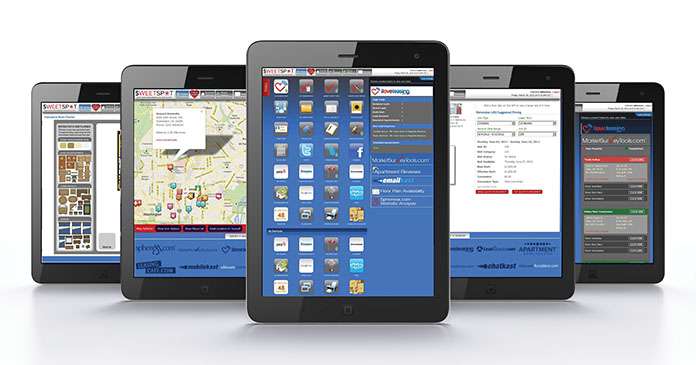 Prospective residents no longer have to physically visit a community to get a feel for the apartment or community. Leasing offices now get prospects and residents communicating from all directions: office visits, landline calls and mobile devices, Website chat, email, social media, text, live Skype chat, Apple Facetime video chat, and interactive touch screen kiosks.
SweetSpotDashboard.com, a new product from Tulsa, Okla.-based Spherexx, simply connects those lines of communication. It does this with data feeds from management programs through a double-secure, login portal, and a number of leasing tools-all on an Apple iPad or other tablet, laptop and desktop, and at the same time. Leasing staff can literally take their desk with them wherever they go.
Laura Rodriguez, regional manager for ZRS Management, LLC. learned the value of the software's nimble platform quickly: "We leased the $4,500 penthouse using the iPad and SweetSpot," she said. "At the time it was occupied, but the prospect would not commit until she saw it. We took a live video tour inside the unit, added the view and she rented. No broker commissions needed. The iPad paid for itself three times over with that one lease."
Another valuable feature of SweetSpot Dashboard.com is the instant reference to apartment reviews. Word of mouth has become important in the decision making for prospects since the social media explosion. Consumers can now drive an apartment's reputation through such Websites as ApartmentRatings.com, Yelp.com, and Google Places.
Because of this and in addition to SweetSpot, the firm has also developed a video guide to managing consumer-driven reviews. The tutorial called, "Reputation Management: Taking the Bite out of Buzz," is available at www.ApartmentReputation.com, and provides simple steps to diffusing and controlling negative feedback. The primer cautions that it's important to first, be aware of what consumers are publishing, check for illegitimate posts and act quickly to diffuse an unhappy situation.
In addition to monitoring Internet reviews, SweetSpotDashboard.com also provides floor plans, availability to subscribers, neighborhood information, guest cards, prequalifying questionnaire, rental application, photos, social media and other tools.
Just one of its real-time features includes a live leasing option: staff can launch an isolated future resident dashboard inside SweetSpot, and easily hand off the iPad or tablet to an apartment shopper for viewing while they finish other business. Or it can send a video to a prospect on the spot.
"iPad/tablet technology adaptations have just begun," says Becca Wilson, president and CEO of Spherexx.com. "Leading property management companies have already implemented iPads/tablets. To make things simple, we supply iPads and tablets that are pre-loaded with SweetSpot and security measures, so they arrive ready for business."
Understanding the full impact of tablet technology on the multifamily industry, she adds, "We also create iPad/tablet Websites that are touch-technology friendly, which eliminates the need to scroll and zoom."
SweetSpotDashboard.com is not for sale, but is free to Spherexx.com customers.