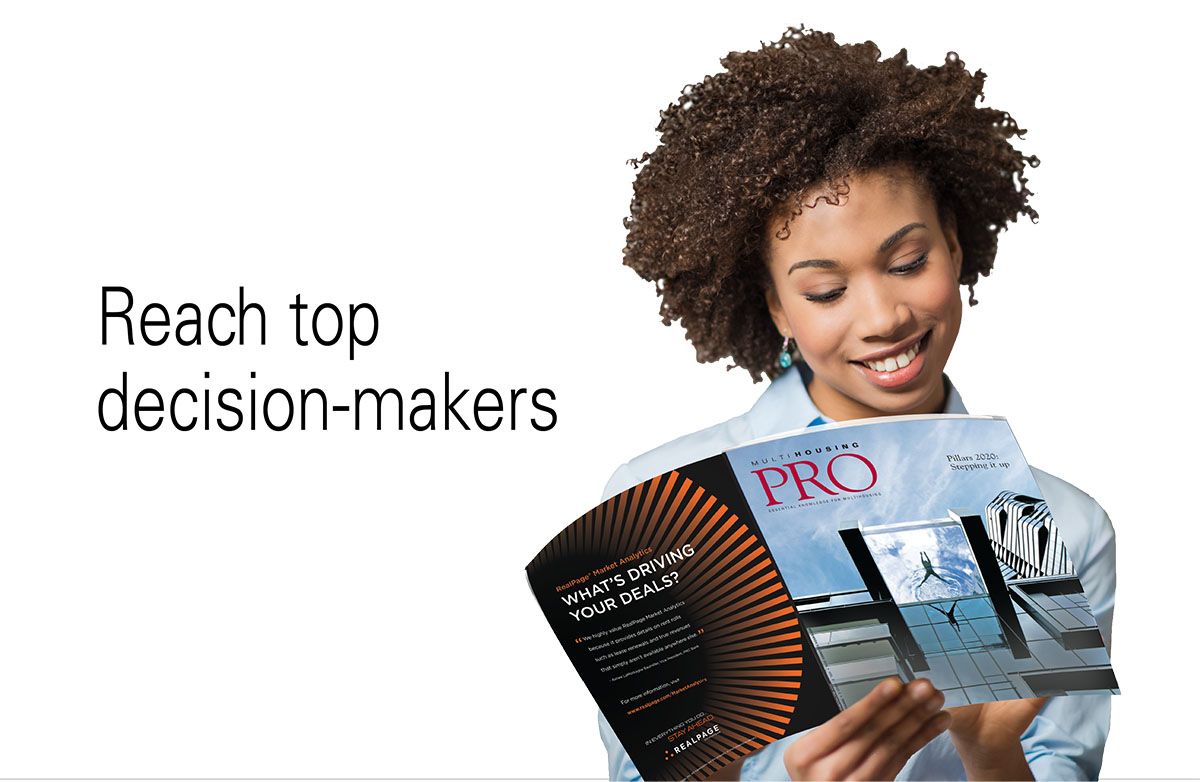 PRO is the only independently-owned, nationally-circulated, exclusively-multifamily magazine in existence today.
Yield PRO magazine is one of a kind. It's multihousing news and strategy for owners and operators seeking to increase their asset value through streamlined processes and best practices.
Our readers are too saavy for news releases, advertorials and bulk buy ads that integrate into industries outside your target. We're selling one thing: access into the hearts and minds of apartment owners and operators
We build content with one goal in mind: Improve the profitability and performance of multifamily businesses.
Our readers are driven professionals in the business of multifamily. We respect their intelligence and value their time. In turn, they are passionate about us.
Circulation: 25,000
Bonus supplement issues: 50,000
Published bi-monthly.
Established 1996. Distribution is 50,000 U.S. Publication is available at a subscription rate of $30 per issue or free to qualifying job titles in the multihousing industry. Publication is shipped via pre-sort bulk mail.
Yield PRO magazine is a national title built from in-depth research, investigative reporting, expert analysis and insight into key issues that drive the industry and its markets. We cover finance, economics, profitability, operations, regulatory issues, technology, trends that matter, and key players and their strategies. Our stories are newsworthy, provocative and memorable. We build content with one goal in mind:
Improve the profitability and performance of multifamily business
Our readers are intelligent, driven professionals who are in the business of multifamily, whether transactions, development, finance or management. We respect their intelligence and commitment to their trade, and the value of their time. In turn, they are passionate about us.
Value
PRO places you in front of decision makers in this extremely lucrative market. Our distribution means maximum exposure for your products and services, and provides the widest industry audience for the best value.
Top performing sector
Rentals are big business in the U.S. and projected to grow. There are 34 million rental households and $2.7 trillion in rental stock.
Yield PRO demographics 
Our readers are involved in the finance, development and operation of multifamily property. They span developers, owners, CEOs, presidents, asset managers, finance managers, CIOs, regional directors or corporate-level managers. They are members of the industry's top organizations including National Association of Home Builders, National Apartment Association and National Multi Housing Council.
Buying power
Our subscribers are influencers in their organizations. YP is passionately read by 100 percent of the largest multifamily owners and managers. In the next 12 months YP readers will execute $115 billion in transactions and spend over $28 billion in capital replacements and controllable operating expenses.
Online presence
PRO online delivers optimum searchability on all major search engines, and offers the magazine's full, data-rich history of content. Advertisers can maximize exposure by tapping this additional tier of readers.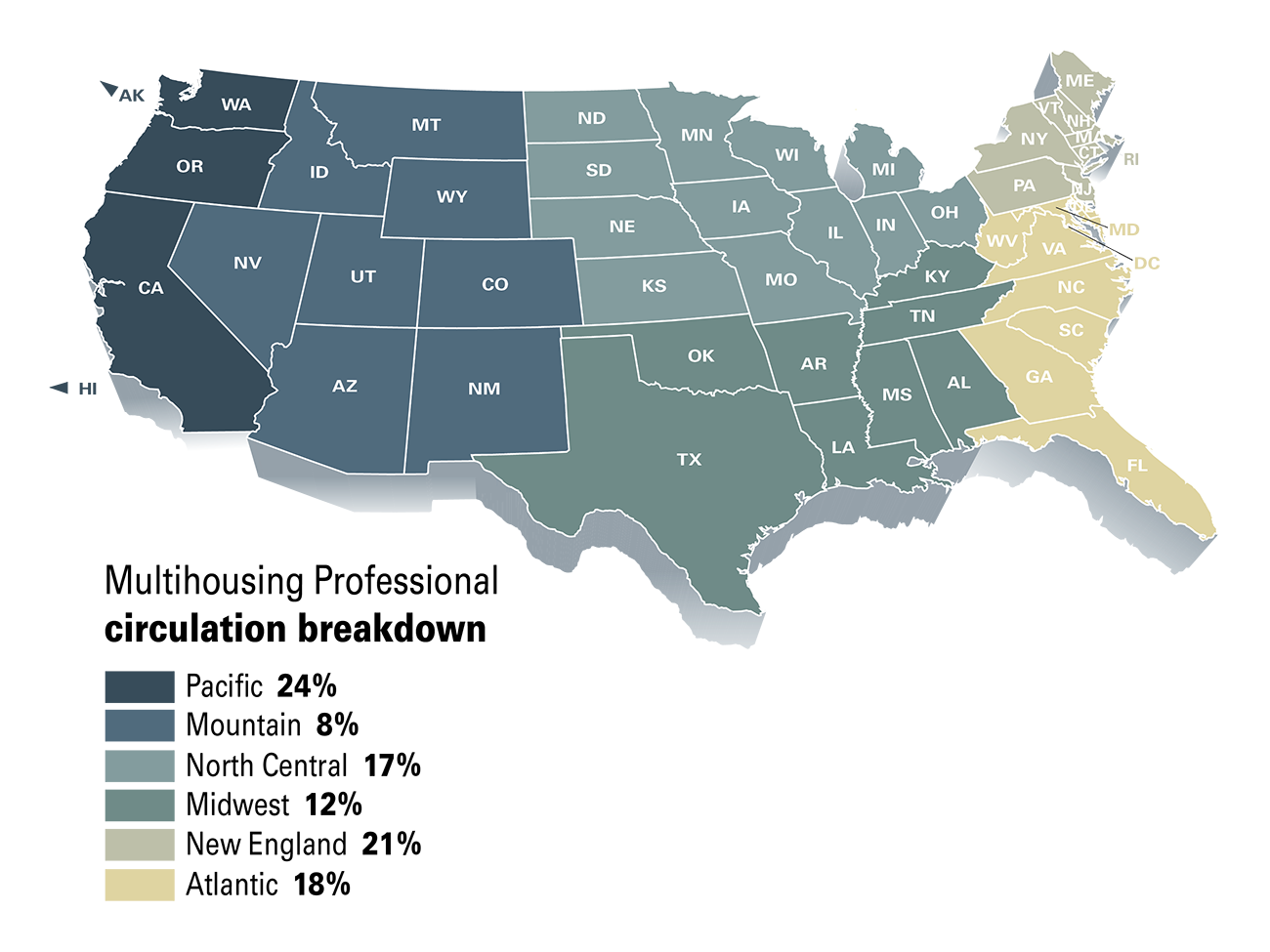 January February
Space reservation: 1-11-23
Ad copy due: 1-18-23
FEATURE: ENERGY, CONSTRUCTION, ANCILLARY SERVICES
March April
Space reservation: 3-15-23
Ad copy due: 3-22-23
FEATURE: AFFORDABLE, AFFORDABLE FINANCING, PILLARS WINNERS
May June
Space reservation: 5-10-23
Ad copy due: 5-17-23
FEATURE: FINANCE, HUD, VALUE PARTNERSHIPS
July August
Space reservation: 7-12-23
Ad copy due: 7-19-23
FEATURE: TECHNOLOGY, SMART BUILDING, INNOVATION
September October
Space reservation: 9-13-23
Ad copy due: 9-20-23
FEATURE: PROFITABILITY, STREAMLINING OPS, RESIDENT COMMUNICATION
November December
Space reservation: 11-8-23
Ad copy due: 11-15-23
FEATURE: DEVELOPMENT, LAND DEALS, VALUE-ADD DEALS
Production specifications
Mechanical requirements
Final trim size is 8.125″ x 10.875″. Add 1/8″ margin to all four edges for bleeds. Full page live copy area is 7.125″ x 9.873″. Book is printed on 40# coated house sheet, text weight.
Modular dimensions
Full page
7.125″ wide x 9.873″ high
Bleeds
allow 1/8″ on all edges
Digital artwork required: PDF (300 dpi resolution)
Email digital ad files to: art@imagead.com
Print advertising rates 
Contract rates are based on the number of insertions within a 12-month period from the date of first insertion. Each page or fractional page counts as one insertion. Credit terms are available with a favorable credit application submitted 30 days in advance of print date.