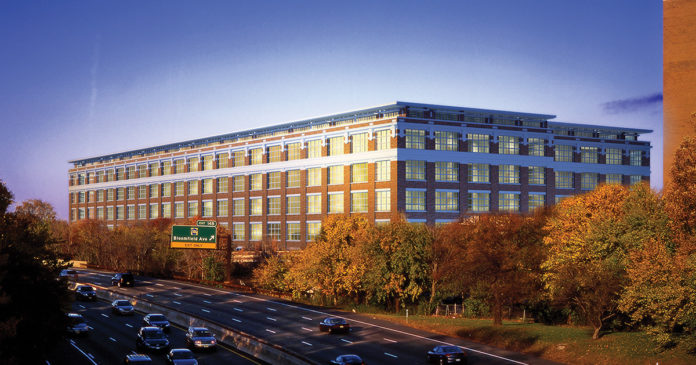 Adaptive reuse has gained favor as Americans continue to migrate from the suburbs to redeveloped city downtowns and close-in townships along mass transit lines that offer easy access to work centers.
And, in an age when recycling is seen as the answer to preserving the planet for future generations, adaptive reuse is recognized as a key factor in land conservation and reduction of urban sprawl.
Innovative developers have been able to transform old factory buildings, warehouses, office buildings and even schools and hospitals into multifamily homes that have become popular with renters and home buyers seeking one-of-a-kind dwellings with features that would be too costly to build from scratch today.
During the recent recession, financing for these complex deals dried up, but lately banks and life companies have slowly reentered the arena, allowing companies like Prism Capital Partners to move ahead on long-stalled projects.
The 11-year-old Bloomfield, New Jersey-based private company is jump-starting two adaptive reuse projects that have been on hold for a number of years in its own backyard, where Prism Capital solely focuses.
Prism Capital considers itself an "old-fashioned" real estate firm adapted to the new world. "(In our market) we are familiar with people's shopping habits, the schools, the politicians, so we are able to move across different asset classes with a little more alacrity and be successful with a multitude of property types," said Eugene Diaz, principal of the firm.
By seeking close-to-home opportunities, from multifamily to commercial, utilizing its full in-house capabilities to develop and invest in undervalued income-producing assets, the company has been able to weather the ups and downs of the market cycles with $400 million of investment in 15 projects since winding down a prior partnership with Morgan Stanley in 2002 and launching Prism Capital Partners.
"We were primarily office developers and investors and I saw the local market being more critical to the success equation than the product type. You can learn what there is to learn about a particular product type, but it's harder to learn about the intricacies of a local market. The senior partners split and went their own ways and I made the election to practice locally, but with product and asset class diversity rather than with one product type," said Diaz.
During a strategic meeting five years ago, Diaz and Principal Partner Edwin H. Cohen set a goal to develop a portfolio within 10 years that included 1,000 units of multifamily.
"So we went out to buy, build or rehab properties where we could include multifamily," said Diaz.
"Our strengths lie in navigating very complex construction projects and in largescale problem solving. So, we pursued a couple of opportunities that would scare the majority of developers. They were very complex and risky-adaptive reuse being very complicated transactions-and the price we paid for them reflected that. We set upon the task of solving all the problems and figuring out all the details and we are ending up with very remarkable, extremely valuable marquee apartment projects in the state of New Jersey," he said.
Currently underway are the Parkway Lofts in Bloomfield and the Edison Village redevelopment project in West Orange.
Prism Capital began reconstructing the Parkway Lofts, an adaptive reuse of the 115-year-old former General Electric Company property just off of the Garden State Parkway in late 2011.
The General Electric Company built the six-story warehouse structure in 1897. Prism purchased the 14.5-acre site in 2005, recognizing the potential to turn the landmark into one-of-a-kind housing using the existing building's 17-foot floor-to-ceiling heights and heavy floor loads to add a penthouse level and a new intermediate second floor that will convert the buildings' six stories into eight.
The $100 million first phase, expected to welcome first renters this fall, is the conversion of the original 365,000 sq. ft. warehouse into 365 loft-style apartments including 331 studio, one- and two-bedroom apartments and 34 penthouse units with rooftop terraces.
Amenities include a two-level fitness center and a 20-seat movie theater, a rooftop deck, billiard and party room and a dog run across from the property. Pre-wiring for WiFi, private in-unit washers and dryers along with commercial grade laundry facilities and storage lockers on every floor round out the convenience package offered to renters.
A 2.5-story parking garage and additional under-building and surface parking will ensure ample vehicle accommodations.
The New Jersey Department of Transportation has already spent $2.5 million to upgrade the Watsessing Avenue Railroad Station, which, located less than 100 yards from the development, provides service to Penn Station.
"We are submitting for second-phase site plan approval next month and hope to start that phase this summer. We plan on delivering for-sale townhomes at the same time we are renting apartment units in the converted industrial building," Diaz said in February.
Phase two will include 170 for-sale townhomes, a clubhouse, pool and additional lifestyle amenities.
Adapting the building for multifamily required some complex changes to the facade of the building and installation of newly manufactured 13-foot windows that ultimately will distinguish the new design, drafted by Minno & Wasko Architects and Planners.
Some of the original industrial elements will be retained, such as exposed beams and columns, polished concrete floors and post-modern finishes, that complement the new historical replica windows and other original architectural features.
In West Orange Township, Prism Capital will begin construction this spring on the $230 million, 21-acre Edison Village project that has languished on the sidelines for years after originally being conceived as an industrial conversion to for-sale housing.
The project is the transformation of the historic Thomas Edison Invention Factory and Commerce Center that was built by the famed light bulb creator in 1913 and served as a working industrial center until 1965.
The building was used as the manufacturing operation site for storage batteries, automobiles, railroad signals, industrial applications and mining equipment.
Edison Village will be New Jersey's largest non-waterfront adaptive reuse development. The project actually began in 2006, when Prism was designated redeveloper of the historic factory buildings along West Orange Township's Main Street.
"We submitted a response to RFP and negotiated an arm's length deal for the keystone piece, the Edison Building itself," said Diaz.
Prism Capital began demolition and site work in 2008 for what was originally planned as condos and since has invested more than $40 million in downtown West Orange, having acquired all the property for the project and completed the environmental remediation of the brownfield site.
"We started excavation and demolition, and built the garage all from cash equity just before the market meltdown and, now, with revised approvals as market-rate rentals, we are out in the market getting interest from banks for traditional construction financing," he said.
The first phase is the redevelopment of the factory building itself into 331 apartments, retail and parking.
The second phase will be the construction of 300 for-sale townhomes on reclaimed industrial land.
"By agreement the second phase can't start until we are substantially under construction on the first," explained Diaz.
The retail component, dubbed The Shoppes at Edison Village, will help create an exciting downtown in an area that had long been neglected and is expected to generate $10 million of additional local retail spending annually. The property is adjacent to the newly refurbished Edison National Historic Site and museum.
Meanwhile, the township has agreed to contribute $6.3 million from the sale of general obligation bonds to help offset costs of infrastructure work.
"It is a true public private partnership," said Diaz.
Overcoming obstacles

Adaptive reuse projects present major challenges in the re-purposing of outmoded structures. As part of site preparation for the Parkway Lofts, the demolition of the former plant's old smokestack was required, which should have gone off without a hitch. But when the explosives were detonated, they left only holes in the stacks's base, testament to how substantially things were made 100 years ago, notes Diaz.
Both the Edison Village project and Parkway Lofts require substantial and complex repairing and restoring the building exterior.
"The Edison building was made of Portland cement which is a cement mix that was made and patented by Thomas Edison. It has a special combination of stone, sand and lime that makes it incredibly durable and hard, but after 100 years some of it is crumbling off the building. Because it is a historic structure, we are required to match it exactly," said Diaz.
"We had to have spectral analysis done on the concrete to determine the exact constituents and the percentages of each and match them. Then it all had to be blended together so it looks like the building would have looked when it was built in 1911," said Diaz.
At the Bloomfield project, the brick exterior was retained and ornate decorative concrete was repaired. "It's amazing, after cleaning the brick it looks brand new," said Diaz, who noted people who drive by the building call every day to compliment the work that is being done.
Both Edison Village and the Parkway Lofts are designed to meet LEED standards, but Diaz explains that they likely will never achieve certification.
"The way LEED standards were set up, they were created for adaptive reuse projects, and, in order to meet basic LEED standards we don't need to do anything to the building because we get so many points for other things like being transit-related or for reuse of existing structures.
"For instance, we are reusing some material from within the buildings. The Parkway Lofts in Bloomfield has these 100-year-old Hemlock sleepers on the floor, four-inch thick strips of wood, and we have reclaimed those and they are being polished and dry stacked into a feature wall in the lobby," said Diaz.
And, the polished concrete floors within the Parkway Lofts will give Prism additional LEED points for not introducing a new harmful material with volatile organic compounds (VOCs), like most carpet.
"But getting actual LEED certification is more difficult-and maybe someone could write about this and get LEED to wake up-because, although we may meet the LEED silver standards at the Parkway Lofts, LEED probably will not certify us because one of the LEED requirements for apartments, for residential living, is you have to have fresh air accessible within every 25 feet.
"This means your apartment can't be deeper than 25 feet from an open window unless you introduce fresh air mechanically. When you are adapting a building, you are locked into its existing metric, so we may be 33 feet deep in that building and we are not going to get certified.
"Now the whole argument presupposes that someone actually has their windows open, or maybe they don't. But LEED probably won't certify us because we don't meet that one requirement, which is ridiculous in an adaptive reuse structure," said Diaz.
For that reason, Prism is marketing the projects as meeting LEED standards. Certified or not, the occupants still benefit from the preservation, reuse and energy efficiency built into the project.
Diaz expects both properties to appeal to a mix of demographics.
"When you look at multifamily today it is no longer just saying we are targeting Gen Xers or a baby boomers. You have to go much deeper in analyzing who or what you can mix within your building. Obviously, you can't mix seniors and GenYers in the same building. That doesn't work. But within a segment like the Baby Boomers, you can appeal to, on one end, single or divorced baby boomers and on another end, baby boomers from the move-down renter segment-married couples who are paying too much in property taxes and their kids are out of the house and they don't need that four-bedroom house anymore. Those groups have different desires and needs, but they can co-exist and you can build your apartment community to appeal to what both groups want," said Diaz.
The average size unit at Parkway Lofts is 835 sq. ft. with a third of the units designed as studio efficiencies averaging about 590 sq. ft. "If you were in New York you would say, 'Wow! That's a two bedroom!' But 590 sq. ft. is a good size studio in New Jersey that appeals to a young people moving out of their parents' houses or people being displaced by rising rents in New York or new college students just graduating or graduate students attending the local universities in Newark where Bloomfield is one train stop away. But we also will have penthouse units with decks overlooking the skyline of Manhattan that will appeal to an entirely different demographic," said Diaz.
Rents will average $2.50 per sq. ft., or an average of $2,000 per month.
Edison Village is designed more for the longer-term renter, for more established professionals, said Diaz.
Units there average 1,000 sq. ft. "We only have about 11 percent studios. We have more large units, one- and one-plus bedrooms and a line of three-bedroom units for families who prefer to rent, or for a slightly older demographic. Edison Village is not as close as Parkway Lofts to public transportation, about a mile rather than right at the station, but close enough, and there is a jitney service available and a walkable downtown," he said. Average rents will run between $2,300 and $2,500.
Parkway Lofts and Edison Village take Prism Capital 70 percent of the way toward its 10-year goal of 1,000 multifamily units.
"But we still have five years to run and we are feeling pretty good. And, we are filling 70 percent of our goal with what will likely be two of the most sought-after apartment buildings in the state, each in their own right. These are the two best-in-class, most unique property offerings anyone will be able to come up with in New Jersey," said Diaz.