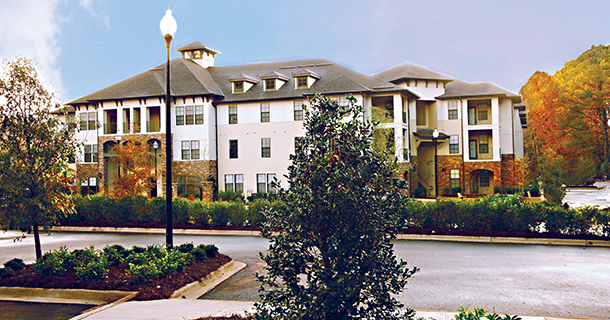 A public, non-listed REIT sponsored by Steadfast REIT Investments, LLC that launched at the end of 2013 is seeking to capitalize on strong job growth and pent-up demand for apartments in the greater Midwest and southern regions of the United States.
Steadfast Apartment REIT, headquartered in Irvine, Calif., began offering up to $1.1 billion in shares of common stock at the end of December. It expects to sell the shares in the next two years.
Steadfast Apartment REIT is the second multifamily REIT sponsored by Steadfast REIT Investments. The first, Steadfast Income REIT, closed to new investors on December 20. At the end of 2013, its assets totaled $1.5 billion.
Ella Shaw Neyland, president of both Steadfast Apartment and Steadfast Income, explained that while both REITs share a similar strategy, Steadfast Apartment will have a larger geographic footprint and a greater emphasis on renovating properties. According to its prospectus, Steadfast Apartment expects to follow a 'value-enhancement' strategy for 30 to 40 percent of its portfolio.
Job growth, quality of life

Neyland said she remains "very optimistic" about the Steadfast companies' area of focus: markets with high job growth, high demand and strong quality of life.
Job growth in central corridor states such as Texas, Oklahoma, and Tennessee, notably in the health care, technology, light manufacturing and energy industries, should continue through 2016, according to Neyland.
For example, the "re-shoring" of light manufacturing work back to the U.S. could add up to 5 million jobs alone in the next seven years, she noted. Neyland also pointed out that Steadfast companies are targeting renters in the annual salary range of $45,000 to $75,0000, which is where she says most new jobs are being created.
Steadfast Income already owns assets in three of the U.S. cities that rank near the top in drawing technology companies, Nashville, Austin and Houston. In fact, Steadfast Income made a big push into Houston last year. By the end of 2013, about 40 percent of the REIT's purchases were located in Texas.
Millennial mind set

In addition to strong job growth in its core markets, Steadfast Income and Steadfast Apartment both look set to benefit from what Neyland considers a "whole different mind set" in the 80-million-strong millennial generation, born roughly between 1981 and 1992.
"They are really looking at apartments as a lifestyle choice," she said. Millennials want to be able to move if a job opportunity arises, and they don't view buying a house as an automatic investment in the same way that the baby boomer generation did, she observed.
Neyland expects that pent-up household formation will support both REITs. According to Trulia, an online real estate data service, there are currently about 2.4 million unformed households in the U.S., mainly a result of young adults who are financially unable to leave their parents' home. "There's this sort of warehouse of people waiting to get a job or feel more comfortable about their economic situation," Neyland said.
Meanwhile, as baby boomers have found it easier to sell their homes in the last year, they too are opting for an apartment lifestyle.
"We're actually finding that baby boomers are becoming a much more important renting cohort," Neyland remarked. "There's a whole different perception of apartments. It used to be you were a renter by necessity, but now, I think you're a renter by choice."
Author: Sarah Borchersen-Keto, reit.com