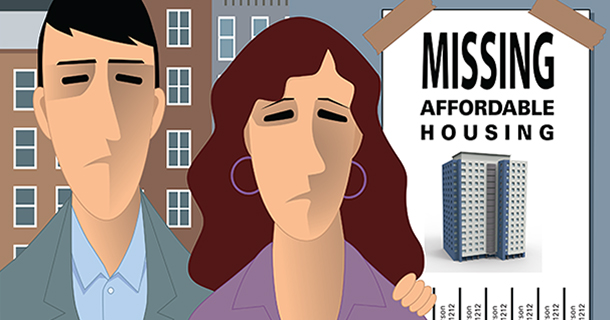 Terwilliger moderated a panel of distinguished experts discussing how housing needs to become a higher national policy priority, why national policy must change to meet modern realities, and how real estate developers can work creatively with the public sector to help meet the nation's housing needs. Panel members were former U.S. Senator Scott Brown; former Maryland Governor and Mayor of Baltimore Martin O'Malley; Avanti Capital Management CEO Daryl Carter; and the Catalyst Group founder Renee Glover, former head of the Atlanta Housing Authority.
Of America's 125 million households, just under 64 percent are homeowners—a figure that is down from 69 percent and headed toward 60 percent, noted Terwilliger. Every percentage point of homeownership represents about 2 million households. Latinos and African Americans lead about 80 percent of new U.S. household formation, but also have lower incomes on average.
While income growth has leveled off for a majority of Americans, housing costs are soaring and the supply of affordable housing in desirable locations is diminishing, Terwilliger continued. "In the Southeast, we cannot build apartments for under $160,000 per unit," he said. "At the same time, the nation is losing about 125,000 affordable rental units each year. Location—including the opportunity for children to attend decent schools—is critical to families' chances of escaping poverty."
In Terwilliger's opinion, the U.S. has the worst housing policy of any first-world country. The 1949 Housing Act set an aspirational goal of every family owning an affordable home in a suitable location. But of current federal housing subsidies totaling $200 billion per year, some 75 percent goes to homeowners, mostly in the form of the mortgage interest tax deduction; only about $50 billion is available for renters. "We need to recalibrate where we spend these funds," he stated.
Brown, who represented Massachusetts in the Senate from 2010 to 2013, pointed out that the U.S. has $20 trillion in national debt, raising the question of whether tax revenue should be used to spend down the debt or allocated toward meeting national policy goals. "I look at how many jobs we can create with government spending," he said. "My first goal is to promote homeownership, and the second is to make rental housing more affordable; we also need to cut back on regulations that affect housing affordability."
O'Malley said that housing affordability is contributing to the shrinking of the middle class. "For many years, we created rungs on the ladder to grow the middle class, and we know what works," he explained. "Even during the recession in Maryland, we obtained consensus to make public investments that leveraged private investment to create more affordable rental housing units."
Housing policy needs to be "spun" in a new way, according to Glover and many others. "Affordable housing is a competitive advantage in the global economy," she said. "As cities compete for major employers, they must realize that employers are looking for safety, security, and affordable housing for their employees. We need to reposition housing as a resource rather than a handout. People want walkable cities with great amenities; we should be creating communities of opportunity.
"I challenge ULI to look at effective public/private partnerships to develop economically integrated communities," she went on. "Everyone wants to be in the urban core, and we can't leave anyone out. We should leverage the Millennials' love of diversity and leave behind old legacy issues."
Recalling growing up in a mixed-income community in Detroit, Carter agreed, saying: "The most successful communities are in locations where there is a variety of housing for different incomes." And Carter's company is walking the talk, by reclaiming and renewing affordable housing options that might otherwise be lost. "We do this with smarter rehabs," he explained. "We don't necessarily get rid of the popcorn ceiling, because that would increase the rent by $50 per month; tenants are watching their wide-screen TVs, not staring at the ceiling. Other developers could do the same if they would step back from the value-add arms race."
Housing policy is an issue that should be nonpartisan, said Terwilliger. But two presidential candidates, he noted, have said that government has no role in housing. Brown pointed out that housing has not been a top issue for presidential candidates in a campaign dominated by talk of ISIS and border security.
O'Malley, an early candidate for the 2016 Democratic presidential nomination, said that housing is often considered part of the nation's infrastructure, and "infrastructure doesn't build itself." He said, "On the campaign trail, we heard from a lot of people about how they are falling behind—and they are, with 70 percent of Americans earning the same or less as they did ten years ago." The message is clear: only with more affordable housing options will Americans be able to reverse that trend and successfully pursue the American dream.
Author: Leslie A. Braunstein, APR, is principal of LHB Communications, Inc., a boutique public relations firm located in the Washington, D.C. metropolitan area.