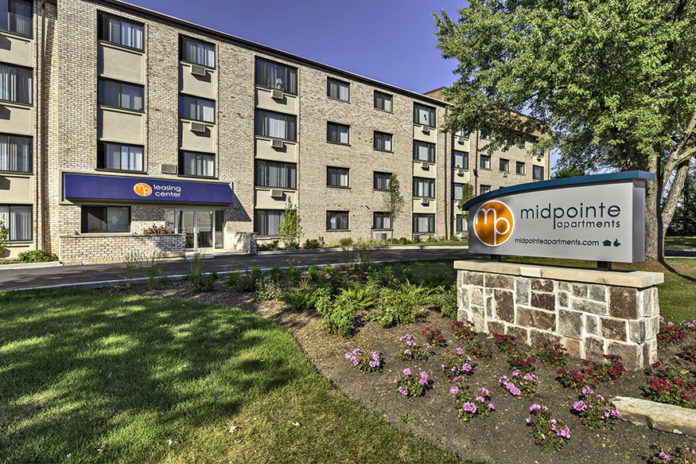 Castle Lanterra Properties (CLP) today announced the sale of Midpointe Apartments, a 424-unit multifamily property in Chicago's southwestern corner, to a well-known fund manager. CLP originally purchased the property in April 2014 for $28.5 million, and refinanced the improved asset three years later for $40 million. The $49.5 million sale price is expected to generate an IRR (Internal Rate of Return) of 36 percent.
"The asset attracted considerable interest from regional owner/operators, and from highly respected institutional fund managers and public REITs," said Elie Rieder, founder and CEO of CLP, a privately held real estate investment company which focuses on multifamily investment opportunities. "We chose this particular buyer because we were certain they had the financial wherewithal to close, and we felt they also had the operational expertise to continue operating the property at optimum levels."
CLP invested millions in upgrades that included building a new leasing office, resident lounge and fitness center from unutilized storage space. Other improvements included the installation of energy efficient roofs and LED lighting, new elevators, laundry rooms, parking lot resurfacing and restriping, and extensive landscaping throughout the property. As per its original business plan, CLP also undertook renovations to 30 percent of the units, which included new flooring, stainless steel appliances, stone countertops, backsplashes, lighting, and fixtures.
"The upgrades enabled CLP to substantially increase NOI (Net Operating Income) and we were able to refinance the property for $40 million in June 2017, which exceeded the projected year-five sale price reflected in our original projections," added Rieder. "The new 10-year loan is fixed at 4.05 percent with five years of interest only, which are favorable terms for the new owner given today's rate environment. The sale of Midpointe is a culmination of nearly four years of management-intensive upgrades, where we were able to reposition a dated and underperforming asset into a stable cash-flowing property with class leading amenities and proven value-add upside potential for the new owner."
---
About Castle Lanterra Properties
Formed in 2009, Castle Lanterra Properties is a privately held real estate investment company focused on the acquisition and management of quality income producing multifamily properties within strategic growth markets throughout the United States.  Through a rigorous value-enhancement program that includes thoughtful renovations, operational improvements and ancillary income development, CLP aims to reposition each asset with the goal of maximizing NOI, elevating its competitive position within the market, and providing attractive risk-adjusted returns for its investment partners. Castle Lanterra Properties and its affiliates currently own and manage a portfolio in excess of 9,000 units.